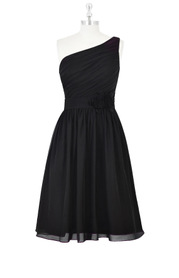 Azazie Christina
Bridesmaid Dress
FABRIC: Chiffon
$109
product info

The lovely knee-length bridesmaid dress by Azazie has an A-line/princess cut in a beautiful chiffon. Style Christina features an one neckline, and comes in a full size range (A0-A30). A pleated detail at the front and back of the flowing skirt makes it perfect for the reception or a city hall wedding. Ask a question
Beth Secress
Reviewed On:
2015-12-27 19:03:51
I love all of my bridesmaids. They looked gorgeous on my wedding day!
sunshinemelissag
Color:
Jade
Reviewed On:
2015-02-18 16:34:52
I sent in my measurements and it fit PERFECTLY! I was worried about doing it online. but they got it on the dot. You can tell that the dress was made just for me. Also, very high quality stitching. Looks like a very expensive dress, but is actually very affordable.
Jacqueline Mc Millan
Reviewed On:
2016-03-25 04:48:52
Absolutely love the dress. Color and size was perfect! Can't wait for another special event...Azazie it is!!!
swalls122440
Color:
Ink Blue
Reviewed On:
2016-02-09 12:16:39
The dress fit perfectly! Once it is finally on it looks wonderful! The only issue I have run into is that the dress gets almost impossible to zip and unzip where the sash is because the layers of fabric are so thick! It took me nearly twenty minutes to get into the dress the first time, my fiance wouldn't even try to zip it up because he was afraid of ripping the dress. It isn't the fit that is the problem, I can pull the fabric well away from my side once I am finally zipped in. It was even difficult to zip back up after I taken it off.
gillingham68
Color:
Watermelon
Reviewed On:
2015-12-30 05:51:09
Awesome dress! Great quality! Also it showed up sooner than expected!! I custom ordered and everything fit perfect!!
Kate Radicke
Reviewed On:
2015-08-13 11:10:11
The dress initially fit well, and then lost its shape. Two other bridesmaids experienced similar issues related to fit.
pamunicare
Color:
Champagne
Reviewed On:
2015-07-06 09:49:39
I had a very bad experience with this dress and with the whole process. I ordered the trial to check the size and it didnt fit so I ordered a size up and it still didnt fit. Would not recommend this dress.
Lauren.heagey
Color:
Dark Navy
Reviewed On:
2015-06-11 06:51:05
Dress fits great, the one shoulder style is very flattering, and the way it is made I won't have to wear a bra with it (it feels like there is almost built in cups in it). I actually received the same dress as a sample in the color i needed. My only "complaint" is that the zipper is extremely hard to zip up by yourself, I had to have my husband help me and even he had a very difficult time (i had the same issue with the sample). Once it was zipped it fit perfectly. Another bridesmaid got a different dress from Azazie as well, so I will be sure to upload pics from the wedding. Thanks Azazie!
k.weaner
Color:
Pool
Reviewed On:
2015-06-02 17:56:15
One measurement was a little off so I have to have small alterations. A little thicker/fluffier material than I was expecting but overall looks pretty good.
baybe513
Color:
Turquoise
Reviewed On:
2015-03-26 18:55:32
Not quite like the picture. The top is a little different, the creases are more loose than in the picture. And my dress came without a bow. Other than that, very speedy delivery. Received sooner than expected, which was a plus!