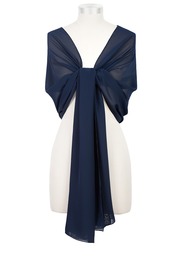 Azazie Chiffon Shawl
Wrap
FABRIC: Chiffon
$20
product info

This shawl by Azazie is made from a concise chiffon. Gorgeous Chiffon Shawl is custom made to match bridesmaid dresses and mother of the bride dresses in all colors. Approx 90" x 20". Ask a question
vetmedhosp
Color:
Dusty Rose
Reviewed On:
2017-01-20 08:26:02
This looks like It will complement the dress perfectly. We are pleased,
Marica.armstrong
Reviewed On:
2016-11-27 10:37:50
Eh, maybe shawls aren't my thing but I wasn't feeling the look of this with my Azazie Fiona dress. It's not as wide as I had thought, but it certainly is long. It is made very well but wrinkles easily which is odd for the material it is made out of.
Lgriffin313
Reviewed On:
2016-10-05 09:35:58
Just what I'll need on cool fall evening. Plan to wear to a friends wedding. No pics yet!
carole
Color:
Dusk
Reviewed On:
2016-08-03 06:24:14
I had excellent customer service with your company. The first shawl I purchased went missing two weeks before the wedding. Your company kindly rushed to get a new one made and sent it to me in time well before the event. Thanks again!
nana7355
Color:
Red
Reviewed On:
2016-07-30 07:41:45
The shawls are a perfect compliment to the red chiffon dresses we ordered. It will be a nice addition for a winter wedding that we are planning. The Katlynn dresses we ordered were fine. A little adjustment on the strap for the larger dress to keep the front up tighter. All in all we like the layered or pleated look on the bodice and around the back. It is very attractive on both my bridesmaids.
dbranaudio
Color:
Champagne
Reviewed On:
2016-05-23 08:55:56
lovely quality material and color is perfect match to my dress
emyoung3322
Color:
Grape
Reviewed On:
2016-05-10 11:07:23
It is perfect! The color was true to what was advertised.
emyoung3322
Color:
Silver
Reviewed On:
2016-05-10 11:07:21
The material was very nice but returned these because the color was darker than what would match the dresses.
lwhite0889
Color:
Royal Blue
Reviewed On:
2015-12-30 16:30:47
I am very pleased with this shawl. I bought it for my grandmother, so that she would have something that matched our wedding colors. The shawl is made well (no loose strings or holes) and is exactly as pictured. One thing I will say - this shawl is very long. My grandmother is about 5'5", and felt a little overwhelmed by the total length of the shawl. I think she'll end up doubling it up and wearing it more like a scarf. Overall I'm very satisfied. Shipping was fast and the item was high quality!
dianejm
Color:
Wisteria
Reviewed On:
2015-08-08 03:39:54
THE SHAWL IS BEAUTIFUL..BUT HAVE NOT RECEIVED THE DRESS YET.
Pierreguitard
Color:
White
Reviewed On:
2015-05-26 11:15:23
Exactly what I was expecting. Very proud to wear it.