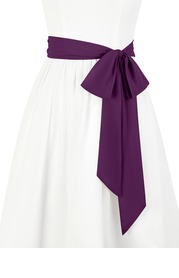 Azazie Chiffon Sash
Sash
FABRIC: Chiffon
$20
product info

The Azazie Chiffon Sash is a must-have accessory for any wedding, bridesmaid, or mother of the bride dress. Wrap this simple chiffon sash around the waist and cinch with a bow, either in the front or the back. Available in an array of colors to complement any look. Ask a question
shellstravis
Reviewed On:
2018-04-19 15:35:53
Color:
Regency
just a lot skinnier than I anticipated but good construction
Vanessa Ogilvie
Reviewed On:
2017-09-10 08:41:32
Color:
Dusty Rose
Perfect for our flower girls dresses
Jennifer Royce Freeman
Reviewed On:
2017-09-10 05:09:29
This wasn't what the pictue looked like too long and very flimsy.
MaKenzee.Lady
Reviewed On:
2017-08-17 10:42:21
Color:
Dark Green
Beautiful color! and excellent quality!
kklavariega
Reviewed On:
2017-07-07 01:51:47
Color:
Cabernet
Sash perfectly matched the bridesmaid dresses! My flower girl will look perfect!
jlmartin83
Reviewed On:
2017-05-15 06:15:03
Color:
Coral
Longer than expected. Could you offer an extra small?
marwhi661
Reviewed On:
2016-10-25 18:13:52
Color:
Royal Blue
The order arrived quickly and I am pleased with the larger size.
derdan01
Reviewed On:
2016-06-07 07:07:02
The sash is perfect! Very long for my flower girl, who will only be two, but it's easy to adjust! The color is awesome, it looks amazing. I'm so pleased so far with azazie!
mollynicolson
Reviewed On:
2016-04-27 06:45:13
Color:
Ivory
It's okay - certainly not worth 20 dollars, but also not worth shipping it back. I don't think I'll be using it with my dress (I was hoping to bling it up a bit). I think I was imagining something a bit less floppy and I can't get the bow right and it's super thin. Maybe I will find a use for it on another outfit or a hair tie or something.
TruelyBlessed2011
Reviewed On:
2016-03-29 17:01:35
Perfect color but I did not like the material so I will not be using it.
Igavrila
Reviewed On:
2016-03-26 20:06:58
I am so beyond pleased with everything I have ordered from Azazie ! 6 custom Savannah bridemaids dresses are absolutely beautiful and perfect fit for all of my girls , as well as the sashes I ordered ! It has been such an easy process and stress free! The variety of colors are awesome! I was looking for something different and had a hard time finding lime green ! I ordered the color swatches of the multiple greens and the lime green was exactly what I was looking for! The color of the dresses is very bright and beautiful:) I am so grateful my sister in law found this website and I didn't have to settle for any other color! The prices are also great!
rstrom90
Reviewed On:
2016-03-21 20:24:51
The color of the navy blue is stunning!! I got a size smaller and I'm glad I did, fit a little longer than expected.
Christina D
Reviewed On:
2015-07-24 21:19:48
Color:
Dusty Rose
Nice accent to an already lovely dress!