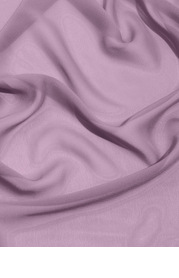 Azazie Chiffon Fabric By the Yard
Fabric
FABRIC: Chiffon
$15
product info

Fun and flirty, this lux chiffon bridesmaid dress is appropriate for any wedding from the beach to the church. Your bridal party will love this fantastic dress with a neckline. Ask a question
Sherrill
Reviewed On:
2018-06-20 08:28:43
Color:
Mist
I needed extra fabric sent to me so that we could have straps sewn on to my daughter's (strapless) bridesmaid dress. This was not the fault of Azazie, by the way, as we did the custom measurements. She just happens to be larger in the bust area and for the wedding, needed a bit more coverage. Anna was extremely helpful and had the fabric rushed. I highly recommend this site!!
dm53gregor
Reviewed On:
2018-05-08 16:22:39
Color:
Wisteria
The chiffon I ordered was beautiful material but unfortunately the colour was not the right colour. Checking shad online it looked like a perfect match but wasn't. Thank you for your wonderful service.
phyllis.shoemaker17
Reviewed On:
2018-02-14 07:57:33
Size Ordered:
Custom Size
Fabric exactly like sample. Happily came weeks before Azazie projected date for delivery
Janetacarpenter
Reviewed On:
2018-01-16 15:27:13
I ordered way more than I need because this site states that the fabric is 52" wide. It is actually 60" wide.
westphalfamily7
Reviewed On:
2017-08-29 03:45:13
Color:
Blushing Pink
Used this fabric to make a dress for little sister :) /Users/westphal95/Desktop/image3 2.JPG
aemancuso
Reviewed On:
2017-03-16 11:09:13
Color:
Lavender
I thought I would need this fabric, but turns out I did not. It was absolutely not returnable under any condition, even unopened. Be aware of that. I spent over $70 for 4 yards.
buforules
Reviewed On:
2016-07-04 22:26:18
Color:
Silver
Great to be able to get the same material as the dress I ordered in order to do a few minor alterations to it to suit my taste a little better.
al.kare
Reviewed On:
2015-09-08 04:33:22
Color:
Burgundy
The description said that the fabric would arrive in one continuous piece but it was actually precut into 1 yard pieces that we were not able to use.
ram1girl82
Reviewed On:
2015-06-05 08:01:40
Color:
Fuchsia
The extra material came quickly and a great match.