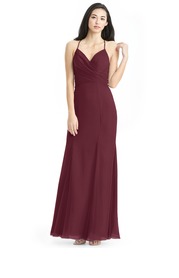 Azazie Carolina
Bridesmaid Dress
FABRIC: Chiffon
$129
product info

Fun and flirty, this exquisite chiffon bridesmaid dress is appropriate for any wedding from the beach to the church. Your bridal party will love this lovely floor-length trumpet/mermaid dress with a v-neck neckline. Whether you dress it up with statement jewelry or down with flats and a cardigan, it epitomizes timeless beauty. Ask a question
Daphne
Reviewed On:
2018-07-12 22:08:17
Body Type:
Hourglass
Size Ordered:
A10
I don't know why this dress doesn't have more reviews ! It's so flattering to the body with the mermaid silhouette and the design still leaves room at the knees to adjust if you'd like it to be more fitted to accentuate your shape. The fabric is light and flowy. I'm 5'6, 160 lbs, measurements 38-31-41 and according to the size chart I ordered a 10 and it fits me perfectly. I won't be needing any alterations unless I decide to go in more in the knee area like I said. Also the burgundy is even more beautiful in person !
hkshepler
Reviewed On:
2018-06-22 14:35:34
Size Ordered:
A6
Wasn't expecting to love this dress so much. So happy with it and it fit so well. Absolutely beautiful.
nplant
Reviewed On:
2017-11-07 21:05:12
I love the fit of the dress especially how it accentuates the waist and hip in a classy way. Depending on how you want the dress, there's room at the knee/mermaid for you to either alter/cinch the dress to give it that mermaid look or leave it as is and give it a more narrow and straight look. I tried a size 10 and it had a little more material at the hip area, but the bust area fit perfect on me. I may order a customized dress with the hybrid of a size 8 and 10. You can change the length of the straps as well if you need to, which is nice. The material is light and airy for a spring/summer wedding and surprisingly doesn't give you that discomfort of a typical mermaid style dress. I can definitely dance and sit comfortably in it, which is always a plus! the quality is amazing for an online bridal store. Thanks Azazie!
Emily Vasquez
Reviewed On:
2017-10-14 13:12:25
My best friend ordered this sample dress, and once my mother saw it she had to try it on. Pictured is my mother with Carolina on. She absolutely loved it!! It's a gorgeous dress. She will be buying it in navy for my wedding,! My best friend ( my MOH) will be wearing it in dusty blue as well!
Jessica.ochiltree
Reviewed On:
2017-08-30 21:36:41
I ordered my dress a couple of weeks ago. I had to rush the order because I live overseas and was afraid it wouldn't get here on time. The dress arrived several weeks early. I chose the tailored made option and it fits perfectly. It's so comfortable too and well made too. It looks beautiful in the photos but it looks even better in person. When you walk to bottom of the dress flows out so beautifully, I highly recommend this dress and will definitely use Azazie in the future!
Nikki Crisafi
Reviewed On:
2018-07-08 08:05:44
Color:
Dark Navy
Body Type:
Straight
Size Ordered:
Custom Size
I ordered the dress with custom measurements and it fits perfect!! I cant ask for anything less than that, my future sister in law is very happy and im less stressed! overall great feel, i wont be hot in the fabric and it fits great! love it
kdisanto24
Reviewed On:
2018-07-03 07:51:35
Color:
Dusty Blue
Body Type:
Hourglass
Size Ordered:
A4
I tried on the sample size 4 in this dress, which fit in the bust and waist fairly well. However, when I received my actual dress in the mail it ended up needing to be taken in an inch down the whole torso and is a bit big in the chest (I don't have a small chest to begin with). I am short so I expected to have to get it hemmed anyways, but wasn't anticipating needing to take it in at the waist. Overall it seems like a nice dress- nothing mind blowing, but nice enough.
Rampersaddestiny66
Reviewed On:
2018-05-22 11:34:50
I think this is a super pretty dress, it's one of the more fitted options you'll find on the site. The only issue I have is the boob cups feel like there up too high, like under my neck. But by far one of my favorites on the site. Also wish there was a slit in the dress, it feels a little restrictive.
regancatanzaro
Reviewed On:
2018-03-07 16:08:09
Body Type:
Hourglass
This is the best dress I've tried on. Beautiful fit. Very flattering
mcp5266
Reviewed On:
2018-02-19 17:27:13
Color:
Dusty Sage
Body Type:
Hourglass
Size Ordered:
Custom Size
I am honestly so amazed with this dress! As a slightly bigger girl, I was nervous about sizing and how any dress would look. The custom sizing was absolutely perfect and it honestly looks so much better in person!! The dress came a whole month before the expected arrival date. I am so impressed with this company and my amazing dress! So excited to wear it to my sisters wedding!
Arlene Bisesi
Reviewed On:
2018-01-19 08:36:24
Color:
Turquoise
Body Type:
Straight
Size Ordered:
A10
measured correctly and ordered according to chart. extremely large will have to have the dress completely remade. Not the best way to shop for a bridal dress.........
stacyehaynes
Reviewed On:
2017-11-21 11:37:30
I loooove this dress & so glad I tried on two sample dresses to find my right size. This dress is so flattering on & I can't wait to wear it in my friend's wedding!