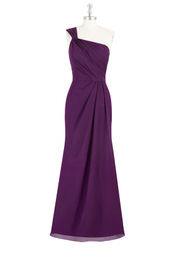 Azazie Carissa
Bridesmaid Dress
FABRIC: Chiffon
$129
product info

Style Carissa by Azazie is a floor-length trumpet/mermaid bridesmaid dress in a comfortable chiffon. The lovely dress features an one neckline and strap detail back style. A pleated detail at the front and back of the flowing skirt makes it perfect for the reception or a city hall wedding. Azazie's Carissa style comes in sizes A0-A30. Ask a question
Jerrilynlanier
Reviewed On:
2016-11-23 12:54:57
1st off the customer service with this company is amazing. My dress arrived with a stain. There was no time for me to get a new dress. They fully reimbursed my dry cleaning bill, no problems. This is my 2nd dress from this company. The dress is well made. The only problem I had was the zipper. The fabric was flowy and light. Loved the dress. I will order from this company again.
georgina-spencer
Reviewed On:
2016-07-15 23:00:43
All of my 5 bridesmaids wore different style dresses in STEEL GREY. They all used the custom size option. When they arrived they all fit perfectly and the quality was excellent. (The length on one needed to be taken up a little) They arrived before the expected date too! Highly recommend Azazie to all bridesmaids!
janna
Reviewed On:
2016-06-28 06:43:31
i absolutely LOVE this gown! the pleated details at the top and the one shoulder add such an elegant touch. Azazie was a delight to work with and the custom fit and instructions on how to measure made it a breeze, esp since i am short and have odd measurements! The dress was also flowy and such HIGH QUALITY. highly recommend!
Jakhamerwedding
Color:
Grape
Reviewed On:
2016-11-18 16:51:40
Got a custom dress and although it was still a little tight, it was perfect by the time it was wedding time!
nataliebankowski
Reviewed On:
2016-10-11 10:14:34
It is a beautiful dress. Very nice quality, it will be perfect for my daughter's wedding!!!
Cynthia.zoeller
Color:
Mulberry
Reviewed On:
2016-10-05 09:09:18
I ordered with the custom sizing and it fits perfectly! I have been in several weddings and bridesmaid dresses never fit right. I always end up spending over $100 in alterations. This time I won't need to have any alterations done at all. Highly recommend these dresses specifically for the option to custom fit. The color is as expected. Quality is great as well.
laurie.m.jones
Color:
Stormy
Reviewed On:
2016-06-07 12:55:22
Great dress. Fits more snug than expected around hips but I still love it.
cl.hopkins.13
Reviewed On:
2016-04-19 13:08:51
I LOVE this dress. It is so comfortable and so beautiful. I am very happy with my purchase.
Bea Griffin
Color:
Peach
Reviewed On:
2016-04-14 19:34:09
The dress fit perfectly! I had to get it hemmed....I'm only 5 feet though :)
Becca Heffernan
Color:
Black
Reviewed On:
2016-03-14 18:45:31
Ordered a dress size larger than normal based on other reviews and fits very well (8 to 10). Will just have to get it hemmed since I am only 5'3". Very comfortable, especially in chest area, probably won't have to wear a bra during the wedding. Came in very nice garment bag and timely as promised.
nancy.thome28
Color:
Royal Blue
Reviewed On:
2016-02-02 07:45:02
The quality of the dress was great! Definitely not the shade of the blue that it appears on the website - it's lighter, more of a canary blue. Still pretty! I was between two sizes, and out of fear for the worst, went up with estimate. Bad move! I looked like a whale in it. I ended up returning it and went down a size - I actually considered going down 2 sizes. Hoping for the best when this next one arrives along with a completely different dress! The dress flows nicely, but as I was concerned would be the case, has far less structure than the photo would indicate. And it's tailored better on the side with the zipper than on the other side of the waist. The boning in the chest area is quite odd - and will make an alteration costly. When you order this, definitely order at the same time with a different dress just to give you options!