Azazie Calliope MBD Reviews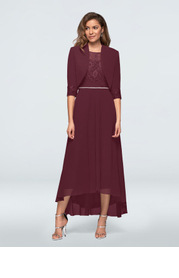 Azazie Calliope MBD
Mother of the Bride Dresses
FABRIC: Chiffon
$126
product info

This Asymmetrical, A-line/Princess dress by azazie is constructed in a gorgeous Chiffon, Tulle, Lace. Azazie Calliope MBD features a Back Zip back style and a Scoop neckline. Azazie Calliope MBD by azazie comes in sizes A0-A30. Whether you dress it up with statement jewelry or down with flats and a cardigan, it epitomizes timeless beauty. 
Marp5000
Reviewed On:
October 12, 2020
Color:
Grape
body type:
straight
Size Ordered:
A12
I ordered this dress for my daughter's wedding, and my dress malfunction was (thankfully) the only mishap for the day. The dress was a great fit..and I tried the dress on 3 times before...once when I received it, once to show it off, and last week when I was making sure it was still ok after all the COVID. Thankfully it was still PERFECT! Well..we tried to unzip it to WEAR it...and the zipper was stuck. I was able to get it on, but it started to split immediately. We pinned it with safety pins, and through the entire event, everytime I moved, the teeth continued to separate. THANKfully I had the jacket to wear to cover my back as the dress split open. The photo attached shows the final level of spllt. I am SOOOOOOOOOOOOOOOOOOOOOO disappointed in the workmanship/quality of this gown.
Was this review helpful to you?
gosney.barb
Reviewed On:
March 15, 2020
Color:
Grape
body type:
Hourglass
Size Ordered:
Custom Size
Excellent fit. Lovely dress style. As promised, delivered on time in a wonderful reusable, travel, hanging package that prevents wrinkling. I'm very satisfied and very happy with your product, fit & delivery. Thank you.
Was this review helpful to you?
pearlortega
Reviewed On:
December 19, 2019
Color:
Vintage Mauve
body type:
Straight
A beautiful dress. It fit me perfect except for the length. I am short. My height is 4'11 or 59 inches. The dress fit me like a long dress and the back draping was about two inches too long.
Was this review helpful to you?
wolfingerbev
Reviewed On:
November 19, 2019
Color:
Cabernet
These dresses are so very tacky looking and appear so much nicer in the pics than in reality!
Was this review helpful to you?