Azazie Calliope MBD Reviews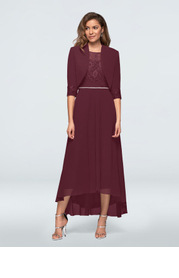 Azazie Calliope MBD
Mother of the Bride Dresses
FABRIC: Chiffon
$164
product info

This Asymmetrical, A-line/Princess dress by azazie is constructed in a gorgeous Chiffon, Tulle, Lace. Azazie Calliope MBD features a Back Zip back style and a Scoop neckline. Azazie Calliope MBD by azazie comes in sizes A0-A30. Whether you dress it up with statement jewelry or down with flats and a cardigan, it epitomizes timeless beauty. 
May
Reviewed On:
December 04, 2020
Color:
Dusty Rose
Ordered in Dusty Rose for our grandmother to wear at my upcoming wedding. The fit around the waist was perfect. Not too snug so that she was comfortable. The padding in the bust also gave her the extra something she needed. The jacket fit nicely as well although we didn't particularly care for the padded shoulders. We all loved the dress. Quality very good. In the end, it was a toss-up between this dress and Alexandrite with Alexandrite winning mostly because she loved the long, full sleeves.
Was this review helpful to you?
Marp5000
Reviewed On:
October 12, 2020
Color:
Grape
I ordered this dress for my daughter's wedding, and my dress malfunction was (thankfully) the only mishap for the day. The dress was a great fit..and I tried the dress on 3 times before...once when I received it, once to show it off, and last week when I was making sure it was still ok after all the COVID. Thankfully it was still PERFECT! Well..we tried to unzip it to WEAR it...and the zipper was stuck. I was able to get it on, but it started to split immediately. We pinned it with safety pins, and through the entire event, everytime I moved, the teeth continued to separate. THANKfully I had the jacket to wear to cover my back as the dress split open. The photo attached shows the final level of spllt. I am SOOOOOOOOOOOOOOOOOOOOOO disappointed in the workmanship/quality of this gown.
Was this review helpful to you?
gosney.barb
Reviewed On:
March 15, 2020
Color:
Grape
body type:
Hourglass
Size Ordered:
Custom Size
Excellent fit. Lovely dress style. As promised, delivered on time in a wonderful reusable, travel, hanging package that prevents wrinkling. I'm very satisfied and very happy with your product, fit & delivery. Thank you.
Was this review helpful to you?
pearlortega
Reviewed On:
December 19, 2019
Color:
Vintage Mauve
A beautiful dress. It fit me perfect except for the length. I am short. My height is 4'11 or 59 inches. The dress fit me like a long dress and the back draping was about two inches too long.
Was this review helpful to you?
wolfingerbev
Reviewed On:
November 19, 2019
Color:
Cabernet
These dresses are so very tacky looking and appear so much nicer in the pics than in reality!
Was this review helpful to you?