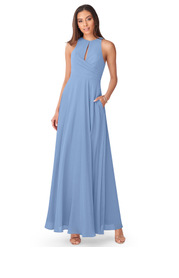 Azazie Bridget
Bridesmaid Dresses
FABRIC: Chiffon
$129
product info

Fun and flirty, this faddish Chiffon bridesmaid dress is appropriate for any wedding from the beach to the church. Your bridal party will love this chic Floor-Length A-line/Princess dress with a Scoop neckline. A pleated detail at the front and back of the flowing skirt makes it perfect for the reception or a city hall wedding. 
KK
Reviewed On:
December 14, 2017
The dress was nice quality and material. I ordered a size larger than my measurements assuming I would get it tailored to my body. The dress was extremely tight under the bust line to the point where it may rip when sitting. Also, the neck line cuts into your throat making it very unpleasant. I plan on ordering this same dress in a larger size. I'm concerned it won't match the other bridesmaid dresses since they originally were all ordered together from same fabric roll. Hoping for the best!
Was this review helpful to you?
Jillmarie.myers
Reviewed On:
June 06, 2017
I ordered this dress in a custom size but I now regret it. A sample dress was not available at the time I purchased it. The quality of the dress material and structure was beautiful and my custom measurements were on point. However this dress fits extremely high and tight on the neck, it was not comfortable at all, I couldn't even turn my neck. Also, the shoulder area of the dress was MUCH narrower than pictured. Unfortunately I sent the dress back and declined a remake. The customer service was so great and very helpful.
Was this review helpful to you?
lstaylor72
Reviewed On:
August 08, 2020
Color:
Dusty Rose
body type:
Straight
Size Ordered:
Custom size
This dress was very pretty only the neck was too tight.
Was this review helpful to you?
Bree
Reviewed On:
August 05, 2018
Color:
Dark Green
body type:
Hourglass
Size Ordered:
Custom size
This dress fits wonderfully!! I made it to my measurements and it is perfect! This dress is for when I'm a bridesmaid, and I am so happy with it! I can't wait to order my wedding dress from this company!
Was this review helpful to you?
Ally
Reviewed On:
March 18, 2018
body type:
Hourglass
Size Ordered:
A4
Absolutely recommended, such a beautiful and well-made dress with POCKETS!! I usually don't like high neckline and smooth skirts, but the Bridget dress was actually very flattering on me and I received a lot of compliments! I wore a size A4 and I'm only 5'3, so the dress was a bit long on me and the bodice, along with the front keyhole and racer armholes, was also sitting a bit lower than it should. The effect was a bit more "revealing" than the picture of the model, but I think custom sizing would solve this issue completely.
Was this review helpful to you?
CRM123
Reviewed On:
December 18, 2017
Color:
Taupe
I like this dress very much, and after trying on a sample will order it as my bridesmaid dress. The A14 fit pretty true to size; it's slightly roomy through the bust (I'm a 38D), but should be fine. The slit detail did come down lower than expected, and showed more cleavage than I thought it would, but that should be mitigated by adding some lift with a bra/tape. At 5'7" I will need to have the dress hemmed, but it fit well and looked nice otherwise!
Was this review helpful to you?
kristianarose
Reviewed On:
December 04, 2017
VERY satisfied with my purchase. I took my measurements and I ended up ordering a size 6 in the Azazie Bridget dress. When it came in the mail, I was SO happy with how they delivered the dress. It came in a garment hanger, UNWRINKLED, and perfectly preserved despite being in a box. I tried it on and it fit perfectly. The color was exactly how I expected it to be, and the length was perfect. I noticed some reviews say the arm hole was "too big" or there was too much side boob, but this was not the case for me, despite me being a 34DD bra size. I do not have to wear a bra with this dress which is fabulous. The only downside which I think I'm going to get altered is the slit in the dress...it shows quite a bit of cleavage due to me having a bigger chest and seems to be longer than what it shows in the picture. Some people may not have a problem with that, but I'm a bit more conservative with what I reveal, haha. Overall, I am very very pleased with this dress. It does not feel cheaply made at all, and it fits to a tee. Recommend this dress to anyone!
Was this review helpful to you?
Amber Hudson
Reviewed On:
October 09, 2017
Color:
Cabernet
I ordered this for more coverage as one with a larger chest. I love the style (bonus, it has POCKETS!!!). I custom ordered the size and it fit like a glove! The only issue I found was that the arm holes were cut rather large and showed quite a bit of side boob. One arm hole was actually a bit bigger than the other and I had to have it taken in. A great bridesmaid dress for sure!!!
Was this review helpful to you?
Amber Hudson
Reviewed On:
July 18, 2017
Color:
Cabernet
The custom sizing is great and the overall fit is good, but the arm holes are cut too big and the amount of side boob is a little too much for my comfort. I am going to have to have it altered. The Bridget may be better for girls with smaller boobs but my size D are too much I guess! Still love the back, the keyhole front, and the pockets!
Was this review helpful to you?
M.
Reviewed On:
April 21, 2017
The dress is not suitable for an athletic body type with a larger ribcage and a smaller cup size - the lower waist measurement is accurate but the bodice is designed for a small frame with a larger cup size. My bridesmaid ordered a carefully measured custom size and it won't zip up!
Was this review helpful to you?