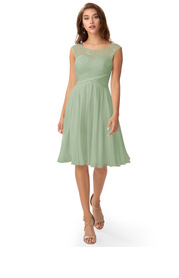 Azazie Betty
Bridesmaid Dresses
FABRIC: Chiffon
$139
product info

Fun and flirty, this fabulous Chiffon, Lace bridesmaid dress is appropriate for any wedding from the beach to the church. Your bridal party will love this graceful Knee-Length, Knee-Length A-line/Princess dress with a boat, Illusion neckline. A pleated detail at the front and back of the flowing skirt makes it perfect for the reception or a city hall wedding. 
megan
Reviewed On:
June 03, 2018
body type:
Straight
Size Ordered:
A8
I really liked this dress. I'd tried it out first using Azazie's sample dresses so I knew the size 8 would fit (despite my bust size indicating that the 10 would). The lace detail at the top was lovely, but as the day wore on it did cut into my arms a bit. I do wish the ruching went a bit further to bring in the waist, but overall it was very flattering and the material felt nice and floated beautifully.
Was this review helpful to you?
beef16
Reviewed On:
September 21, 2017
This dress was my first purchase, but will not be my last purchase. I was skeptical about ordering online, but thankfully the dress I ordered was beautiful and perfect. Great fit and arrived quicker than estimated. The material felt great which led to a great experience for a bridesmaid dress. I matched with the rest of the bridesmaids and the dress was consistent for each of us. We were all very pleased with the product, price and service.
Was this review helpful to you?
mskamrog
Reviewed On:
February 25, 2021
Color:
Daffodil
body type:
Straight
Perfect fit
Was this review helpful to you?
sarahemannsem
Reviewed On:
August 20, 2019
Color:
Dusty Rose
Size Ordered:
A2
This was an absolutely gorgeous dress and I felt wonderful wearing it at my dear friend's wedding. The embroidery on the neckline was beautiful and the cut and wrap of the dress was very flattering. HOWEVER, this dress is not forgiving with measurements. When I first took my measurements and ordered a size, I didn't have a quarter inch to spare. I watched my carb intake for a couple of months before the wedding and it paid off, but do be aware that when they list the measurements on the site, they are not joking around with those numbers.
Was this review helpful to you?
929000turbo
Reviewed On:
June 23, 2019
Color:
Dusty Blue
body type:
Straight
Size Ordered:
A10
Beautiful dress and quality!!
Was this review helpful to you?
Hah430
Reviewed On:
April 20, 2019
body type:
Apple
Size Ordered:
Custom Size
The picture is misleading in that I thought it would be cap sleeved. Mine definitely wasn't. I ordered a size bigger than I normally wear and even added an extra inch all around since I really didn't know what to expect (would it run small, large?). It was too small even then, so needless to say I had to go out and buy something else. The fabric was stiffer than I expected. I'm a little larger around the middle, but this dress made me look huge. I do think that has something to do with the fabric. The replacement dress I ended up buying was almost identical in style, but the fabric was much softer and fell better, so it didn't make me look big. This dress does look beautiful, but I would not recommend it if you're not fortunate enough to be super tiny.
Was this review helpful to you?
Rose
Reviewed On:
April 17, 2019
Color:
Wisteria
Size Ordered:
Custom size
I custom ordered my dress because my measurements are a little awkward and i triple checked all the measurements before ordering the dress, when I received the dress it was entirely too big, I could pull it out at least 5 inches from my sides and the length went almost down to my ankles. I checked my measurements again thinkin it might have been my mess up but my measurements haven't changed any and I'm actually really frustrated with the entire situation considering I paid $160 for the dress, taxes and shipping and now I have to pay to get it altered as well.
Was this review helpful to you?
Shelby Arr
Reviewed On:
March 24, 2019
body type:
Pear
Size Ordered:
A20
Ordered this as a bridesmaid dress for my cousin's wedding. Initially I thought it would be great since we were all allowed to pick our own style of knee-length dress in the same color. The Azazie Betty looks beautiful in the picture but in reality it is cheaply made and very ugly. I ordered a straight size similar to my measurements and still the bust will have to be taken in a dramatic amount! More money for a tailor to fix this hideous dress. This is incredibly unflattering and makes me look much larger than I am. My cousin picked the color so I guess it's what she wanted but the coral in the picture is a soft nice pink and this dress is like neon barbie pink. I'm bummed I had to pay so much for a dress I will never wear again.
Was this review helpful to you?
carlsonlabslaurel
Reviewed On:
September 07, 2018
Color:
Watermelon
Size Ordered:
Custom Size
Bust had to be taken in quite a bit
Was this review helpful to you?
emilyann219
Reviewed On:
July 20, 2018
Color:
Jade
body type:
Hourglass
this dress is so cute! I just don't like how much padding is in the top. the excess padding made this size not fit correctly, but just around the breasts. if there was a way to remove the padding, I would have been extremely pleased. I am worried, now that I have to go up a size, that it wont fit as well everywhere else.
Was this review helpful to you?
heydean13
Reviewed On:
May 01, 2018
I am so disappointed. I have ordered the new azazie 3 different times for bridesmaids dresses. I chose the Betty for my own wedding. I picked mint and coral as the colors. Only 1 of my 6 bridesmaids didn't have some form of problem with the dress. 1 wasn't sent her custom size and her zipper wasn't even attached! 4 had the hooks above the zipper rip off after wearing them for about 20 minutes. 1 never even had the hook on the dress. 3 said the busts were too big despite doing the custom sizing. Finally, the morning of my wedding we realized one bridesmaid was sent the WRONG COLOR!!! She checked her order and she correctly ordered coral and was sent dusty rose. I am so sad and disappointed with this. The dresses themselves were pretty, but what a waste of these ladies money.
Was this review helpful to you?
missmadelinejm
Reviewed On:
April 02, 2018
Color:
Dusty Rose
body type:
Pear
Size Ordered:
Custom Size
I used the custom fit, taking all my own measurements, and everything turned out PERFECTLY. I was amazed. As a plus sized girl, it's always a risk buying anything online without trying it on. I love the dress! The only thing I'm going to have to get done is having it hemmed... it's a bit too long for my taste (falling past my knees). I'm in another wedding later this year and I'll be trying to convince the bride to have us order our dresses from Azazie! Such a hassle-free process!
Was this review helpful to you?
milancathy
Reviewed On:
January 26, 2018
Color:
Ink Blue
body type:
Hourglass
This wasn't the size I needed, but it was the style and the color so I tried it on. I'm so glad I did, as I got to see what I am going to buy before I do. The bride-to-be loves the color, which she had only seen online, so it was nice to be able to show her. The lace is delicate with a pattern which adds a little pizzazz to the dress. The cap sleeves added just enough softness so that my linebacker shoulders aren't prominent :o) It's flattering and I'm going to order it in long and in a custom size.
Was this review helpful to you?
sharebear
Reviewed On:
December 04, 2017
Color:
Tahiti
Felt extremely cheap. The lace looks really tacky, not classy. Fabric even makes a crunchy noise when you move around.
Was this review helpful to you?
loaf8315
Reviewed On:
October 18, 2017
Color:
Burgundy
this dress was perfect. i was really concerned about it not getting here on time, but let me just say it got here 3 weeks earlier than expected, im sure that thats not true in every situation but for me it was. i didnt order a custom dress in case it didnt get here in time (so i could return it) i was also really concerned about the measurements but it was perfect. my waist measured a little bit larger than the size on the dress but i was still comfortable enough (i could still breath) snug when sitting down though. the length was just right. my only complaint was the top above the bust, if i wasnt standing completely straight, it kind of got a little fold in it but it was no biggie. some reviews said it was too matronly, i didnt think so. we all picked different dresses and we all looked great, ordering all your dresses from this site really helps everyone to look uniform with still their own style , if that makes any sense. we all ordered at different times and our dressses were all the same color.
Was this review helpful to you?
ctreview
Reviewed On:
July 14, 2017
Buyer beware. My dress arrived with the right sleeve longer than the left so it racked up a $20 alteration bill towards my $50 reimbursement instantly. The sample fit beautifully in a true to size 12. When I went to order my actual dress, I decided why not do a custom dress since it was the same price. Big mistake. This dress has boning in it which I was never told to factor into my measurements. The dress arrived too small in the waist so I had to have it altered in order to breathe, which cost $40. Also note that custom sizes have nothing to do with height, so do not think that will help if you're petite or tall. Additionally, these dresses may be designed in California, but they are made in China as the label inside my dress clearly states. Final cost with shipping and tax was $153 before alterations, which is more expensive than a local bridal shop would've been. Do your research as this may NOT be your cheapest option after all, and certainly don't waste your time on measuring for a custom dress if the sample size fits perfectly. In the end, the dress photographed nicely, but at a final cost of $163 after alteration reimbursement.
Was this review helpful to you?
bugsvail
Reviewed On:
June 17, 2017
Color:
Dark Navy
This dress is a bit matronly. Too much material on the top and bottom and the top lace itches. Not AZAZIE's most flattering style.
Was this review helpful to you?
Stacy.marie.hague
Reviewed On:
May 09, 2017
Color:
Sky Blue
Beautiful! But I'm not sure about the cap sleeves? .... They don't really cap anything. If you have big shoulders they actually point them out even more. Good dress just not for my swimmer body. I also should have gotten a size 0 because the waist was not tight on me. Other wise I thought it was nice.
Was this review helpful to you?
xmle267
Reviewed On:
May 03, 2017
Color:
Blushing Pink
I'm not sure how this happened, but I took my measurements and they perfectly matched the measurements for the A4 size... but when the dress arrived it was too big. Took my measurements again just to check, still the same. So I returned it and I'm getting the next smaller size, hopefully that one will fit better. I'm happy with the dress besides the size, though. It was well made. A previous reviewer called it "matronly," and it is, a little. It was a little longer than I expected too, but I'm short :) The skirt just seemed a little long for "knee length" in proportion to the rest of the dress.
Was this review helpful to you?
Dani
Reviewed On:
April 13, 2017
The dress is made nicely and it's true to size. The arm holes are snug so I can't raise my arms. The empire waist bulges in a bad spot on the stomach appearing to look pregnant from a side view. Overall the dress is just ok. I wouldn't pick it again.
Was this review helpful to you?