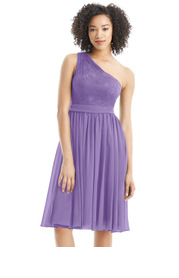 Azazie Betsy
Bridesmaid Dress
FABRIC: Chiffon and Lace
$139
product info

The brilliant knee-length bridesmaid dress by Azazie has an A-line/princess cut in a concise chiffon and lace. Style Betsy features an one neckline, and comes in a full size range (A0-A30). Whether you dress it up with statement jewelry or down with flats and a cardigan, it epitomizes timeless beauty. Ask a question
Refine Reviews By:
Sort By:
Ratings (Show High to Low)
Helpfulness (Show High to Low)
escotch13
Reviewed On:
September 20, 2017
This dress was really nice and fit perfectly.
Was this review helpful to you?
DEB
Reviewed On:
September 18, 2017
My dress came in plenty of time, earlier than expected, and it looked gorgeous. I was close enough to a normal size that I didn't need to have it altered at all. I got compliment after compliment. It's a good thing my bride has amazing taste.
Was this review helpful to you?
brandicole4
Reviewed On:
April 20, 2016
The dress is PERFECT. I looked at the size chart and went by a size A0 when I ordered instead of ordering a custom fit and was nervous it might be too small but it is great! And It came a month early!
Was this review helpful to you?
Messermana
Reviewed On:
September 02, 2015
Hooray! After weeks of worrying that the dress wouldn't fit (ordered standard sizing for fear of possible return problems), mine arrived today and zipped right up. I think the picture does it justice on the web page. If I had been more confident and had had more time, I would have done custom sizing. Taking a gamble seems to have worked out this time. I also love the dark, forest green color. Shockingly hard to find in stores! The single shoulder also makes me feel very secure for dancing the night away. I think my bride will be quite pleased.
Was this review helpful to you?
lisalynn76
Reviewed On:
January 02, 2019
Size Ordered:
Custom Size
I tried on 3 dresses to make sure that I ordered one that would fit and had to custom order the size because I am 5'2". I liked the look of this one the best on me, but I found it hard to put in the correct measurements. I even made some pretty average because I thought my sizing sounded large...and everything was still too big. Doesn't make sense. I also needed it cut shorter because they said that the length of the dress was for someone that was taller than me. But it wasn't clear as to how to measure the dress length. I did the best I could and kind of guessed on that also, and that part luckily came out pretty well.
Was this review helpful to you?
RLR
Reviewed On:
April 19, 2018
Body Type:
Hourglass
Size Ordered:
A10
I ordered this clearance dress for my son's wedding figuring, if I didn't like it, I wasn't out much money, but boy am I surprised and super happy with it! The color is gorgeous (I got it in a magenta color) and the quality is amazing. The skirt is not only lined, but there are three layers of silky material for volume. The lacing on the bodice is beautiful. While it doesn't have a built-in bra per se, it has boning in the bodice and is fully lined on top. It's a little loose for me, but I added a padded strapless bra and that filled it in. I can't wait to wear this at the wedding!
Was this review helpful to you?
Brittaneeamell
Reviewed On:
September 21, 2017
The dress was comfortable and was true to size. I had a great time while wearing this dress. Customer service at Azazie was amazing.
Was this review helpful to you?
DEB
Reviewed On:
August 28, 2017
I loved this dress. It fit well enough that I didn't have it altered (I ordered a normal size that was closest to my measurements), and I was happy with it. I was a little worried about the front gaping out when I tried it on, but on the day, I moved around a lot and didn't really worry or need to pull on it at all. It was fun and cute, but still modest and I felt covered and secure. The color was awesome!
Was this review helpful to you?
meglandess
Reviewed On:
July 03, 2017
I ordered this dress and after I did I became a little worried about it, but when I received it I was so happy! I ordered a size up and am happy I did. It was a little big, but I can get it altered. The lace is beautiful :)
Was this review helpful to you?
Celenia_v08
Reviewed On:
April 06, 2017
Beautiful Dress
Was this review helpful to you?
Sinclairterri8
Reviewed On:
March 17, 2017
Fits perfectly, love it!
Was this review helpful to you?
Riss9021
Reviewed On:
January 17, 2017
I think you actually need a certain body type to pull this off. I have a shorter torso and semi athletic build, and it did nothing to accentuate my waist. I would say this is really better for shorter girls with their own curves, except I found the bust to run a bit small. I usually find 0 too small and 2 too big, but I got the sample in a 4. It seemed a bit small for a 4. So all in all, great for curves but size up! And definitely try samples first!!
Was this review helpful to you?
xpoisonmuffinx
Reviewed On:
June 10, 2016
This was my very first time ordering any piece of clothing online, so I was a bit hesitant. I ordered custom sizing and the fit is actually pretty perfect. The one alteration needed is shortening the hem by an inch or so, but I was prepared for that. The bodice fits like a glove, and the dress itself is absolutely gorgeous. The Wisteria color is perfect. The bride loves it too, which is what's important. The one thing I docked a star for is the zipper - its pretty difficult to zip around the waist area. It took both the bride and myself to get it zipped, and we were worried it might actually break. It didn't seem to be a sizing issue, just the zipper itself getting stuck midway. Will definitely be something to keep an eye on before the wedding.
Was this review helpful to you?
tonitanille
Reviewed On:
October 20, 2015
I'm now one of Azazie's biggest fans! The dress actually arrived early and was just as pictured on the website. I ordered a size 10 based on the size chart and found that the bust area was a little big but i can get that adjusted easily. I'm very happy with my purchase and will be ordering another dress very soon for another event this Christmas.
Was this review helpful to you?
himmelmant
Reviewed On:
August 24, 2015
I love the dress, but strongly recommend others use the custom size feature (there's a link at the bottom of the size chart). Unfortunately I did not and am having to get it tailored. Per the size chart, I ordered for it to fit my bust, but possibly because I am short, the strap is having to be taken in for it to fit my bust right. It was also way too long. It will be perfect for the wedding I'm in and to wear many times after. The dress quality is very good and this is a flattering style that is versatile for many events.
Was this review helpful to you?