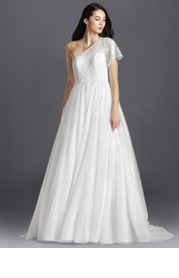 Azazie Azucena BG
Wedding Dress
FABRIC: Tulle and Lace
$299
product info

This court train, ball-gown dress by Azazie is constructed in a fabulous tulle and lace. Azucena BG features a side zip back style and an one-shoulder neckline. Azucena BG by Azazie comes in sizes WD0-WD30. Accented by glittering rows of sequins, the dress has a polished ladylike appeal that's entirely elegant. Ask a question
Azazie Stylist Review
Reviewed On:
2017-10-09 17:20:18
Height: 5'6" Bust: 37" Waist: 31" Hips: 39" Body Type: Average Size worn: 12 Usual Size worn: 8 I wish I was able to try a 10 to get a more accurate rating, I like how unusually it is, it is a combination of so many different things which i like, but due to the size I feel like I am wearing someone else's dress. If it was a better size I feel like I could relate to it better. I do love how the lace is lined on the shoulder so that is great because it's not itchy!
Azazie Team Review
Reviewed On:
2017-10-09 15:55:22
Height: 5'3" Body Type: Round Size worn: 24 Usual Size worn: 22/24 Feels so elegant. I love the one shoulder sleeve and the side zip. I think this more comfortable than a back zip. I am loving the lace, it's a quality dress and a bit on the heavier side (due to it being a ball gown) For my body type, I'd like something more simple and less elegant to flatter my figure a bit more. I really like the bust because I feel more supported and sculpted.
Azazie Stylist Review
Reviewed On:
2017-10-05 12:10:53
Height: 5'5" Bust: 44 " Waist: 39" Hips: 51" Body Type: Large and Incharge (Curvy) Size worn: 16 Usual Size worn: 14/16 Really comfortable but too big in the bust, I wish it was tighter I know that I would have to get this altered. I really like the quality and I think that it is really pretty, I just wish it had pockets. It's really poofy but also really lightweight and comfortable.
Ashnute12
Reviewed On:
2017-11-07 11:50:55
Love this dress! I plan to purchase it soon for my December 2018 wedding. I love the feel, the detail, the look, and the one sleeve! My favorite dress for sure.