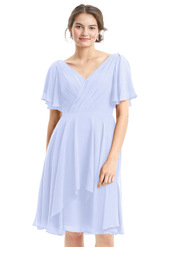 Azazie Ayana
Bridesmaid Dress
FABRIC: Chiffon
$119
product info

Style Ayana by Azazie is a knee-length A-line/princess bridesmaid dress in a fabulous chiffon. The fantastic dress features a v-neck neckline and v back back style. A pleated detail at the front and back of the flowing skirt makes it perfect for the reception or a city hall wedding. Azazie's Ayana style comes in sizes A0-A30. Ask a question
Refine Reviews By:
Sort By:
Ratings (Show High to Low)
Helpfulness (Show High to Low)
Jadeford6
Reviewed On:
September 23, 2017
Loved this dress! It was so flattering on my bridesmaid and was still very comfortable and allowed her to have a fun night. Color looked great in person (dusty rose)
Was this review helpful to you?
hmpauly1
Reviewed On:
September 21, 2017
I loved this bridesmaid dress! The custom size fit perfectly. The dusty sage color was really pretty and the fabric had great movement. I loved how the shape defined my waist. This was perfect for a garden wedding!
Was this review helpful to you?
Kvoigt88
Reviewed On:
November 28, 2016
Since my husband and I eloped last October, I ordered this dress to wear for the reception we held on our one year anniversary! Although it was listed as a bridesmaid dress, it was just the style I was looking for - light and comfortable material with relaxed sheer sleeves and knee length. I ordered it in the ivory which was absolutely perfect and the A10 size fit my 6ft tall body just right. I added a brown ribbon to the waist to give it just a pop of color. We had our reception at a roller rink so when my husband and I did our skate dance together, I felt so graceful and elegant as my dress was flowing while we glided. It was very comfortable and easy to skate in and I never worried that it was too short - I felt like a classy roller skating goddess and the amount of compliments I received were overwhelming! No complaints at all, I loved this dress very much and I'm incredibly glad I stumbled across it to wear for our special celebration! :)
Was this review helpful to you?
nyellowbear
Reviewed On:
August 09, 2015
Right before we left for the ceremony
Was this review helpful to you?
kalman1111
Reviewed On:
May 26, 2015
Here's my sample Ayana from azazie . It's a little large but I loved that I could get the sample and try it to decide if it was a Good option for my body type. Also, look at my cute puppy who just had to be in the photos!
Was this review helpful to you?
Susan Pozarycki Parker
Reviewed On:
July 05, 2018
Body Type:
Hourglass
I was disappointed with this dress. This was my first choice for my Brother's wedding. The dress hung and the shoulders slipped off. I was sad that it looked so sloppy.
Was this review helpful to you?
elizabethkerin
Reviewed On:
May 14, 2018
Body Type:
Pear
Size Ordered:
Custom Size
Yikes. Boxy and ill-fitting despite the fact that I got custom measurements done. Enormous shoulders and bust area that are definitely much larger than my measurements, with boning structure in the ribcage area that makes it extremely rigid and hard to move around in. Generally very disappointed and will have to spend a lot of extra $ to get it tailored for my cousin's wedding.
Was this review helpful to you?
abrown
Reviewed On:
September 14, 2017
Didn't fit my body type well. Still beautiful and great fabric!
Was this review helpful to you?
kass.sarah0730
Reviewed On:
July 17, 2017
I really like this dress, I do feel surprised that it costs more than the other dress I sampled with it, however, the material is very nice and it keeps that pleated look at the bust without stretching out ect. it maintains it's shape and I like how the arms have the split on them. The material is worth the price even though i am surprised it costs slightly more (like 20 bucks) which to be honest is still awesome for a customized dress. I picked this style because we are attempting a themed wedding and this fits our roarin' 20's/bonnie and clyde style. Had to use my imagination for the color but it helps that I have the sample colors as well.
Was this review helpful to you?
thimkemichelle
Reviewed On:
May 18, 2017
Great dress overall as far as quality goes! I was very pleased with how it shipped early and the dress bag included also. Unfortunately I ordered a size up as I was listening to the recommendations from the website when I really should have ordered a size down. I am 5'6'' and about 125 lbs, with an A cup chest. If someone else is around this size I would recommend the A0 vs the A2 because the A2 was VERY large in the chest and shoulders. I am having to have it taken in right now... about a 1/2 inch on each side and then almost an inch on each shoulder. I hope that it fits appropriately for the wedding I am in next month,
Was this review helpful to you?
hannahjwindham
Reviewed On:
April 28, 2016
So pleased with this dress!! Only problem is that the shoulder straps falls down because the V in the back is so low.
Was this review helpful to you?
jaime
Reviewed On:
August 04, 2015
so I looked up a bunch of reviews from this website and was impressed so I ordered two samples, Ayana, and Mikaela. Both were nice material, I was disappointed I couldn't get dress in the color I like (sage) but this dress in particular, looks very grandma like on my bridesmaids. It looked ok on me (the bride) but I just had a baby. I got it because there is some older women in my bridal party (40) and they wanted something with sleeves. Even on my 40 year old mother it made her look twice her age. The front comes down with a second layer under the higher part which doesn't make sense, it needs to be raised in my opinion, which is a simple fix with a seamstress. I really love the sample program and so glad I found the website!
Was this review helpful to you?
Kovarkayla24
Reviewed On:
July 31, 2015
I love the way the stress looks online it will match my wedding dress perfectly and I am doing a Hawaiian themed wedding I know it's not Hawaiian but I'm kind of doing like a beach theme Hawaiian theme wedding with nice flowers then I love this dress and thank you for having it I'm going to order it today for all of my bridesmaids and junior bridesmaids
Was this review helpful to you?