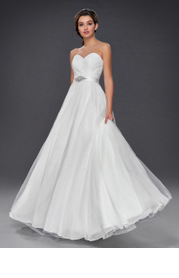 Azazie Autumn BG
Wedding Dresses
FABRIC: Tulle
$299
product info

Dress Azazie Autumn BG by azazie is a simple Tulle, Lace bridal gown featuring a Sweetheart neckline on a Floor-Length Ball-Gown skirt. The back of the gown is finished with Back Zip back style. Available in sizes WD0-WD30 at azazie. A pleated detail at the front and back of the flowing skirt makes it perfect for the reception or a city hall wedding. 
Emily
Reviewed On:
August 10, 2020
body type:
straight
Size Ordered:
9562
I got the sample dress in size 18, color white. In street clothes I usually wear an 18/20. This dress was a tad small; I didn't have anyone around to help me zip it up but I don't think it would've gone all the way up anyhow. Anyway, out of the 3 samples I tried, I loved this one. I'd like to try a few more but this is definitely a contender. The style is very flattering, even if simple, the sash is beautiful, and the jacket adds a lot of flair to it. I like that these elements are detachable also; you can really transform your look throughout the night. I will say this dress is HOT. It has the crinoline built in, unlike the other Azazie ballgown I tried on, and while you need that extra fluff to really fill out the skirt, the many other layers with it and then the lace jacket (which also has two layers) had me overheating quickly, and my wedding is set for Sept '21 so that's something I'll have to consider since it can be a hot time of year where I'm at. The details are beautiful though; I absolutely recommend this dress if you're eyeing it. I think it would flatter most body types.
Was this review helpful to you?
taffjessica
Reviewed On:
May 01, 2020
Color:
Ivory
I purchased this dress because it was one of the only floor length dresses available in the style I wanted. The lacy overcoat thing was very much not flattering. If I had a thinner frame it might have been okay, but its a good thing I didn't plan to wear it. The strapless dress however, was fantastic. I did modify It by adding a layer of colorful tulle under the top so that I had a secret rainbow to add a bit of character to the dress. It was a total hit! I also had some alterations done at the waist so it stayed up but it was minimal. The dress was great for a low-key bride like myself who didn't want to deal with a train or bustle, and was simple and classy.
Was this review helpful to you?
msetoliver
Reviewed On:
November 16, 2019
body type:
Pear
Size Ordered:
WD28
I love my dress! However, I fit the size 28 according to the size chart but still needed alterations in the bust area (it was too big!) alterations were only $65 in my city... I digress... My dress looked AMAZING! SO MANY COMPLIMENTS! Removable lace jacket truly made it unique.. Get it!
Was this review helpful to you?
Teresa Martinez-Gonzalez
Reviewed On:
April 12, 2018
When I first told people I purchased my wedding dress online, I got looks of shock and words like "oh my gosh, aren't you afraid it's not going to look like the photo?!" As a plus sized girl, wedding dress shopping was not something that I was looking forward to. Azazie's home try on program is the best! I tried on 6-7 dresses before I found "the one". This dress was perfection! I loved having the option of removing the jacket; everyone thought I had 2 dresses! The jacket did need some slight alterations, but the dress fit PERFECTLY! I felt beautiful in my dress! Thank you Azazie!
Was this review helpful to you?
harlemgurl88
Reviewed On:
December 20, 2017
This dress is stunning. Even more beautiful in person.
Was this review helpful to you?
Azazie Stylist Review
Reviewed On:
October 17, 2017
Height: 5'3" Body Type: Hourglass Size Worn: 4 Usual Size Worn: Small I love the separate lace overlay and the full skirt! In addition, the belt is really cute adding just enough sparkle to this style! The strapless style is super cute, but it can feel a bit tight, which can be tough for anxious folks like myself. I feel it is a good style for my body type!
Was this review helpful to you?
Azazie Team Review
Reviewed On:
October 05, 2017
Height: 5'1" Body Type: Curvy Size worn: 20 Usual size worn: 16 I like that it was covered and the illusion made me feel sexy. I felt the quality was good, I thought the removable overlay was great for a second look to the reception.
Was this review helpful to you?
missmanda42
Reviewed On:
February 27, 2020
Color:
Ivory
I wasn't able to order the sample dress in a size I could wear due to limited availability, but I wanted to see the details in person since this is and was my number one choice of wedding gown. And it did not disappoint! I fell in love with it when I came home and saw it hanging up though as my Mom put it "Thats a lot of dress!". But it was swishy and princess like which I didn't know I wanted completely until I saw it. I wish I was able to try it on but will get that moment when I order it to my size. I loved how simple the gown itself was with the addition of the lace overcoat thing. You get two dresses for one essentially with the removable lace.
Was this review helpful to you?
justbeingbritt
Reviewed On:
April 06, 2018
body type:
Pear
Size Ordered:
WD26
Very pretty! But unfortunately I ordered a sample WAY too big, I was only thinking of my hip measurements not the other parts. I would have included a picture with me in it but it was literally falling off me. Overall I am really impressed with the dress and that fact that it is only $299. The best part is the removable lace train/jacket, so pretty. This dress is in the running!
Was this review helpful to you?