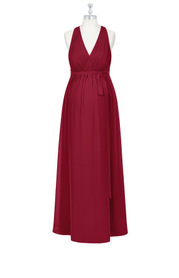 Azazie Athena
Maternity Bridesmaid Dress
FABRIC: Chiffon
$119
product info

The graceful floor-length bridesmaid dress by Azazie has an empire cut in a beautiful chiffon. Style Athena features a halter neckline, and comes in a full size range (A0-A30). A playful bow detail on the dress makes it feminine, flirty and sweet. Ask a question
Refine Reviews By:
Sort By:
Ratings (Show High to Low)
Helpfulness (Show High to Low)
lluiken
Reviewed On:
July 02, 2019
Body Type:
Hourglass
Size Ordered:
Custom Size
I have ordered three custom size bridesmaids dresses from Azazie and this is the only one I have ever been unhappy with. The sizing from shoulder/neck to under bust runs SO big. I had to have the straps altered by approximately 3 inches just to make it look decent and ensure that nothing was exposed / falling out during the wedding. Thankfully, the alteration reimbursement covered this, but it was so bad that I actually contacted customer service because I thought the dress was made incorrectly. After having it inspected and my measurements checked again, everything was accurate - it is just how the dress is made. If you do go with this dress, make sure you have left yourself time for possible alterations. If I had to do it over again in terms of maternity dress, I would go with the Madison (I ordered this for a second wedding while pregnant) as the fit is much better.
Was this review helpful to you?
MelaniebWerner
Reviewed On:
June 17, 2019
Body Type:
Hourglass
Size Ordered:
A12
This dress turned out to be great! I followed the measurements as written out on the website and ordered a size up since the wedding was over a month away from ordering. At the time of the wedding I was 5'6", a 36D, and 36 weeks pregnant. I ordered the A12 and it fit fairly well. I had to find a strapless bra to fill in the top and it was REALLY long; I had about 6in hemmed off the bottom. I could have ordered an A10 I think, but I ordered the A12 just to be safe! My only negative has nothing to do with the dress, but with the shipping. It took WAYYYYYY too long to come! It took almost 4 weeks for it to arrive. I am glad the dress fit, because if it didn't I would not have had enough time to order a new one. Otherwise, the dress was comfy, breathable, and very flattering!
Was this review helpful to you?
Kristen Marie Ramos
Reviewed On:
April 14, 2019
Body Type:
Pear
Size Ordered:
A4
Dress fit great. I wish it had a little more give around the bust but other than that it was beautiful. I would definitely recommend this dress and color to others!
Was this review helpful to you?
y.dixon
Reviewed On:
April 01, 2019
Body Type:
Straight
Size Ordered:
A4
Very happy with the purchase and Dusty Blue color. I may have taken off a little in the length if I had more time for alterations but I got the dress at the last minute (took 7 weeks from when I ordered it). Great customer service and fit well seeing as how I wasn't sure how I would grow. Wore it at 36 weeks pregnant.
Was this review helpful to you?
kp_angus
Reviewed On:
August 15, 2018
Excellent company to work with. The dress try on program was very handy. The dresses fit well, the colors were perfect, and the price was excellent.
Was this review helpful to you?
c.Bond
Reviewed On:
May 10, 2019
Size Ordered:
A4
I am extremely unsatisfied with this dress. I am on the smaller bust size (B) and am a size 4 in dress. Because of how long these dresses take to ship to you, the strict return policy, and the ever changing pregnancy body it truly is a no win situation to figure out how to get the right fit. I had to make sure to order the dress (size 4) months before the wedding but won't know until practically the week of the wedding exactly how well the dress would fit. While the quality of the dress is nice, the design is very subpar. The "waist line" is awkwardly placed. It doesn't fit nicely under my bust and lands very uncomfortably on my growing belly. I can't really size up because the top is already gaping on me. Needless to say hopefully a seamstress can help out before the wedding in two weeks, but having to get all these alterations done on top of purchasing the dress and paying for shipping is not ideal. I would not recommend the hassle of it.
Was this review helpful to you?
denali815
Reviewed On:
April 27, 2019
Size Ordered:
A12
This dress was super comfortable even at 34 weeks pregnant. It was also very flattering. My sister wanted the bridesmaids in knee length dresses. I had a hard time finding a knee length maternity bridesmaid dress I liked but after having this shortened it was perfect!
Was this review helpful to you?
leememe13
Reviewed On:
April 04, 2019
Size Ordered:
A6
So flattering on a pregnant body. My pregnant maid of honor looks amazing and its got plenty of room for her growing belly.
Was this review helpful to you?
donnajdavis2015
Reviewed On:
February 02, 2018
Size Ordered:
Custom Size
Ordered this dress for my daughter who at the time of my son's wedding in March will be 2 weeks before her due date. We did a custom measurement for her and it fits beautifully! She has a little room for growth but the overall fit is perfect. I was so impressed with the packaging too as it came in it's own garment bag on a hangar. Thank you so much for the time and beautiful work you did for her!
Was this review helpful to you?
Rinn
Reviewed On:
November 21, 2017
I was 7 months pregnant for my friend's wedding and I thought this dress worked well. The other review references it not working well for bigger chested women but I'm a DD and it was well supportive and my boobs were not falling out or showing too much. My husband complained it covered them up too much actually. Overall, the dress was a success.
Was this review helpful to you?
law
Reviewed On:
July 12, 2017
Honestly, I picked this dress because my options were limited and this was the best among my choices. The dress is just ok. If you have a bigger chest and/or you are going up in sizes because you are pregnant, this is not the dress for you.
Was this review helpful to you?