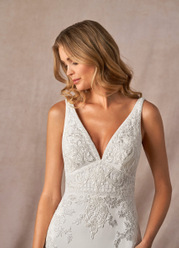 Azazie Arbor BG
Wedding Dresses
FABRIC: Satin
$349
product info

Dress Azazie Arbor BG by azazie is a gorgeous Satin, Tulle, Lace bridal gown featuring a V-Neck neckline on a Chapel Train Trumpet/Mermaid skirt. The back of the gown is finished with Back Zip, Button, V back back style. Available in sizes WD0-WD30 at azazie. Fine lace covers a fitted bodice above the skirt, this perfect maids frock has a dash of romance. 
jillianturman
Reviewed On:
January 02, 2021
Color:
Diamond White/nude
To the lady who commented under me who said this dress goes well on women with short torsos, thank you so much!!! I have a short torso and your comment helped me decide to order this dress. It fits me so well! I just had a lot of pasta so I'm really bloated but look how gorgeous this dress is!!! I'm a tall/ pear shaped lady who is 5'8, 145 lbs and I have really wide hips. This dress is one of my very favorites I have tried on! Craftsman's ship is outstanding.
Was this review helpful to you?
rameejorschumb
Reviewed On:
October 07, 2020
I loved this dress. The entire bodice fit wonderfully, the detail was beautiful, and it was very comfortable. My issue with this dress is that it was made for someone with an extremely short torso. The fitted nature of the dress requires precise measurements to hit correctly. The material of the bottom portion is also clingy, so it will show every bump. The top half of the dress gets 5 stars from me, I just wish the bottom had fit better!
Was this review helpful to you?
Gina
Reviewed On:
August 18, 2020
This dress exceeded my expectations in both quality and fit. I wore it for my elopement ceremony at San Francisco City Hall, and it was really the perfect dress. The quality of the fabric and the lace details were as good, if not better than the dresses I've been trying on at bridal stores and boutiques for my big church wedding and reception. I'm an apple shape, and didn't think that this dress could look good on my body type, but I'm so glad I jumped and went with it. The dress is quite formfitting, so I suggest wearing some shapewear if you're shaped like me lol. If you're looking for a lower cost option, need a dress quicker than ordering from a store, or just love the styles on this website; I highly suggest this dress and this company! **cape veil is not from this site and not included in the dress**
Was this review helpful to you?
Beattrice
Reviewed On:
August 04, 2020
When i was buying the dress, i was not sure of the material but upon seeing it in person, i fell in love with it and it fits perfectly. i gave them my measurements
Was this review helpful to you?
Emily Michelle
Reviewed On:
September 29, 2019
I was very surprised by this dress. I was nervous about the fit being too tight in my hips but it fit just right. I ordered a sample of the diamond white. The stock image - in my opinion - makes the dress look a little more risqué than it is in person. The diamond white has a full white underlay. It has such pretty detailing and lace appliqué. I was surprised by how light it is and easy to move around in!
Was this review helpful to you?
jjisroadrunner
Reviewed On:
September 28, 2020
Color:
Diamond White/nude
body type:
straight
Size Ordered:
WD4
Quality of the sample dress was so impressive, looked and felt like a designer dress from a bridal boutique. All three sample dresses I ordered came as pictured if not better.
Was this review helpful to you?
Amanda
Reviewed On:
September 15, 2020
body type:
Hourglass
Size Ordered:
WD10
I love this dress. I found a similar dress in a local boutique and couldn't justify spending $2,600. Someone referred me to this site and I found this identical dress for MUCH cheaper in price but amazing quality! The nude underlay matches my skin tone perfect and gives it a nice look! I previously tried on the champagne and I wasn't as much a fan but that's not the color i was going for. I'm waiting for a size 8 to be available to try on before ordering so I know which size is best as the 10 seemed a little big on me.
Was this review helpful to you?
Irish Bride
Reviewed On:
August 15, 2020
Color:
Diamond White
body type:
Hourglass
This dress is amazing!! I cannot get over the quality for the price. I ordered the 0 as I am very petite. My measurements are 32D-25-35. I would say this would be a perfect fit on a 32C but the bottom half was at least an inch too big so more like for a 36-37" hips and because of the appliqué on the hips taking it in will be almost impossible to get right, so if you are ordering this, definitely get a custom made dress for a little more. But wow, what a stunning, classic, wedding dress. I'm just so impressed.
Was this review helpful to you?
sararoderick1
Reviewed On:
May 08, 2020
Color:
Diamond White
I absolutely loved the dress and will most likely order that for my wedding gown! I ordered a size 14 and it was quite big. (Closest to my size is a 12) The material was so soft and comfortable. The only thing that was a bit off was the lace patterning around the hip area. I have fairly high hips so maybe that's why but the placement and the thickness of the dress/patterns in that region executed my hips more than I would like. In the photos on the website it's hard to see as the models hands are covering it.
Was this review helpful to you?
Becky
Reviewed On:
October 21, 2019
body type:
Straight
Size Ordered:
WD10
The dress pictured online looks very see through, especially at the hips; however, this is not the case! The dress has a thicker underlining that does not show any skin; the image online must be perfectly matched to her skin tone. My friends were worried that it will be "too sexy" but thankfully that didn't happen. I'm 5'2" and 130lb, usually wearing a size 8/10 dress. I ordered the size 10 in a Diamond White and Champagne. The only part I do not like is the champagne mesh under the arms; only because it does not match my skin tone so I will have the tailor make the appropriate adjustments. The dress detail is very acurate to the image online. I wish there was a little more sparkle to it, but that can always be added later. The dress is medium-to-light weight and slightly stretchy. Overall, this is a great dress for the price.
Was this review helpful to you?