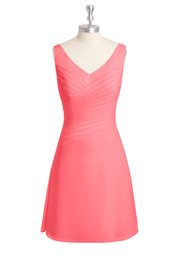 Azazie Annabella
Bridesmaid Dress
FABRIC: Chiffon
$109
product info

Style Annabella by Azazie is a knee-length A-line/princess bridesmaid dress in a concise chiffon. The charming dress features a v neckline and v back back style. A pleated detail at the front and back of the flowing skirt makes it perfect for the reception or a city hall wedding. Azazie's Annabella style comes in sizes A0-A30. Ask a question
Tonya
Reviewed On:
2016-09-03 10:16:51
This was a pretty cute dress. I was looking for a blush pink, but Azazie didn't really have one at the time I ordered so we tried this as an option (Dusty Rose). It was a little muted for my tastes, color wise, so we probably will go with something else. I went with the size 6, which was right according to measurements for me and it fit perfectly.
vbryan
Reviewed On:
2016-05-13 16:31:23
If you think that this is simple and form fitting you are incorrect. Basically the top is a bullet proof vest of fabric and the arm holes are tiny. The waist and the bottom of the dress are too big. The built in area for your breasts sits at the collar bone. I have never put something on that looked worse.
fortymilesnorth
Reviewed On:
2016-03-21 07:30:18
It was great to find a dress on clearance ($35) and that fit well. I bought it to wear for my friend's wedding and am very happy with it. It fits nicely (matched with the sizing chart). Shipping was no problem and it arrived in good time. :)
kmccarthy1040
Color:
Watermelon
Reviewed On:
2016-02-03 17:43:14
This dress was a little tight in the rib-cage area and this was the only complaint among the rest of the bridesmaids for different dress styles. I am 5'10" tall, taller then the rest of the bridesmaids, so this dress stopped above my knees and was knee length for everyone else. The top was also a little higher on me and the bust hit slightly too high for me - it is appropriately sized for shorter people though.
rmebrooks8
Color:
Royal Blue
Reviewed On:
2015-08-06 11:30:10
The dress came in a timely manner but it didn't have the pizzazz like the picture. Also, I am a size 12 to 14-most of what I wear now (dresses and pants) are size 14. I ordered a size 16 just in case but the dress is waaayyy tooo small to be called a 16. it is more like a size 12. I'm in a rush to lose 10 pounds to get into the dress as I cannot afford to purchase another one. This is very stressful but I get it's for my own good. Ten pounds lighter can't be all that bad, right?
mreitsma59
Color:
Steel Grey
Reviewed On:
2015-07-31 09:22:36
The dress is wonderful! My custom measurements were easy for me and the dress fits me very well! I am very happy with Azazie's work, quality and speed!
Eliza Buckley Filand
Color:
Spa
Reviewed On:
2015-07-30 17:30:37
Beautiful dress. Came nicely packaged. It was too big though so had to order another in junior size.
milliaia06
Color:
Coral
Reviewed On:
2015-07-15 19:54:14
I bought this dress for one of my bridesmaid and it looked absolutely stunning on her! The only complaint I have is the fact that the bra padding was very large. If you're going to ask for measurements, then design the dress accordingly. The service was fast, so kudos to that.
danylgator
Color:
Dark Navy
Reviewed On:
2015-07-01 10:21:16
The dress is beautiful and fits like a dream! A little snug in the arms and chest, but no bra required! There are darts and support sewn into the dress, so there's plenty of support. the fabric lays beautifully, and I can't wait to wear it for my friend's big day! Totally worth the FREE custom sizing.
Hbb2008
Color:
Turquoise
Reviewed On:
2015-04-26 10:38:53
This dress is great. I ordered a custom size because according to my measurements i was 3 different sizes. The dress fits almost perfect. The straps will need some extra altering, they buckle in the front. But the rest of the dress fits great. It also comes in a nice garment bag when shipped to you. I received my dress faster than the website said.
Ajain311
Color:
Fuchsia
Reviewed On:
2015-04-23 13:13:34
While the construction and fabric were great, the asymmetrical detail at the waist/hip made that area appear more broad.