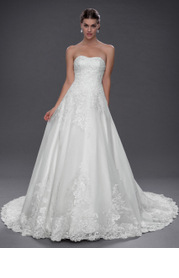 Azazie Anita BG
Wedding Dresses
FABRIC: Organza
$449
product info

This Chapel Train, Ball-Gown dress by azazie is constructed in an exquisite Organza, Lace. Azazie Anita BG features a Back Zip back style and a Sweetheart neckline. Azazie Anita BG by azazie comes in sizes WD0-WD30. A pleated detail at the front and back of the flowing skirt makes it perfect for the reception or a city hall wedding. 
shauntel_33
Reviewed On:
August 30, 2018
Color:
White
Loved this dress and at this price cannot complain. I had searched high and low for a dress and really didn't know what kind. I popped onto Azazie after doing research of reliable online retailers and got the sample dress. I went with it! I'm so glad I did. Loved how it fit me, the train was goooorgeous!
Was this review helpful to you?
Emily Fowler
Reviewed On:
January 26, 2018
Color:
Ivory
I tried this dress as a sample and loved the fit right off the bat. The train is gorgeous and flows beautifully. I really enjoyed the lace details throughout the dress. When I ordered it to try on I was worried about it being strapless, as I have had bad luck with strapless in the past, but this dress fit beautifully and offered great support.
Was this review helpful to you?
Azazie Stylist Review
Reviewed On:
October 18, 2017
Height: 5'3" Body Type: Hourglass Size Worn: 4 Usual size worn: Small I love the train on this dress, it is super romantic and makes me feel like a princess. This is poofy and at times it feels a bit awkward to walk, but it still feels really light, and that being said I think any ball gown with a train is difficult to walk in. I feel the quality is really good and I am in love with the lace details! Also, I feel very supported, the inner corset really helps!
Was this review helpful to you?
Azazie Stylist Review
Reviewed On:
October 17, 2017
Height: 5'7" Bust: 54" Waist: 50" Hips: 61" Body Type: Big and Curvy Size Worn: 24 Usual size worn: 22/24 I have a giant beautiful tail!!! Haha, I like trains... but also I love the fit of this, the inner corset is great!! I feel extremely supported and secure. I think it's very flattering and it's very comfortable to move around in. I don't feel I get the arm chubs or back chubs that I do with some dresses. The lace and beading detail is gorgeous. The bust area I could love a little more but I think overall a really pretty design and great for us plus size beauties. Also, a local tailor could easily add some bustles so you can transform it into a dress you can dance the night away in.
Was this review helpful to you?
cparsons1963
Reviewed On:
August 31, 2020
Color:
Ivory
Dress is gorgeous in ivory. Fit was great. Was too long but my daughter is short at just over 5 feet. Being a plus size girl, this was a surprisingly good fit and she probably could have worn a 26 or 28 with the lace-up corset. Would've purchased but she really is self conscious about her arms and wants sleeves.
Was this review helpful to you?
emilypa13
Reviewed On:
November 18, 2018
Color:
Ivory
Loved this dress! I couldn't find the "perfect" dress for months, then I looked on here and found this one. I was skeptical of buying on the internet, so I did the try at home and the dress was just what I wanted and I ordered one. The details and fabric are amazing, not cheap looking at all, I also loved the custom sizing, because I didn't have to spend a fortune on alterations. I did have to have it shortened but only because I accidentally added 3 inches for my shoes, and ended up breaking my knee so it needed shortened to prevent me from tripping. The train is long but it looks good in photos especially if you have a lot of wind. I would highly recommend this dress for the price, quality and efficiency. Azazie is a great company to go through!
Was this review helpful to you?
nhung15nguyen
Reviewed On:
October 12, 2018
Color:
Ivory
Yes, this dress was beautiful! I just couldn't wear a bare back, I'm just the consevative type. This dress was picked by my youngest sister. Size 5 would of been perfect!
Was this review helpful to you?
Shelly Monique Betts
Reviewed On:
August 08, 2018
Color:
Ivory
Sample dress was too big for me but I LOVED IT. I ended up going with a different gown similar to this one. If you want it to be puffy at the bottom, you'll need to buy or rent a crinoline.
Was this review helpful to you?
Cmjacob923
Reviewed On:
May 14, 2018
Color:
Ivory
Tried on the sample and fell in LOVE - this will be my wedding dress. Has a corset underneath the back zipper to make sure it's tight and won't slide. Beautiful, finished lace train. Fits a curvy woman very well! Can't wait to see the finished, custom product!
Was this review helpful to you?
alower
Reviewed On:
November 30, 2017
Color:
Ivory
This is the dress for me :). It is beautiful and comfortable and the lace and sequin details over the bodice and bottom of the skirt are gorgeous, giving it a slight vintage/classic feel to it. There is more of a train on this dress than the other 2 I tried on, which is very elegant. Lastly, the built in corset makes this a dream to wear, you don't have to worry about the dress moving at all, which is wonderful when you're going with strapless.
Was this review helpful to you?