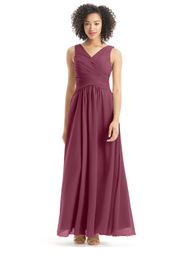 Azazie Amelia
Bridesmaid Dress
FABRIC: Chiffon
$129
product info

Fun and flirty, this fabulous chiffon bridesmaid dress is appropriate for any wedding from the beach to the church. Your bridal party will love this lovely floor-length A-line/princess dress with a v-neck neckline. A pleated detail at the front and back of the flowing skirt makes it perfect for the reception or a city hall wedding. Ask a question
Bridget
Reviewed On:
2018-05-26 12:52:28
Body Type:
Hourglass
Size Ordered:
Custom Size
Ordered this dress (not sure what to think going into it as I've been hit or miss with buying dresses online) -- thank god for custom sizing (my measurements are ALL over the place). Placed my order in the beginning of May - got it three weeks later. This dress fits like a dream - the only minor complaints I have are -- 1) wish the zipper was better quality...2) it already makes my too big boos look bigger, haha. But otherwise, I highly recommend getting this dress!
smshane
Reviewed On:
2017-12-06 11:52:14
I ordered a sample dress for a friend's wedding in April. I'm currently 23 weeks pregnant and should be about 6 weeks postpartum at the wedding. I plan to order this size (A18) and get it altered if needed, since there's really no way to tell what my body will be doing post-baby :) The Amelia is comfortable and pretty flattering, and I've chosen to order this one (I got a few different styles to try on).
Sarah Montgomery Hawk
Reviewed On:
2018-04-17 12:50:40
Color:
Peach
Body Type:
Straight
Size Ordered:
A0
I was on the fence about ordering the 0 or 2 as I did not want it to be too small. I'm glad I went with the 0 because the fit was perfect. I did have to have the dress hemmed (which I knew I would).
acwtime
Reviewed On:
2018-03-08 17:10:47
The bust seemed really large on me and all the layers felt very thick. I did not have this problem with the Evelyn which is the dress I eventually went with.
carolyn.holl88
Reviewed On:
2017-08-11 05:21:10
The color was mis-represented online. Royal blue is supposed to be a bright blue and this was a pastel, almost denim looking color. I was disappointed and will not be using Asazie for my dresses.
wiedenhft
Reviewed On:
2017-08-08 11:52:43
Loved the fit and detail down the sides from the bodice so much that I ordered it! Looking forward to receiving it in cabernet .
Julia
Reviewed On:
2017-05-30 11:14:58
Color:
Burgundy
I'm satisfied with the dress and the speedy delivery! The color is beautiful, fits my bust very well, and the dress is of high quality. One thing I thought I would mention that I noticed immediately when I put it on, the fabric that drapes in the front in such a way that it can accentuate your stomach. You can't really tell that from the pictures online, so I wanted to include it in my review!
Annalucillerobbie
Reviewed On:
2017-05-08 23:17:36
This dress was perfect and looked great on my bridesmaid. A few small adjustments to be made around the bust area but nothing too major.
Amy D
Reviewed On:
2017-04-19 09:30:42
The dress is absolutely beautiful. Very well made and it arrived a couple of weeks early. The only issue is that I will have to get it taken in a couple of inches but that is expected when ordering online. Very beautiful dress and very impressed with my Azazie experience!
brittany.ray.clark92
Reviewed On:
2017-02-06 12:17:51
Color:
Grape
I am very happy with the Amelia Bridesmaid Dress. It fits all of the girls very well (different body types too) and they like that it gives them a nice shape. Plus, the price is one of the cheapest I have found for bridesmaid dresses.
kclmurphy
Reviewed On:
2017-01-21 16:50:29
Color:
Blushing Pink
These dresses are wonderfully made. I had to return mine only because it did not look as good on me as I thought it would and just didn't fit me as I have wanted. It was beautiful and our daughter's 5 bridesmaids have all ordered their dresses from Azazie. They are perfect and incredibly very well made. We are happy to have found Azazie as we searched for the wedding party dresses. The order process was easy and they dresses arrived in a very favorable time. We would use Azazie again.
diane-niebuhr
Reviewed On:
2017-01-03 09:00:40
I was impressed with the quality of the dress. it was wonderful to be able to try on a sample before purchase. I am a size12 and if fit perfectly except for the length which was very long. I am 5'8" and i don't think i could find heels high enough to be able to walk in the dress. It would need to be hemmed.