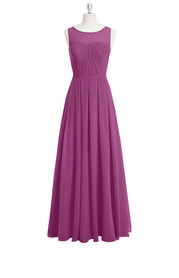 Azazie Ambrosia
Bridesmaid Dress
FABRIC: Chiffon
$129
product info

The lovely floor-length bridesmaid dress by Azazie has an A-line/princess cut in a comfortable chiffon. Style Ambrosia features a boat neckline, and comes in a full size range (A0-A30). A pleated detail at the front and back of the flowing skirt makes it perfect for the reception or a city hall wedding. Ask a question
cecedivine99
Reviewed On:
2016-11-14 12:31:42
My 13 year old sister loved this one! And she looks great in the size 2, except the bust was still to large for her. We custom ordered it and we're waiting for the finished one to come in a few weeks, hoping it fits her well! We're also using this one for some of the other bridesmaids (who are adult ladies) and they've also said lots of good things about this dress!
lminnis1986
Color:
Spa
Reviewed On:
2016-10-04 14:56:34
The dress itself was beautiful, but the measurements listed for a size 12 are not accurate. They fit my measurements to a T and it was too small in the bust area. Fit perfectly everywhere else which is a shame. I had to return it and order the next size up.
brie248
Reviewed On:
2016-04-23 05:11:54
Absolutely gorgeous dress! Love how it came in a protected cloth bag. It is well made from a comfortable material which is also cool to the skin. This will be helpful out on the dance floor! Can't wait to be a bridesmaid in my friend's wedding!!!
Natashaepstein
Color:
Papaya
Reviewed On:
2016-04-01 07:19:54
Really pleased with this dress - great color and great quality. I was hoping the sheer topping would be a bit more sheer, in some angles it looks completely solid. Generally speaking, it fits well per the measurements. It's a bit tight in the back, and conversely loose in the front somehow, but I'm really happy with my purchase.
alyssa.ann.bell
Color:
Mint Green
Reviewed On:
2016-03-15 21:56:16
The dress is beautiful and just barely fits me. I had a custom order made because I have a 49 inch bust and a 36 inch waist. I ordered at 50 inch bust and 37 inch waist to make sure it would fit. The waist is great, but the bust I can only barely zip because there is padding in the front of the dress. And because I'm a 50 inch bust, it's obvious that when custom orders are made the padding isn't adjusted or removed for larger bust sizes because it looks like my boobs have smaller boobs coming out of them. My suggestion is to remove or customize the padding when an order for that dramatic of a bust comes in. Now I'm going to have to take the dress into a tailor to see if they can get the padding out and if it will alter the dress any. It looks funny with the padding in, but of course it's always possible it will look just as weird with the padding out. Hoping I can still wear it to my best friend's wedding!