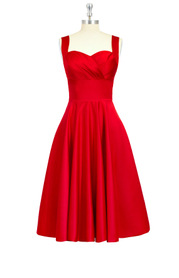 Azazie Amber
Bridesmaid Dress
FABRIC: Satin
$99
product info

The brilliant knee-length bridesmaid dress by Azazie has an A-line/princess cut in an elegant satin. Style Amber features a sweetheart neckline, and comes in a full size range (A0-A30). A pleated detail at the front and back of the flowing skirt makes it perfect for the reception or a city hall wedding. Ask a question
HA
Reviewed On:
2016-05-22 14:25:11
I love, love, love this dress and Azazie customer service!!! They were so nice and helpful through the whole process. It was a breath of fresh air after dealing with so many snobby wedding boutiques. My bridesmaids looked so gorgeous in these dresses and it really helped set a classy tone to our 1920s formal hotel venue. I highly recommend. In fact, I am going to buy one for myself! Our dresses were emerald green. I cropped their heads in the picture so I wouldn't put anyone's picture on the internet who didn't approve.
Leah McKendrick
Reviewed On:
2015-09-23 19:45:23
I thought the Amber dress in Dark Green was the perfect dress to set the scene for my 1950's film set
Gabrielle AC Amey
Reviewed On:
2015-09-22 09:12:00
Just thought I'd share a photo from my wedding just to show how awesome your guys dresses are My ladies looked (and felt great) and the quality is great! Thanks again!
HilLesha
Reviewed On:
2014-12-22 03:07:36
When I first saw Azazie's Amber Dress ($99), it immediately made me think of the Trashy Diva "Honey" Dress since it was constructed in a similar manner, from the A-line/princess cut and sweetheart neckline to the satiny fabric. Out of all of the beautiful dresses that Azazia offers, I had to have this one! Azazia generously sent two dresses in the colors of my choice: burgundy and emerald. Although these colors can be worn during any season, I couldn't think of anything more festive, chic, and timeless in those particular colors.
Nikki_2_7
Reviewed On:
2016-11-04 07:40:12
Ordering my Bridesmaids dresses from Azazie was an awesome experience! I got the custom size option and they fit really well. I was impressed with the fast shipping time and the quality of the dresses. I have recommended Azazie to friends and family. I just recently had a coworkers sister order her bridesmaids dresses from Azazie as well with great results! Highly Recommend!!
Amandafusco
Color:
Dark Green
Reviewed On:
2016-02-04 14:31:39
I am so pleased with the dress that I received. The color is exactly how it was pictured online. The only thing I wish I had known before ordering was that you can order in a custom size. The size I ordered fit well enough, but there are a few areas that I may need altered to fit my body a little better. Overall, I am extremely happy with my dress and will definitely consider ordering from this company again.
jan_hodnett
Color:
Fuchsia
Reviewed On:
2015-03-29 17:59:41
This dress is just like it is pictured. No surprises...