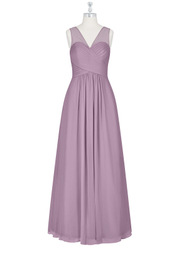 Azazie Alicia
Bridesmaid Dress
FABRIC: Chiffon
$119
product info

Fun and flirty, this comfortable chiffon bridesmaid dress is appropriate for any wedding from the beach to the church. Your bridal party will love this brilliant floor-length A-line/princess dress with a v-neck neckline. A pleated detail at the front and back of the flowing skirt makes it perfect for the reception or a city hall wedding. Ask a question
Emma
Reviewed On:
2018-04-04 18:29:52
Body Type:
Straight
Size Ordered:
Custom Size
I was really excited to wear this dress! Overall, the fit was right for my body with the exception of the straps. In photos, the dress appeared that it fit perfectly! From my own perspective, there were gaps in my bust area and the sleeves didn't lay flat to my body. The color was as expected, but the sleeves were less sheer than the photos make it seem. I would still recommend this dress to someone shopping because it was very flattering! I would definitely recommend getting your body measured and ordering a custom size.
Aubrey Nitschelm
Reviewed On:
2018-03-13 10:30:53
Size Ordered:
Custom Size
I wanted to love this dress so bad... it just didn't quite work out with my body like some of the other dresses did. This doesn't mean it can't work for you! Compared to other size 6 Azazie dresses I tried on, this one seemed to run smaller in the back (as you can see from the picture). The length was definitely going to be too long and I am 5'6". HOWEVER, that could easily be fixed with a custom order if needed. The biggest thing that got me was the mesh over the sweetheart neckline. Whenever I would slightly bend over, the mesh would fold over the main part of the dress. I could easily see this not being attractive in pictures. AGAIN, this is not me saying that the dress is poor quality (because it was excellent fabric).... it just didn't work for my athletic body type! I HIGHLY recommend trying the Sample Dresses because it really gave me an idea of what would work best for my figure. The dress pictured is a Size 6 in Dusty Blue.
vg
Reviewed On:
2018-04-11 20:38:14
Color:
Dusty Sage
Body Type:
Straight
Size Ordered:
Custom Size
The sweetheart cut top makes my curvy chest look flattering, but the overall cut isn't the most flattering on my straight body type. The custom sizing worked great with the exception of the straps, which were a bit too long. They are not too long to warrant an alteration, but I would prefer if they were a little more snug. The straps don't lay flat on my body. There are some diagonal, gentle creases that show in the straps, as in the photo on the mannequin. I will not be able to wear a regular strapless bra with this dress since the back comes down lower than I thought. The sides of the bodice have bulges of fabric that appear in different places depending on my posture.
preston.alx
Reviewed On:
2018-03-28 09:47:53
Color:
Cabernet
Body Type:
Hourglass
Size Ordered:
A16
I am totally in love with this dress! It fits great, and is slenderizing. The only reason I am giving 4 stars is because I was really excited about the sheer thick straps. The picture online is misleading because it's really not sheer at all unfortunately. It's still a gorgeous dress! I hope to be in another wedding so I can order from Azazie again!
sarah
Reviewed On:
2018-02-11 12:42:20
Size Ordered:
Custom Size
I did custom size, but the dress was a little shorter than I anticipated so I had to purchase shorter heels which wasn't a big issue. There is a lot of boning which I had to get used to and the chiffon shoulders gapped a bit in the back, but not enough that I felt like I needed to get it altered. Overall, I liked the dress but I would not buy this design again.
halster7
Reviewed On:
2017-11-27 09:01:29
Color:
Cabernet
Overall, I liked the dress. I ordered a custom size. I did not add any extra length for heels since the last dress I did that for was much too long, but now this one is too short!! I'm very disappointed about that, hence the low rating. Other than that it was fine.
kimberlybe13
Reviewed On:
2017-09-20 13:31:12
Color:
Dusty Blue
I took my measurements prior to ordering size A2, and I think they were a bit off. A size 0 would have fit me perfectly, I'll just have to get it taken in slightly. Other than that I am satisfied with my purchase!The color of the dress is absolutely gorgeous, exactly like the picture. The material seems of nice quality as well!