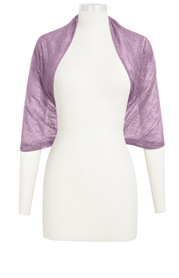 Azazie Alia Lace Shawl
Wrap
FABRIC: Lace
$40
product info
juliemerz22
Reviewed On:
2017-11-07 05:11:29
Color:
Stormy
Loved this shawl!!! I got 3 of these (for each of my new step-daughters to wear with their dresses) - not only did they love them and they looked beautiful, but they did help keep them a bit warmer (with an outside fall wedding). And luckily, I have convinced them to let me share wearing them, as it also doubles as a pretty scarf :) Loved the quality and timeliness of ordering through Azazie!
chbar124
Reviewed On:
2017-08-14 02:48:36
Color:
Dark Navy
Doesn't look anything like this even on my petite daughter it is not this long. Have been trying to return it since I received it on August 5, customer service is awful. The only reason I gave it 2 stars was because it was delivered promptly.
sclindi
Reviewed On:
2017-07-10 20:39:32
Just OK. Lace is soft and light, lining not as expertly matched to it as I'd like to see-rolls to the outside in areas. Two shawls arrived tightly crammed into a videotape mailing box. Given how terribly expensive shipping was for these two featherweight items, I expect better care in packing to ship.