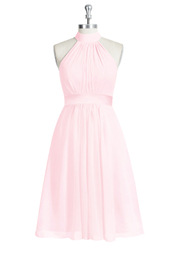 Azazie Aiyana
Bridesmaid Dress
FABRIC: Chiffon and Charmeuse
$99
product info

Style Aiyana by Azazie is a knee-length A-line/princess bridesmaid dress in an exquisite chiffon and charmeuse. The chic dress features a halter neckline and bow/tie back back style. Whether you dress it up with statement jewelry or down with flats and a cardigan, it epitomizes timeless beauty. Azazie's Aiyana style comes in sizes A0-A30. Ask a question
stacey.grubbs
Color:
Emerald
Reviewed On:
2016-12-14 05:08:33
I custom sized my dress because I have a small upper body and thicker lower body. I am in a wedding this summer and would not be able to order samples and try the dress as I was leaving the country until the wedding so I had to take the chance and order this one dress hoping it would fit. Not only did it get delivered 5 days before the delivery period, but it fit wonderfully. The only thing that makes me nervous is the buttons holding the neck bow are made of plastic and I get nervous the could break off although they are definitely high quality. Great choice and looks great as well.
Ktapia2
Reviewed On:
2015-09-22 00:15:16
The sample dress program is great! I received two samples within 2 week of ordering. I was a little disappointed in the dresses themselves--I'm usually a true size 2 (and almost spot on with the measurements), so I ordered 2s in both McKinley and Aiyana. McKinley fit a little better, but was extremely tight around the torso and very long. Aiyana looks better in the picture than it did in real life...the waist area was at my hips, bust area was huge, way too long, halter looked weird... I ended up ordering 3 more samples in different styles. I may need to custom order the winner, but I'm a little worried that it still won't fit right. Otherwise, dress fabric and durability is great for the price.
Lauren Bailey Housemeyer
Reviewed On:
2015-07-17 02:12:00
LOVED my bridesmaids dresses (all from Azazie!) and my reception dress. Everyone commented on how lovely they all were!
sarahmcelhaney
Color:
Black
Reviewed On:
2016-12-07 18:47:47
A bridesmaid tried this guy out, and we liked the look, but the collar is quite high, and awkwardly loose. If that's the structure you enjoy, though, this might be for you!
Jen Govern Mihalsky
Reviewed On:
2016-09-29 14:38:12
Dress is gorgeous! A little snug. Bride loves it!
Rosie Converse-Soriano
Reviewed On:
2016-04-22 07:52:51
I took a chance and bought this dress in a whole size from clearance, and it fit perfectly! It was true to size and the length was perfect. I may have to figure out a way to make the eyelets on the neck band more secure, but that is something I can easily figure out!
Lindseyj
Color:
Sky Blue
Reviewed On:
2016-02-08 06:20:01
I love the dress, however I will need to add some elastic in the neck as it is too tight. I ordered a standard size 2 and everything else fits perfectly.
MOH16
Color:
Black
Reviewed On:
2016-02-04 08:24:42
Unfortunately my dress arrived with the hook-and-eye clasp dangling from the back of the dress. Also, the dress does not fit the way I thought it would. It is VERY tight in the bust! I think I am going to have to go try on some other dress locally--it is difficult to buy a dress online and be sure that it will look and fit like you hope it will.
scottyshae
Reviewed On:
2015-06-15 21:45:09
This dress is exactly how i hoped it would be. Their information is exact, and the dress is beautiful. Also, when I wasn't sure about the sizes, I sent in my measurements and the staff told me my size, and guess what? It fits perfectly! I love this dress, and believe me. It is worth every penny.
goof_ball10
Color:
Watermelon
Reviewed On:
2015-06-09 20:18:54
For a custom sized dress, the bust sure is big on it, and I'm going to need it altered. So size down on the bust, if you're going for a custom size.
jen5843
Reviewed On:
2015-04-02 14:11:32
Just received my dress and was so excited until I saw it:( There is no tie in the back at the neck as shown in the picture which is one reason I bought it. There are just 2 hooks sewn on one side and a stitch on the other to connect the neck. The neck piece is also thin. Not exactly strong enough to support the dress. The stitching on the satin sash across the from was uneven and crooked. It looked horrible. The top of the dress was huge compared to the waist and the bottom. I stuck my arms through the front chest area and still had room with both arms filling it out. I would not recommend this for any boy type. My measurements are almost exactly what my size was recommended for.
gna
Color:
Steel Grey
Reviewed On:
2015-03-03 12:20:52
I am 5'1" and relatively proportional in terms of my torso and my leg length. The torso portion of this dress was too long and billowed out awkwardly in the chest area. The neck portion was also very tight, but it looked like the clasps could be easily moved over a bit. Otherwise, it felt like someone was choking me. I got a size 4. I would have kept it if the hem was the only thing I needed to shorten, but the top torso portion was too much to get tailored.