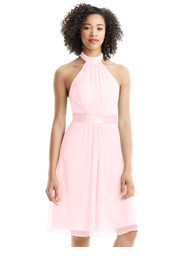 Azazie Aiyana
Bridesmaid Dresses
FABRIC: Chiffon
$99
product info

Style Azazie Aiyana by azazie is a Knee-Length A-line/Princess bridesmaid dress in an exquisite Chiffon, Charmeuse, Chiffon. The chic dress features a Halter, High Neck neckline and Bow/Tie Back back style. Whether you dress it up with statement jewelry or down with flats and a cardigan, it epitomizes timeless beauty. azazie's Azazie Aiyana style comes in sizes A0-A30. 
kenz_0608
Reviewed On:
March 10, 2018
body type:
Straight
I ordered a custom size for this dress, and it fit well overall but was a little tight in the chest. I was also able to easily remove the bow from the back. I was happy with how my dress looked for my friend's wedding, and she really liked it, too!
Was this review helpful to you?
Jadeford6
Reviewed On:
September 23, 2017
Color:
Coral
I thought this dress looked great, but this was the only outfit that made my bridesmaid feel uncomfortable. The shape of the bust on the dress just made her feel like her it looked like her breasts we down around the bottom of her rib cage. And because of the shape, it was hard to find a strapless bra that fully fir underneath it. Also the ribbon around the neck isn't actually a tie, it's a button so there isn't really anything you can do to adjust the fit
Was this review helpful to you?
Catie
Reviewed On:
September 20, 2017
I am a good bit larger than the model, but the fit of the dress was strange (baggy almost) in the top, and it was longer than I expected (odd for me, because I'm 5'8"). I also didn't like the metal vertical wire across the bust.
Was this review helpful to you?
Wilma M.
Reviewed On:
March 28, 2017
Color:
Dark Navy
I received my dress within 2 weeks of ordering, and was overjoyed considering the expected delivery date was a week before the wedding. I did custom sizing because I was worried about having to get alterations made so close to the wedding date. I was also fortunate that I didn't need to wear a bra underneath since the ribbing provided support. Overall, it fit like a glove and I couldn't have been happier.
Was this review helpful to you?
stacey.grubbs
Reviewed On:
December 14, 2016
Color:
Emerald
I custom sized my dress because I have a small upper body and thicker lower body. I am in a wedding this summer and would not be able to order samples and try the dress as I was leaving the country until the wedding so I had to take the chance and order this one dress hoping it would fit. Not only did it get delivered 5 days before the delivery period, but it fit wonderfully. The only thing that makes me nervous is the buttons holding the neck bow are made of plastic and I get nervous the could break off although they are definitely high quality. Great choice and looks great as well.
Was this review helpful to you?
Ktapia2
Reviewed On:
September 22, 2015
The sample dress program is great! I received two samples within 2 week of ordering. I was a little disappointed in the dresses themselves--I'm usually a true size 2 (and almost spot on with the measurements), so I ordered 2s in both McKinley and Aiyana. McKinley fit a little better, but was extremely tight around the torso and very long. Aiyana looks better in the picture than it did in real life...the waist area was at my hips, bust area was huge, way too long, halter looked weird... I ended up ordering 3 more samples in different styles. I may need to custom order the winner, but I'm a little worried that it still won't fit right. Otherwise, dress fabric and durability is great for the price.
Was this review helpful to you?
Lauren Bailey Housemeyer
Reviewed On:
July 17, 2015
LOVED my bridesmaids dresses (all from Azazie!) and my reception dress. Everyone commented on how lovely they all were!
Was this review helpful to you?
JF
Reviewed On:
February 10, 2019
Beautiful dress, but it fits strangely in the bust! I ordered a Size 4 sample to try because I love the halter neckline and thought that it made my broad shoulders look amazing! However, like another reviewer mentioned, the molded cups/boning for the bust are quite a bit too low on me (see the side view) I tried to think of a way to have it tailored to fit, but I couldn't think of one! You can always take away length in bodice at the waistband, but you can't add length; it'd have to be remade. I have a shorter than average torso, so I would imagine on a taller lady the breast shaping would be even lower. It was also a little large/lumpy in the bust area, but I would think that could be fixed by using the custom sizing option.
Was this review helpful to you?
ebony_mchenry
Reviewed On:
August 05, 2018
Color:
Daffodil
Size Ordered:
A10
The dress looks exactly as the picture, and looks even better on. I have used your site a few times in the past and recommend it to all of my friends in need of a dress for that special occasion.
Was this review helpful to you?
Anya Perry
Reviewed On:
March 06, 2018
Color:
Dusty Rose
body type:
Hourglass
Love the color and the fit! A bit wide in the waist line for me.
Was this review helpful to you?
katiodom88
Reviewed On:
November 09, 2017
Color:
Champagne
I personally sized all of my bridesmaids (I have no experience with sizing) and did custom sizing. Each dress came in within 4 weeks and fit perfectly. I had an idea of mix and match colors and everyone getting to pick a dress that they felt comfortable with, and Azazie knocked it out of the park. They had so many colors to choose from in each dress. The dresses looked beautiful blended together, the colors were exactly the same as what I saw on the swatches, and everyone loved their own style and fit. I could not have been happier with how beautiful my bridesmaids looked.
Was this review helpful to you?
turolat
Reviewed On:
October 16, 2017
Color:
Clover
The dress that was custom made for us came out absolutely beautiful and perfect. Thank you again for taking the time to get this right and make my wedding absolutely perfect.
Was this review helpful to you?
precious_jasmine
Reviewed On:
September 13, 2017
Absolutely INLOVE with the two dresses I purchased for my bridesmaids. I would definitely order again. Customer Service was amazing, quick responses, delivery was on-time. Thank You Azazie!
Was this review helpful to you?
Christina Freeman
Reviewed On:
July 26, 2017
As a 5"11 slender bridesmaid I am always worried dresses will not be true to size and they are not long enough for such a special occasion. However, Azazie's ability to make dresses with a modest length and that fits my size 4 frame is perfect. Highly recommend this site and in particular this dress. It is rich in color and absolutely elegant!
Was this review helpful to you?
Dfortenberry
Reviewed On:
June 08, 2017
Color:
Pool
We ordered 4 dresses and did custom measurements, everyone of them fit perfectly, The colors and designs are exactly what we wanted. I would highly recommend Azazie and will certainly be a repeat customer.
Was this review helpful to you?
leslee537
Reviewed On:
April 28, 2017
Color:
Dusty Rose
Material looks cheap for $100. It is true to size, but it is on the longer side. I would never wear this dress again or order from here. The shipping took forever when it was a standard dress. My friends and I who used this site feel like it's a scam to get you to pay for expedited shipping.
Was this review helpful to you?
Stephanie Siebrandt
Reviewed On:
April 13, 2017
I'm glad I got a custom size. It fits really well.
Was this review helpful to you?
daniduex
Reviewed On:
April 05, 2017
Color:
Grape
The dress is beautiful and arrived early. Have already recommended Azazie to friends!
Was this review helpful to you?
Megan Steele
Reviewed On:
March 29, 2017
Color:
Ocean Blue
I was really impressed by the quality of this dress! The color is exactly as shown, the material is high quality, and it runs pretty true to size. I ordered a standard size 4 (all but one of my measurements met the size 4 on the chart), and the fit is much better than I expected! (I'm always worried about ordering clothes online). The bust is a little big on me, but not noticeably so. I'll probably either wear padded sticky boobs or just stand with my chest puffed out the whole ceremony :) Not a big deal. I like that you can wear the dress without a bra!
Was this review helpful to you?
sarahmcelhaney
Reviewed On:
December 07, 2016
Color:
Black
A bridesmaid tried this guy out, and we liked the look, but the collar is quite high, and awkwardly loose. If that's the structure you enjoy, though, this might be for you!
Was this review helpful to you?