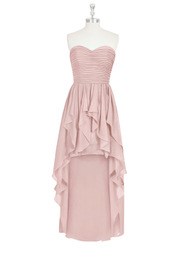 Azazie Abbie
Bridesmaid Dress
FABRIC: Chiffon
$129
product info

The lovely asymmetrical bridesmaid dress by Azazie has an A-line/princess cut in a gorgeous chiffon. Style Abbie features a sweetheart neckline, and comes in a full size range (A0-A30). A pleated detail at the front and back of the flowing skirt makes it perfect for the reception or a city hall wedding. Ask a question
jmanuo
Color:
Ivory
Reviewed On:
2015-12-10 20:48:32
This dress is gorgeous! I went with a custom fit which was perfect, except I lost some weight-fortunately-and the dress was a tad large around the bust. Easy fix for my local seamstress which thankfully only took a few days. The dress shipped exactly as quoted-3 weeks. I wore this dress to an all white dressed destination wedding on a hot tropical beach. The ivory is very light, so I didn't stick out too much against others who wore all white. I wore high nude heels, which were perfect for this dress. They didn't take away from the fun high low skirt. I was barefoot in the sand which was fine with this dress. This dress is flattering. I struggle to find a formal dress in a size 16 that doesn't look like I'm wearing a lot of material. This dress is light feeling, but not cheap. Get this dress!
Jennifer Manuo
Reviewed On:
2015-09-16 20:10:57
Dress is awesome! I went the custom measurement route, and it came true to measurement. The delivery was expected sept 9-14, it came on the 9th. Ordered August 15, 2015. It came RIGHT on time. This particular style is super flattering. I'm a size 15 pants, xl top and I feel super confortable and formal for the wedding that I'll be in, ordered in ivory. Wearing nude strappy heels. Perfect match, especially for a destination wedding on the beach :)
hollyhagerty94
Color:
Mint Green
Reviewed On:
2016-12-21 09:39:31
My entire experience was fabulous! I was nervous about ordering a custom fit dress because of the no returns policy but the easy to follow directions helped tremendously. The dress arrived in less than 2 weeks and it fit absolutely perfectly! I will be back when it is my turn to walk down the aisle :) Thanks Azazie!
Mnelson22
Reviewed On:
2016-08-18 00:10:52
I received my dress on time for my son wedding. I wish I would've done a custom fit when ordering. I had to have alterations done. Cute dress.
hpratt217
Color:
Black
Reviewed On:
2015-09-24 06:15:17
This dress is perfect! I ordered this for my Mom's Mother of the Bride dress!!! It fit her perfect, a little long and will have to take some in in the bust area but other than that it is awesome! Great material! Great color! I would recommend Azazie to anyone!!!!! I can't wait for all my bridesmaids dresses to come! Thank you so much for all your hard work!
j-t2006
Color:
Burgundy
Reviewed On:
2015-06-15 17:25:49
Absolutely beautiful, she looks stunning! Thank you, Tracy