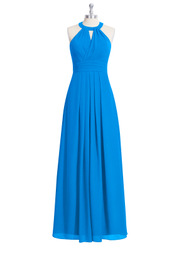 Azazie Abbey
Bridesmaid Dress
FABRIC: Chiffon
$139
product info

Fun and flirty, this elegant chiffon bridesmaid dress is appropriate for any wedding from the beach to the church. Your bridal party will love this brilliant floor-length A-line/princess dress with a halter neckline. A pleated detail at the front and back of the flowing skirt makes it perfect for the reception or a city hall wedding. Ask a question
capri.zaire
Reviewed On:
2016-09-01 13:48:22
My bridesmaid absolutely loved the dresses and the fit for my wedding. They were received as designed and the swatches were true to match for color. People are still raving about how beautiful the colors and dresses were.
lisasum
Reviewed On:
2016-06-25 07:34:53
I ordered 6 bridesmaids dresses and a mother of bride dress. Each different style and a couple variations of blue and green for my wedding. I'll post a picture. The dresses are beautiful. The fabrics are beautiful!! Made with layers of material, Not cheaply made!!! And still they are light weight comfortable!! Sizes... I would say the ones without lace overlay on the top will run a size big. (Lace overlay dress was more fitted,not as much leeway on material because of lace- you could order 1 size larger) A size 10 dress was more like a 12. Which everyone loved because they could have them fitted perfectly to their body. The length was generously long as well, which helped with tall girls and easily hemmed for shorter girls. Again, NOT Cheaply made with that extra length. Better to be bigger, longer than ordering a size 10 that is really made to fit a size 6. We searched and researched companies for hours upon HOURS looking for the bridesmaid's dresses and we could not of picked a better place to order from. HIGHLY RECOMMEND THIS COMPANY- THANK YOU!!!
laurapaulina54
Reviewed On:
2016-04-12 18:53:06
I ordered this dress custom size and it fit perfect! The only thing I had to fix was the length. It was very comfortable and I got a lot of compliments. Its a very elegant dress but I would say that if you don't like things too tight around your neck I would maybe go for something else. Me personally it didn't bother me at all. I was very happy with my purchase and the quality of the product.
bmclean1990
Color:
Black
Reviewed On:
2016-12-08 06:37:30
I am very pleased with my experience! The dress looks absolutely amazing and it fits just right. The delivery time was quick and I love the garment bag it arrived in. I will certainly consider using this company again.
Larissa Martinmaas
Reviewed On:
2016-04-25 07:43:42
My dress fit pretty true to size with the sizing they give you, the length is pretty long so their will most likely be alterations in the length and bust department but overall it fits great!
whetzel2016
Color:
Dark Navy
Reviewed On:
2016-04-13 12:09:48
I am in love! This dress is beautiful and came just as described! I will have to have a little alteration around the bust. But generally I have no complaints! The length in perfect for the heels I will be wearing with it. I would definitely recommend this dress and this company to anyone I know in the future!!
jennylalford
Color:
Spa
Reviewed On:
2016-03-25 11:14:19
Fit great! Easy ordering and quick shipping!
Jacquelyn.botto
Color:
Dusk
Reviewed On:
2015-12-28 19:42:09
The custom sizing is great! This dress has beautiful pleating details, the pictures don't do it justice
ginamlamont1979
Color:
Peacock
Reviewed On:
2015-12-02 19:23:24
I didn't like the front neck of the dress- looked cheaply made. The back was gorgeous.
Jay
Color:
Spa
Reviewed On:
2015-11-05 14:09:31
I love this dress!! I ordered this dress for my bridesmaids and it really looks amazing and fits well for different body shapes. It was exactly what I expected even thought the color is a little off from what I saw on the computer (not as bright) but it was still the color I wanted which was Spa. I advise all to order a swatch to see the color in the different fabrics. My bridesmaids also ordered standard sizes that way they can be choose what alternations they want to make to make them feel comfortable. I never write reviews but since wedding planning it is so important to read reviews to help in decision making so I knew I had to return the favor for future customers.
kristin
Reviewed On:
2015-07-29 22:53:25
My girls and I pounded the pavement before ordering this sample and it's definitely of great quality! Unfotunately, while the styling of the dress is very elegant and looks lovely in the steel grey (and is lengthening, slimming, and very flattering on), the neck is noticeably tight at the collar bones. When I tried it on, I wasn't necessarily choked, but it definitely was a bit annoying, so if you are interested, definitely order a sample prior to purchase. That was the only thing we didn't like about the dress. If it were more comfortable there, it would have been an easy yes times five! So we'll keep looking for other similar styles on this site.
dube.bm
Color:
Blushing Pink
Reviewed On:
2015-07-07 10:46:54
Color is exactly what the picture looks like. Custom sizing was really great, a few minor touches need to be made but I think it is worth getting the custom size. Very Very happy with the customer service, shipping was faster that expected too :)