AZ Occasions Romantic Adventure Cabernet Embroidery Tulle Maxi Dress Reviews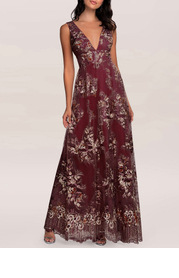 AZ Occasions Romantic Adventure Cabernet Embroidery Tulle Maxi Dress
Dresses
$79
product info

The brilliant Maxi bridesmaid dress by azazie has an Empire cut in a gorgeous Tulle. Style AZ Occasions Romantic Adventure Cabernet Embroidery Tulle Maxi Dress features a V-Neck neckline, and comes in a full size range (A0-A30). Whether you dress it up with statement jewelry or down with flats and a cardigan, it epitomizes timeless beauty. 
Photo Reviews (5)
Newest Reviews
Ratings
Helpfulness
loveitingj
Reviewed On:
November 15, 2021
Color:
Dusty Rose
I think this dress is beautiful. My daughter's wedding isn't until May 2022 but I'll be ready!
Ccassidy23
Reviewed On:
September 27, 2021
Color:
Dusty Rose
The dress is absolutely stunning. I was the matron of honor and wanted to stand out. I received so many compliments on the floral design! The only flaw was the length. It's extremely long! I was able to avoid hemming it because I had 5in platform heels. Otherwise, the seamstress would have needed to cut it at the waist due to the scalloped bottom, making the alterations more expensive than the dress.
jkbk
Reviewed On:
April 29, 2021
Color:
Dusty Rose
Love this dress!!!! I bought this dress for my sister's upcoming wedding. The embroidered mesh top layer of the dress is outstanding and the scalloped hem edge is stunning. The quality of the fabric and style surpasses the price. The dress is very long. I bought a L, but pretty certain I could have bought a M, but want a little more fabric for alterations. I did have to have the dress hemmed at the waist and the deep bust-line reduced for my taste. All things considered, even with alterations and purchase price, I did not break the bank and I am super happy to have a beautiful, comfortable, flattering dress to wear to my sister's wedding. Bonus-my sister loves it too!
shannonvee84
Reviewed On:
March 19, 2021
Color:
Dusty Rose
I love the dress. It's beautiful and the embroidery is so pretty. I am about 145 lbs and 5'4" and I ordered the large. It fit perfectly around the bust area and shoulders but it is at least 6 inches too long for me. I would have to be around 6 feet tall or just under for this dress to fit properly. So now I have to pay an extra $150 or possibly a bit more to have a seamstress take it out at the chest seam (because the hem is scalloped and full of embroidery so you can't just cut it there) and move the zipper down and then remove the excess fabric from both layers and then put it all back together. Yes I love the dress and the colour but I probably would not have bought it if I knew how long it would actually be on me. Who is that tall?!
MMC
Reviewed On:
February 23, 2021
Color:
Dusty Rose
This dress is amazing! I actually sized down from a medium to a small (However I am in between sizes so I wasn't sure which to go with because my hips are wider but the dress flows so the hip size doesn't really matter). The top is larger and I am not blessed up top so sizing down to a small worked well! The dress is long so you will need to wear high heels unless you are taller!
kedhillis
Reviewed On:
March 21, 2022
Color:
Cabernet
Length was nice. Lots of material in the skirt for fullness. Top was too large
d_tian
Reviewed On:
February 4, 2022
Color:
Dusty Sage
My size is small / size 4, I am 123 Ib and 5 Feet 2 inch height. Slim body shape. I ordered 2 size up as size 6, chest is just fit. But the dress is way too long for my height. I though I can alter it, but the design at the bottom is special, the dress has to alter it at the waist side. It might cost higher price than the dress price. I decided to return it. Otherwise, the material is nice for the price I pay.
suzanne.jaquish
Reviewed On:
January 24, 2022
Color:
Dusty Sage
material is nice, made well, very long. Deep V neckline and tight through bust for me, returned
Mircoplan
Reviewed On:
January 20, 2022
Color:
Dusty Sage
This dress is beautiful with great quality and cute detailing, especially on the bottom of the dress. With that being said, unless this dress fits you perfectly it's going to be a pain to have it altered. I'm 5'4" without s lot going on on top and the dress was way too long and the v cut was way too low. I took it to be altered and the cost of altering it was nearly triple that of the dress itself. If you do get this dress keep in mind the bottom cannot be cut, or you will loose the wonderful scalloping and details at the bottom of the dress! Nice dress, but be weary of length and deep v!
rnbeckyfarrall
Reviewed On:
December 12, 2021
Color:
Dusty Rose
Beautiful blush color. I'm 5f5in 117lbs. Xs was perfect. I will have to wear heels for the length
rachaelmarz
Reviewed On:
November 30, 2021
Color:
Cabernet
Love this dress! I was a little nervous about the fit but it is perfect for me. I ordered an XL and I was worried the length was going to be too long, but with a heal it will be perfect. I don't think I will need to wear a bra either, it has pretty good support and coverage. Happy with my purchase!
julie.scovil
Reviewed On:
November 24, 2021
Color:
Cabernet
Size down, I followed the sizing guide to a T and it was one to two sizes too big when it arrived. It is a gorgeous dress though, hopefully the seamstress can fit it for me.
Clariza.landon
Reviewed On:
November 14, 2021
Color:
Dusty Rose
Like the material but Size too big on me, will return and will reorder large instead. Can I re-order in this platform or do I have to go on website? Please advise. Thanks
Smorace415
Reviewed On:
November 14, 2021
Color:
Cabernet
I love how user friendly their web is, I love the try on option - genius! I tried on 2 dresses and absolutely love everything about one of them. I purchased a 3rd dress because try on was not an option and unfortunately the dress I purchased is too big and I don't care for the print…. Hopefully I can return the one I don't like… I'm not sure… but overall I love this web site!!
talarmo
Reviewed On:
October 24, 2021
Color:
Cabernet
This is my second time purchasing from Azazie. The dress is beautiful, even more so in person. The embroidery detail, stunning. I am having to have a few adjustments to it especially the length. My one suggestion to Azazie, offer optional standard lengths.
amelldubbaneh
Reviewed On:
October 18, 2021
Color:
Dusty Rose
Love! Wish this fit. Was too long and a bit too big on the shoulders. Would've cost me more to have it altered
talarmo
Reviewed On:
October 9, 2021
Color:
Cabernet
I LOVED the dress, unfortunately it was a bit to small around the band. The length of the dress (61") is a bit to long. I'm 5'3" and even with 3" heels, it would still need to be altered/tailored. I returned to and ordered one size larger. And the deep V may be a concern if you are large breasted. I would highly suggest putting in some type of support. We'll see how round 2 goes.
Bj_trigger2
Reviewed On:
September 9, 2021
Color:
Dusty Rose
I love, love, love my dress, the only thing I will need changed is the length of my dress as it came in a 58inch and I am only a 56inch, but other than that the dress fits me perfectly and is all around stunner! It also did not take to long to get the dress after ordering. I can not wait to wear it to my brother's wedding next month. Thank you
bdt_625
Reviewed On:
June 6, 2021
Color:
Dusty Rose
Overall a beautiful dress. I ordered per my measurements and the waist and bust are about 2-3 inches larger than the size chart. Returning it for a smaller size, but having to pay for extra shipping to order a replacement size.
Courtney
Reviewed On:
May 22, 2021
Color:
Dusty Rose
The dress is gorgeous I'm just unfortunately between sizes. The S is a bit loose around the waist/under the bust but otherwise fits great but the XS was too tight and could barely hold my boobs in. The length is perfect and I hope with the right heels I can get away without getting it shortened.