AZ Occasions Magical Day Dark Navy Chiffon Maxi Dress Reviews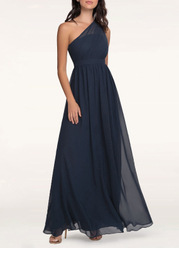 AZ Occasions Magical Day Dark Navy Chiffon Maxi Dress
Dresses
$59
product info

Fun and flirty, this exquisite Chiffon bridesmaid dress is appropriate for any wedding from the beach to the church. Your bridal party will love this lovely Maxi A-line dress with a neckline.  
Photo Reviews (5)
Newest Reviews
Ratings
Helpfulness
Cassie Gameson
Reviewed On:
February 11, 2022
Color:
Dusty Rose
Loved this dress, was a little too big and would need to hem, but decided to keep a different style instead and returned this one.
rwagg113
Reviewed On:
July 8, 2021
Color:
Dark Navy
I ordered this dress and another one shouldered dress and this one is the winner. It's comfy enough and fits close to perfect. The tule-ish bit at the top is a little scratchy in some spots. The length I received is wayyyyy to long and will need to have it hemmed on top of the purchase. After my girlfriends wedding I plan on hemming it again for a shorter style to possibly be able to wear more than once. Overall it's a lovely comfy bridesmaid dress. Oh and I'm about 5'6" and 180lbs and got a size XL
Amanda Morales
Reviewed On:
January 29, 2021
Color:
Dusty Rose
Love it!! Excellent. This are for my bridesmaids
Chelseaboshart
Reviewed On:
January 28, 2021
Color:
Dark Navy
Wonderful dress. I ordered this party dress to compare with the "Charlotte" bridesmaid dress, as I am going to be in a wedding. It was such a perfect dress, the shoulder was fabulous, and I loved the way it cinched at the waist but had some stretch so I didn't feel squeezed. Ultimately I wound up returning it because my mom swore that the other dress was more flattering- but had my mom not been there- I would've kept this dress and never ordered the "Charlotte." I felt so cute, flirty AND comfortable. For size reference, I ordered the XL- I'm about 175lbs- size 14ish- 5'3 and if I kept it- I would've definitely had to have the bottom hemmed at least a solid 6 to 8 inches shorter depending on the heel. More for flats.
Kelly Gray
Reviewed On:
December 29, 2019
Color:
Dusty Rose
I was so excited when my matron of honor dress came. When the time came to try it on everything fit perfectly except right under my boobs/rib cage.
M R
Reviewed On:
March 4, 2022
Color:
Cabernet
The dress fit very well. I loved the color.
tee.frick
Reviewed On:
November 22, 2021
Color:
Dark Navy
I sized up in this dress as most of the reviews had discussed to do, but unfortunately, it was too big. I ordered the size smaller, and I am hoping that it comes in time for the wedding (I'm just a guest). It is very long. I am 5'5 and will need to get it hemmed, but it is a beautiful dress. I am hoping the size small fits well and all I need is to get it hemmed!
Thebryants4ever
Reviewed On:
May 20, 2021
Color:
Dusty Rose
Beautiful dress and color! It was darker than what I anticipated, however, it's still very much what we need. The dress is for my sister in law to wear at my wedding, but we had to return it, only bc she should have ordered a bigger size. It flows beautifully and is surprisingly, EXTREMELY lightweight which means she will be comfortable on the dance floor! Can't wait for the correct size to come!
coffee4jamie
Reviewed On:
April 8, 2021
Color:
Dusty Rose
Too small needed to return it.
Moe
Reviewed On:
February 1, 2021
Color:
Dusty Rose
Love the dusty rose color! It fits perfectly! Great customer service too!
Kathryn Ranieri
Reviewed On:
April 14, 2020
Color:
Cabernet
This dress is beautiful! It will need to be hemmed for me, it's way too long. Besides that it fits great! I can't wait to wear it!
canichols95
Reviewed On:
March 22, 2020
Color:
Dark Navy
The dress its self is very pretty. However, the bust was smaller than anticipated and the hem was atrocious. The bottom of the dress looked to just be hacked off with no care.