AZ Occasions Every Season Ivory Lace Midi Dress Reviews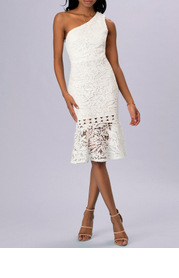 AZ Occasions Every Season Ivory Lace Midi Dress
Dresses
$57
product info

Style AZ Occasions Every Season Ivory Lace Midi Dress by azazie is a Knee-Length Sheath bridesmaid dress in a simple Lace. The chic dress features a neckline and back style. azazie's AZ Occasions Every Season Ivory Lace Midi Dress style comes in sizes A0-A30. 
Photo Reviews (3)
Newest Reviews
Ratings
Helpfulness
mirandapalomares
Reviewed On:
September 21, 2021
Color:
White
The top was large compared to how tightly the bottom fit. I was able to have the strap taken in for cheap and it helped the overall dress fit better, but the chest area still sagged a little bit.
Kali P.
Reviewed On:
May 17, 2021
Color:
White
I wore this for the wedding rehearsal! Felt like a bride! Super comfortable!
suzieinthesun
Reviewed On:
March 18, 2021
Color:
White
I ordered this dress to wear at my beachside wedding reception after I trash my wedding gown and it's perfect! The length is great, I like the design of the bottom of the dress. The bottom if the dress does not stretch so if you are thicker like me you will have to hike it up a smidge when sitting, but it does not interfere with the coverage.
m.bowen4489
Reviewed On:
February 26, 2022
Color:
White
The dress is exactly what you see. Good quality and fit perfect.
sydney
Reviewed On:
July 7, 2021
Color:
White
I really wanted to like this dress as it is quite cute on but the length was a problem. I'm 6' and right where the lining runs out and the dress flares there is a strip of lace that does not have any give, and unfortunately, that hit me right at the base of my bum. It was a bit difficult to walk as a result and wouldn't have been appropriate for my event. I tried going up in the size but the length didn't change, it just got wider. Had the lined part been two inches longer I would have loved it but had to return.
michaelecolizza
Reviewed On:
February 21, 2021
Color:
White
Fabric is soft and has a good amount of stretch Chose a size 14 due to my waist measurement, needed a size 12 everywhere else. Will need alterations. Im just under 5'5" the "under skirt" falls mid thigh.
Morgan V.
Reviewed On:
October 21, 2020
Color:
White
I am SO glad I discovered this dress last minute before my bridal shower. So many good things to rave about this dress. Price is amazing and cannot be beat. Got to me in ~2 days. Comfortable and non-restricting. Flattering on my curves. Didn't require steaming/traveled well. I could go on and on. Received so many compliments. This dress made me feel beautiful! Would work for every bridal event.