AZ Occasions Dancing Queen Dusty Sage Chiffon Maxi Dress Reviews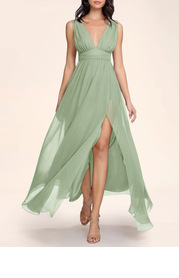 AZ Occasions Dancing Queen Dusty Sage Chiffon Maxi Dress
Dresses
$59
product info

Style AZ Occasions Dancing Queen Dusty Sage Chiffon Maxi Dress by azazie is a Maxi Empire bridesmaid dress in a lux Chiffon. The stunning dress features a V-Neck neckline and back style. Whether you dress it up with statement jewelry or down with flats and a cardigan, it epitomizes timeless beauty. azazie's AZ Occasions Dancing Queen Dusty Sage Chiffon Maxi Dress style comes in sizes A0-A30. 
Photo Reviews (5)
Newest Reviews
Ratings
Helpfulness
Elizabeth.howe478
Reviewed On:
March 8, 2022
Color:
Cabernet
Loved this dress didn't take many pictures in it i wish i would have gotten a size bigger. I went off the measurements by the dress was to tight at the boob area. I almost couldn't even wear it. I'm 5'5 and 220lbs i were a 36 DDD
ameliahames30
Reviewed On:
August 9, 2021
Color:
Vintage Mauve
I typically wear a medium, 5'7", 34D, and this dress was tiny. I have never had a problem with Azazie sizing for the bridesmaid dresses and this dress felt like a small or extra small. The straps were very short for a bigger bust and the front did not sit where it was supposed to. I couldn't even zip up the dress all the way. If this dress fit how I thought it would it would be the perfect dress to wear to an outdoor wedding as planned.
smpz
Reviewed On:
February 23, 2021
Color:
Vintage Mauve
I am 5'6", 34A and size 8 jeans, and a M overall. I do have a smaller upper frame compared to my hips, so this dress is perfect for my body type, as I hope to drop a few lbs before the wedding, and I think the dress will still have a great fit. It is a little long, I am wearing heels in the picture but might still have to have it tailored, so I don't rip it while walking. Overall for a bridesmaids dress, I like the style, as I am still able to wear one of those low cut bras, or even braless and it will still be good. The size M, feels like a size 6 dress, if I were to compare it to a number size. I am always between a 6 or 8 in dresses since I have a small chest frame. I like how it flows and is comfortable to walk in or dance in. The thick "band" is a bit tight, but doable, a size larger and it would be too big in the chest area for me. The slit is barely noticeable but comfortable and makes walking a breeze. Overall love the price tag, reason why I choose it, as it was available in the color I needed, but was actually really happy that it also looks decent on me, as I am very picky overall. hope this review helps!
Olivia Gentry
Reviewed On:
August 5, 2020
Color:
Cabernet
I am 5'6, weigh 130, wear a size 6shorts , 34 C cup, and I ordered a medium! I ordered it July 19th and it came in August 5. I'll be honest I was worried about ordering the dress with little reviews but I absolutely love the dress! In the first picture I wore no bra&shoes and in the second I was wearing 4inch heels With a bra! It definitely needs shortened and tacked in a few spots in the breast area but I usually do have to alter dresses when I buy them!! Love my dress thank you for getting it here so fast!!❤️
aubrey.stanforth
Reviewed On:
May 17, 2020
Color:
Cabernet
Overall a very nice dress!! The material is very flowy and light. The only reasons I did 4 instead of 5 stars is: if you have a larger cup size, you will definitely need some extra support. I am a DDD/F and I'll need to purchase brassy bra or something similar. (boob tape). Also, this is a bit long but I do understand that is because I am a bit short. I am 5'3" and even with 3" heels I do worry a little about tripping myself and the slit is a little low for my height. Those are my only things I noticed about the dress. Again, overall very beautiful, well crafted, quality dress. This is PERFECT for my engagement photos! 38DDD/F bra, bust 45", waist 38", hips 50". Normally size 16 in street clothes, I ordered a size 1x.
lorena.menchaca
Reviewed On:
February 9, 2022
Color:
Dusty Blue
It fit too way too big. I had to return and order XS. Was very happy with XS, mind you, I am petite 5'6, and weigh 110. I will post a picture of me in the XS. Still waiting on a refund for the other dress...
denise.silleck
Reviewed On:
January 31, 2022
Color:
Dusty Blue
Fit is perfect. I was worried about too much cleavage (I'm a 34D) and I think it is perfect. I will have to get it hemmed as it is way too long, but I already knew that from other reviews. The Dusty blue color was right on. It flows beautifully and the slit is not as high as I thought either, I am 5'7" and 148 lbs. I will be wearing this for my Son's wedding in Cancun.
Daddysgirl0530
Reviewed On:
November 30, 2021
Color:
Cabernet
Overall the dress was BEAUTIFUL and very elegant. My only problem with it was that it had to much material on the breast area and really just covered all that area. This was more a flaw of my breast size and probably not so much the dress. lol. However with a great bra and probably taller lady this dress would be perfect. If you are thinking of purchasing this dress DO IT. I can speak from experience, if it doesn't work that company is great and willing to refund you the money. Refund process took 10 days.
amelldubbaneh
Reviewed On:
October 18, 2021
Color:
Vintage Mauve
Loved this dress! Had to get it altered to fit, so it made it a little less deep v cut, but still beautiful!
jessica_fkoa
Reviewed On:
September 27, 2021
Color:
Dusty Blue
I'm very pleased with my purchase! As a plus size curvy girl it can be tricky finding an elegant dress that flatters in the right places. Lemme tell ya, I put it on (2XL) and whewww, stunning. You can go braless or put on some boob tape, either way is lovely. I would definitely recommend to a friend, and will be using Azazie for my own bridesmaids.
Pri
Reviewed On:
September 6, 2021
Color:
Cabernet
I absolutely loved this dress. I needed no alterations. Im usually a size 20 and a 2x was perfect. I suggest fashion tape on the boobies and shoulders for support .
kiarastrunk16
Reviewed On:
August 11, 2021
Color:
Cabernet
Very comfortable and fun dress, however the bust is very low cut, so someone with a bigger chest should prepare to get it sewed shut a little more or use safety pins like i did!
Yelitza Marie Morales
Reviewed On:
July 13, 2021
Color:
Dusty Sage
Courtney
Reviewed On:
May 22, 2021
Color:
Dusty Blue
Originally purchased a S but it was too loose in the bust area. The XS fits perfectly. It's a light, flowy dressy that is perfect for so many occasions.
Loriann_103
Reviewed On:
April 28, 2021
Color:
Dusty Blue
rose.divinagracia
Reviewed On:
April 14, 2021
Color:
Dusty Sage
I looked stunning at my oldest granddaughter's wedding on Sunday, 4/11/21! It was very long but I managed to fixed it the day before so I could wear it the following day!
hartleyfam4
Reviewed On:
April 5, 2021
Color:
Vintage Mauve
I returned this dress, not because there was anything wrong with it, but because I don't have the chest to carry it off. I needed the large to fit my waist, but I'm smaller in the cup area, and it was kind of swimming on me. Back to the drawing board. Excellent quality and beautiful color. I'm bummed it didn't work for me.
Lilly Baur
Reviewed On:
March 26, 2021
Color:
Cabernet
Size chart is accurate. I'm usually a 6/8 and ordered a Large. It is a bit snug in the rib cage when it is clasped, and I have a small chest, so it's a little big up top, so it will have to be altered. Cute and flattering otherwise.
tayloracarroll
Reviewed On:
March 23, 2021
Color:
Cabernet
I was nervous ordering from Azazie since I'd never heard of them before but I'm so glad I took the chance because the dress is so nice and it was such a great price!! Fits exactly how I needed/expected it to!
zanillawafer
Reviewed On:
March 7, 2021
Color:
Cabernet
Flattering but too small in bust area!