Livret À Échantillons De Maille Extensible Reviews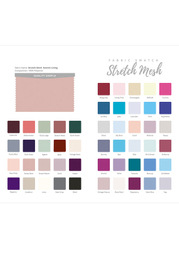 Livret À Échantillons De Maille Extensible
Échantillons
13€
information sur le produit

 
Critiques de photos (3)
Avis les plus récents
Notes
Obligeance
djbrewerwedding
Révisé le :
26 janv. 2022
I could not be happier with these color swatches!! These are wonderful to have for planning my colors for my wedding and having to plan other big things for my big day! I love being able to see all the colors in one location! These helps when trying to figure what colors you wish to have or want to add too! THANK YOU!!!!! ( The photos just don't do these swatches justices! These are all the swatch and items I got in my swatches order! Just placed another order for additional color like mother of the bride and mother of groom dresses)
Grace Mosley
Révisé le :
21 mars 2020
I've found that their colors run much darker than shown online, at least when I view them from my iPhone. Here is a more accurate photo in case you are in a rush and can't wait on swatches!
Rhealee96
Révisé le :
9 août 2022
Softbalwoman
Révisé le :
2 août 2022
The options were really good
cgalligan36
Révisé le :
26 juil. 2022
Great booklet to have on hand for the color picking process!
bajoka.jessica
Révisé le :
31 mai 2022
Great quality and colors, came quickly.
christyreilly299
Révisé le :
13 mai 2022
Don't bother with this. Te swatches are about an inch square.
noel.iman
Révisé le :
21 mars 2022
The swatches were awesome. Helped me pick a color and material
ashleyfrancese
Révisé le :
22 févr. 2022
Glad I ordered! Colors appear different on screen sometimes depending on settings, so this booklet gave me a better idea of how the colors actually look! Super helpful when deciding between a few colors
blood53
Révisé le :
18 févr. 2022
Nice to see the colors in person
k.delieto
Révisé le :
1 févr. 2022
Great to really see the color and material
J.pilarczyk
Révisé le :
30 janv. 2022
Not a great sample as it doesn't include all colors that are available to order. Had to order more samples at $2 each, which was disappointing.
mcgivernv
Révisé le :
22 janv. 2022
Not what I thought it was going to be… I thought it was going to give me more colors than it did. Not worth the $10 dollars.
kayladeanne529
Révisé le :
14 déc. 2021
The swatch booklet is super helpful to see what the actual fabrics look like. I agree with others, many of the colors look different in person instead of on the screen, so I definitely recommend getting swatches.
Taylor R
Révisé le :
5 déc. 2021
This helped my fiancé see the colors and help pick our favorite choices. It is handy and great to carry around to show family members too!
hbrookeb90
Révisé le :
22 nov. 2021
It really helped me pick out my colors
justinelentner
Révisé le :
16 nov. 2021
It's a cute book with all the colors in it and you can feel the material ?
mcorsi53
Révisé le :
5 nov. 2021
The Stretch Mesh Swatch Book is wonderful. As the mother of the bride who will be walking her down the isle, I have to coordinate with both my daughter but the bridesmaids and maid of honor without exactly matching their colors. This book has saved me so much time and stress going from bridal shop to bridal shop hoping for the best. Thank you Azazie for doing what no one else does.
emma.pulfrey
Révisé le :
24 juin 2021
Perfect ! This was a great and affordable help when deciding on colors.