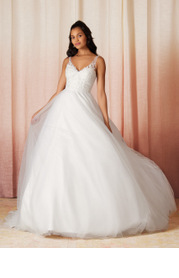 Azazie Sydney
Robes de mariée
489€
information sur le produit

Robe Azazie Sydney par azazie est une robe de mariée en facile en Featuring a side slit detail at front of shirred skirt, this piece is both elegant and unique.Featuring a side slit detail at front of shirred skirt, this piece is both elegant and unique.Featuring a side slit detail at front of shirred skirt, this piece is both elegant and unique.Tulle, Dentelle avec un décolleté en Col V sur une jupe en Train de la chapelle A-ligne. Le dos de la robe est fini avec le style de dos . Disponible dans les tailles WD0-WD30 chez azazie. {Embellissement} 
Critiques de photos (13)
Avis les plus récents
Notes
Obligeance
bradyandmeganwedding2022
Révisé le :
14 févr. 2022
Couleur:
Diamant Blanc
Taille commandée:
WD0
I loved this dress, it was everything I wanted. Incredibly light, airy and simple with just a little bit of subtle design to dress it up on the body. It's super easy to move in. Also loved the way it fit and felt. I said yes to this dress ❤️
Ceecee C.
Révisé le :
17 janv. 2022
Couleur:
Diamant Blanc/Champagne
Type De Corps:
Poire
Taille commandée:
9563
The dress was very beautiful the detailing was very nice the quality of the material was also great. Very comfortable and not itchy. I did not like the structure of the top/breast cups, they were bit high like a cone bra. In the picture it looks normal but while wearing it I felt too much of a gap.. maybe with some alterations it might fit better but I'm going to keep looking at other dresses.
barnettr
Révisé le :
9 déc. 2021
Couleur:
Diamant Blanc
Type De Corps:
Sablier
Taille commandée:
WD26
I really liked this dress! I don't think it's the one because I didn't love the way that it cut at the waist, but it was great quality and really beautiful! The bead and sequin work on the top was fun! It was also a size too large which surprised me given what I thought my measurements were.
Candace Stratton
Révisé le :
12 oct. 2021
Couleur:
Diamant Blanc
Type De Corps:
Sablier
Taille commandée:
CUSTOM SIZE
This was the most perfect wedding dress! After spending $2000+ on a dress at a boutique on my own (because of COVID restrictions) I ordered a few Azazie dresses to try-on with my mom and Maid of Honour. The moment I put the sample dress on, everyone started to weep. It was truly THE dress. I returned the extraordinarily expensive dress knowing this Azazie dress was simple, classy and such high quality. I ordered it in custom sizing, it came within 4 weeks and it fit like a glove! Zero alterations needed. I added a jewelled belt for my ceremony which I took off for my reception and could not have received more compliments about the detailing. As a large chested woman, this held me in with minimal extra support, and even allowed me to use the washroom on my own! It is not extraordinarily heavy so I had no problem letting it trail behind me as I went about greeting my guests and dancing with my husband! Could not have been happier with any other dress.
leelee112124
Révisé le :
8 oct. 2021
Couleur:
Diamant Blanc
Type De Corps:
Poire
Taille commandée:
9566
Beautiful dress! I didn't hate it but I didn't love it on me. It was super light so I loved that. I loved the V shape neckline which I didn't think I would. I wish it had some boning but it was a great dress
Haley
Révisé le :
9 juil. 2021
Couleur:
Diamant Blanc
Exactly what I was looking for! I tried this dress on in 2 different sizes and in the 2 different color options and I am intending on ordering it for my elopement in June 2022! I tried on the diamond white in a 4, and the champagne/diamond white in a 2. Pics taken on different days! Thoughts on color: the diamond white is definitely white-white and not off-white or ivory. I was a little hesitant because some of the reviews said that it was TOO white to the point of looking cheap, and I would very much disagree with that! The white is pretty, clean and classic. The champagne did not have any official pictures on the site but I was interested in the thought of the dress in a softer color, so I tried that one too! I feel that it is too dark of a champagne color for me. It kind of erased the sweetheart neckline look altogether because the color of the opaque part of the bodice was so close to my skin color. It gave the whole dress an older, more mother-of-the-bride type look and made the cool, artsy lace look a little dated. I still had a hard time choosing between the colors though, because the champagne was still very pretty!! I wish the champagne were a slightly lighter, slightly blushier color, or maybe that they would make the dress in an ivory/off-white. Thoughts on size: I tried on a 4 and a 2. I am 5'9"(ish) and around 130 pounds. I tried on the 4 and LOVED the fit, but took all my pictures of the dress with the waist pulled taut, because I will definitely need it altered to fit more tightly around the waist. It probably needs 3 or more inches taken in, which feels like a lot. When I tried on the 2 I was PUMPED because I could definitely wear it without alterations, except for needing the excess length taken off the skirt, however I realized that the 2 was just slightly small in the bust and arm openings, and I would want an inch or so off of the waist anyway. Which means I will be going with the 4 and getting alterations. I've thought about ordering a custom size, but I think I'd rather just have a seamstress alter it while being able to see it on me and make decisions about it together with me. I will likely have the train removed or shorten it significantly. My event is not at all formal, so the extra length dragging around behind me might be more annoying than pretty. Thoughts on quality/style: I think this dress is absolutely beautiful and I found the quality to be very impressive! The materials and construction are great and I would likely choose this dress even if I were doing a traditional wedding with reception! I love that the dress is stylish and contemporary, but also simple and fairly classic. There is just the right amount of detail and modesty for me! Some reviews said that the belt was cheap, so I was ready to replace it, but I actually really like it. I do wish that the standard construction of the dress were closer to suiting an hourglass figure, but it is my choice not to order custom, so that's on me!
Valerie
Révisé le :
19 juin 2021
Couleur:
Diamant Blanc
Type De Corps:
Pomme
Taille commandée:
WD24
This dress is beautiful and ended up being my second choice. It has beautiful sparkle and beading at the top and even a defined waist with a small "belt." You'll see that in the close-up of the front. I added a larger/sparkliest belt in the other 3 pictures. It was flattering and fit really well. I'm insecure about some back rolls and everything felt covered. The train was not as long as some of the other dresses I have tried on from Azazie, but I prefer it that way! I'm 5'9-5'10ish and usually a 22/24 pants. I'm wearing the 24 in these photos.
fiyahkingyt
Révisé le :
3 juin 2021
Couleur:
Diamant Blanc
I don't live in the US so buying online for me is a hit or miss and at home try on was out of the question unfortunately. I never expected to be shopping for my wedding dress online because it's really not something you want to mess up but I am so so satisfied with the dress! It is just as I imagined and it is very flattering.The details are very delicate and beautiful and the material feels expensive. I did custom fit and it fits perfectly! I will just make some small adjustments to the straps for a closer fit. I am very happy with this dress and excited for my upcoming wedding!
jillianvancampen
Révisé le :
12 avr. 2021
Couleur:
Diamant Blanc
Loved this dress! I ordered a size 12 and had it altered, I probably could've gotten a 10 and gotten by without any alterations. I did add thinly padded bra cups to mine. The back detail was my favorite part about this dress!
dancemaptap
Révisé le :
28 janv. 2021
Couleur:
Diamant Blanc
I absolutely Love this dress! I am 5'8 115lbs I ordered a size 0 and it fit perfectly! The beading is gorgeous and the skirt is just full enough, but still lightweight! I have already ordered the dress for my wedding!
Jordan
Révisé le :
26 nov. 2020
Couleur:
Diamant Blanc
I loved this dress. I just decided I wanted sleeves. I thought it was very flattering for my plus size shape. I'm a size 22 and it fit true to size.
Melissa
Révisé le :
15 juil. 2020
I tried this gown on as an option for my April 2021 wedding. I love the dress and felt that it looked better on me that expected. I should note that those pictures have me in a dress 1 size too small, which was expected. They just didn't have my size available for the try on program. The dress is beautiful and it felt amazing on me. I just felt that it wasn't enough for the wedding - that some of my bridesmaid would be dressier than me. I might have gone for it if the skirt had more to it or if my wedding style was simpler. I am a size 18 in gowns, 5'4", 40D.
bayleischmit
Révisé le :
9 févr. 2020
Couleur:
Diamant Blanc
I ordered this dress in a 6 and it fit very well. I am 5'7 and 148 pounds. I liked the dress, but it just didn't "wow" me.
nursesierra17
Révisé le :
25 avr. 2022
Couleur:
Diamant Blanc
Type De Corps:
Pomme
Taille commandée:
WD16
I LOVED IT. I was so incredibly happy with my wedding dress. After my sister had a difficult experience with wedding dress shopping in boutiques, I knew I wanted to look for a gown online. I'd always known exactly the style and fit of dress I wanted. I casually browsed this website and used the filter to search for what I wanted: "sleeveless" "A-line" "chapel length" "lace bodice" "tulle skirt" etc. I used the awesome try-on feature to try this dress at home in a few sizes, as well as one other dress I selected from this site. I tried this dress on second after not liking the fit of the other one, and I knew immediately it was the one for me. I didn't do a single alteration and wore it exactly as is. It fit really well. I'm sure there were a few things I could've done to make it fit a little better, but it wasn't worth the money to me. When I took my heels off to dance, the train was a little long and I tripped a few times but it didn't bother me. The skirt was my absolute FAVORITE part of the dress. It was so dreamy, flowy, and magical and truly made me feel like a princess. I felt the style of this dress was super flattering on my body type and made me look exactly as I always dreamed I would on my wedding day. It had enough support to hold my in up top, and I didn't wear a bra at all, only a shapewear piece from my stomach to my thighs. My ONLY critique of this dress is that by the end of the night the jewels were digging into my arms from the details of the bodice along the arms and straps, but that is just me looking for something honest to say that was not total praise for this dress. THIS WAS A DREAM COME TRUE.
janleo54106
Révisé le :
25 févr. 2022
Couleur:
Diamant Blanc
Type De Corps:
Droite
Taille commandée:
WD2
I came very close to ordering this one. It is so pretty and flowy but I decided to go with a more basic skirt with less layers for simplicity for a backyard wedding. Otherwise, I really loved this one.
meghorses99
Révisé le :
12 sept. 2021
Couleur:
Diamant Blanc
Type De Corps:
Sablier
Taille commandée:
WD0
This dress is absolutely perfect. I ordered the try on option as I didn't know if it would fit right, but it was exactly what I wanted and ended up keeping it. It was slightly too long for me so I did get it shortened but that was the only alteration needed. This was the perfect wedding dress for me! Super pretty and well made - I got tons of compliments on it.
janellepawluk
Révisé le :
14 avr. 2021
Couleur:
Diamant Blanc
Type De Corps:
Poire
Taille commandée:
WD4
The dress was beautiful and high quality. I found the bottom half/mesh part quite plain looking. According to my measurements I would be a size 4 but this size 0 fit.
allison
Révisé le :
1 mars 2021
Couleur:
Diamant Blanc
The beading gave me grandma vibes, and the bottom half of the dress felt cheap and itchy. The diamond white is also a super super bright white.
jamiebriannball
Révisé le :
22 janv. 2021
Couleur:
Diamant Blanc
Taille commandée:
WD4
The dress is beautiful and well made. The size did not match my measurements though. And the dress is very long, so for shorter folks like myself it would absolutely have to be hemmed. Ended up not being "the" dress but it was very pretty.
Annie
Révisé le :
18 nov. 2020
Couleur:
Diamant Blanc/Champagne
I loved this dress! I wanted a dress that was simple, elegant, and romantic. It exceeded all of my expectations. I fell in love with a dress that was way over my budget from a boutique. I was recommended to look on Azazie and found this dress which was almost identical to the one I fell in love with previously. I am so excited to wear this dress for my wedding next year!