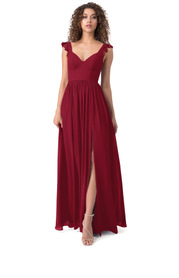 Azazie Stassie
Robes de demoiselle d'honneur
139€
information sur le produit

Le style Azazie Stassie par azazie est une robe de demoiselle d'honneur Longueur ras du sol A-ligne/princesse dans un magnifique Mousseline de soie. La robe charmant présente un décolleté Encolure en coeur et un style de dos . Le style Azazie Stassie de Que vous l'habilliez avec des bijoux tendance ou avec des chaussures plates et un cardigan, il incarne la beauté intemporelle. azazie est disponible dans les tailles A0 à A30. 
Critiques de photos (6)
Avis les plus récents
Notes
Obligeance
brittv
Révisé le :
13 juin 2022
Couleur:
Bleu Poudré
Taille commandée:
CUSTOM SIZE
Pretty nice dress! The dusty blue color is beautiful. My measurements were a little smaller than the size 0, so I got custom sizing but the bodice was still too large so I had to sew up the straps. The custom sizing worked well for the hem though, which I needed since I'm 5'3"
cassiachianne
Révisé le :
5 mai 2022
Couleur:
Terre Cuite
Type De Corps:
Poire
Taille commandée:
7499
Super flattering chest and torso area! The "breast-plate" kind of look actually works so well! And the colour is gorgeous!
jillian.comolli
Révisé le :
14 févr. 2022
Couleur:
Eucalyptus
Taille commandée:
A4
The dress is very pretty and will be flattering once I get it in the right size. The 4 was surprisingly a little small (I couldn't zip it all the way up. A tad bit "booby" but I didn't mind that. Overall, I liked it.
alexiserlichman
Révisé le :
9 sept. 2021
Couleur:
Crépuscule
I was hesitant to order this dress as it had no reviews and was not available for try-on but I am so glad I went for it. The dress is beautiful, well made, and comfortable. I am 5'3", 140lbs, and in between sizes (smaller on top, bigger in the hips). I ordered A10 to fit my waist but the dress ended up being huge everywhere (I'm holding the back in the photos to show how it would look if it fit). I am returning it and reordering in a custom size. The twilight colour is pretty in person, though it looks quite a bit darker in the photo. If you think this might be the perfect bridesmaid dress for you, I say go for it!
frazhr08
Révisé le :
6 sept. 2021
Couleur:
Terre Cuite
The Stassie is the perfect dress for me, It holds me in nicely in the front and the back and the ruffle strap gives a cute feminine detail. I feel very comfortable and confident in this style. It fits tts but slightly small, I'm normally a 14/16.
Meg Pierzchala
Révisé le :
10 août 2021
Couleur:
Framboise
This is the dress for me. I have tried on so many try on dresses and this is officially the ONE! The simplicity is so beautiful but the playfulness is just as spot on. The dress hit in all the right places. I will say this, I don't know how well this would fit a bigger chested lady because I am very small chested and there was not much room for more. I ended up with a size to big because that's all that was available to try on but in my size this dress is going to be perfect. I am going to have to do custom sizing with my height unfortunately this dress just hits the floor and I need a couple inches for heels. So excited for my actual dress to come in and will post another review with the custom sizing.
hallerasco
Révisé le :
2 juil. 2022
Couleur:
Rose Du Désert
Type De Corps:
Pomme
Taille commandée:
A26
Overall really liked the dress! I find Azazie sizes run small, I am a true 24 but had to size up to a 26 and then have it altered. The dress was well-made and the material was comfortable. The breast cups were definitely too small for someone as busty as I am (46DDD) but you couldn't really tell when the dress was on. The cups didn't quite lay correctly on my chest which was a bit annoying but again, someone with a smaller chest probably would fare better. I wore a bra but it is supportive enough without one. It was the first bridesmaid dress I wasn't desperate to take off at the end of the night so I'd say it was a success!
sydneyv225
Révisé le :
19 mai 2022
Couleur:
Bleu Poudré
Taille commandée:
A8
Good quality dress and very pretty but if you have even remotely larger breasts this WILL NOT FIT. Not enough fabric for medium sized breasts. I had to alter it 4 different times to look okay on me. (I wear bra size 34C for reference).
gotvaldlauren
Révisé le :
4 mai 2022
Couleur:
Paprika
Taille commandée:
A12
I ordered this in size up and it was way too big on my so I'm not sure how it would fit in the correct size. Of the three I ordered to try one this one was definitely the lowest cut on the neckline so that might be something to be aware of
jadyn.gibson24
Révisé le :
28 mars 2022
Couleur:
Acier Bleuté
Taille commandée:
A4
pretty but this color is not the same in person ..
Sydney Stickroth
Révisé le :
9 déc. 2021
Couleur:
Champagne Rose
This dress is gorgeous! I am going with a different one but this is my second choice. Super flattering.
rachel.pologe
Révisé le :
7 déc. 2021
Couleur:
Noir
Wanted to love this dress but as a 34DD it was just way too much cleavage.
Kaitlyn Partain
Révisé le :
6 nov. 2021
Couleur:
Bordeaux
I absolutely LOVE this dress!!! Unfortunately I don't have any good pictures of it yet, but it fit perfectly. I got custom sizing as I'm a busty, plus sized, short girl. The one thing I will say is if you're on the bustier side, please prepare. it does show a lot of cleavage (I'm a 40DD) but ultimately I loved it, and didn't mind.
Abigail
Révisé le :
31 oct. 2021
Couleur:
Mauve Vintage
Had to get it altered since I'm 5'1, but it fit great! The boning gave a flattering structure.
laceyjomcgraw
Révisé le :
28 oct. 2021
Couleur:
Sauge Poudrée
This dress is absolutely so pretty on, fit is great. Was nervous about the sleeves but they are so girly and fun!
michaelaorme
Révisé le :
23 oct. 2021
Couleur:
Paprika
I loved how this looked! My only complaint is that the straps were too long. I had to have them altered as well as have the seams taken in a slight bit. This style is perfect for those with a smaller bust.
Beth Westfall
Révisé le :
21 oct. 2021
Couleur:
Mauve Vintage
First of all, I loved this dress. I did have to take in the straps a inch and a half, but the rest of the dress fit perfectly. I did get a custom size.
aly.lauren.gold24
Révisé le :
16 oct. 2021
Couleur:
Bordeaux
Beautiful color and fit, the slit is absolutely is my favorite