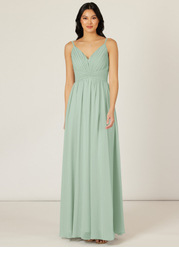 Azazie Serena
Robes de demoiselle d'honneur
129€
information sur le produit

La robe de demoiselle d'honneur charmant Longueur ras du sol de azazie an une A-ligne/princesse coupée dans un à l'aise Mousseline de soie. Le style Azazie Serena présente une encolure Encolure en coeur et est disponible dans une gamme complète de tailles (A0-A30). {Embellissement} 
Critiques de photos (7)
Avis les plus récents
Notes
Obligeance
abbymaser
Révisé le :
21 juil. 2022
Couleur:
Cabernet
Taille commandée:
A8
Ordered this as a sample and liked it a lot! Will consider for a future event. I'm smaller in the chest, so I tend to get custom sizes, or alterations. This one was particularly large in the chest, so I may have even gone for an A6.
Juliad274
Révisé le :
4 juin 2022
Couleur:
Pin
Taille commandée:
A0
This dress was great! Even though they were spaghetti straps, I felt supported the entire day and through the dancing. The color pine was so flattering on everyone and I felt like the dress hit perfectly on my waist to really slim my figure. I would recommend this to anyone, especially those who might be a tad shorter or petite though I think it would flatter anyone.
Golemcaitlyn
Révisé le :
10 oct. 2021
Couleur:
Mûre
Beautiful dress! The low back hits in such a way that it is still super flattering on all body types! It was a little uncomfortable under the arms and felt like no matter how much you altered the dress, your boobs wouldn't be secure in it. Sososo pretty though!
Kelsey Rohman
Révisé le :
8 nov. 2020
Couleur:
Rose Rougissant
Type De Corps:
Poire
Taille commandée:
7494
The dress was heavier than I was expecting. I also felt like I look heavier (bigger hips, not as defined) than in other dresses. It was cute on the model, but I definitely went with another dress.
Anonymous
Révisé le :
18 juil. 2020
This dress is nice. I really like that the straps are easier to alter and that the chest is mostly covered, but not completely. It is actually quite comfortable, the waist hits just below the bust, then the rest is flowy fun. I didn't have to worry about my belly sticking out from eating too much! And it has pockets which was very nice. I ordered a size 12 and had the straps taken in and the hem cut. I'm 5'6", wear a size M/8 usually and 34B bra. The chest area was a little big, but nothing some sticky tape and sticky bra cups couldn't fix.
CB
Révisé le :
29 mai 2020
Cut is not very flattering if you have a short torso or petite overall. I do not like added pockets for that reason because it adds more bulk to a small frame. I got custom sizing which turned out pretty well, straps are too long but that will be easy to fix. So it fits and quality is pretty good, but style could be better. I would give 3.5 if half stars were possible.
Josie
Révisé le :
25 mai 2020
Couleur:
Bordeaux
Taille commandée:
A2
I was actually super surprised with the quality of this dress from an online store. It said my dress wouldn't arrive till June 7 and it got here May 7. The only complaint is another bridesmaid received her order from California and mine came from China. I don't really know what that's about but I really like the dress.
sheena.devota
Révisé le :
26 déc. 2021
Couleur:
Bleu Marine Foncé
Another perfectly-fitting dress from Azazie. I ordered a custom size in navy, it came well in time and fit well with no alterations. The pockets for this dress were helpful during the wedding and I was able to carry my phone to sneak in photos of the bride and groom. 10/10 would recommend!
Juliad274
Révisé le :
20 août 2021
Couleur:
Noir
Taille commandée:
A2
This dress is much cuter in person. It has pockets and hit my waist in a very flattering way. Many of the other dresses I tried on hit very low on my torso but this was great. I am exactly between a 0 and a 2, so this dress was a tiny bit big for me, but I think it would have fit exactly as a 2 should have fit had that been my true size.
Carriejohammer
Révisé le :
9 mai 2021
Couleur:
Bordeaux
My dress was way to big. It was not made correctly and it was especially not made with my measurements. I am not a fan of dresses but this made thinks so much worse. I wouldn't recommend this dress or this website. They didn't like my measurements in the first place and I knew I was guna have issues but I didn't know it was guna be quiet this bad.
Brooke Marlowe
Révisé le :
15 mars 2021
Couleur:
Rose Poudré
Type De Corps:
Droite
Taille commandée:
A12
This dress was wonderful and very well made. I have a little insecurities around my arms and this did not sit well with that, but other than that it was a great dress.
MC
Révisé le :
27 juil. 2020
Couleur:
Prune
Type De Corps:
Sablier
Taille commandée:
Custom Size
I ordered a custom size as through site recommendations in plum color. The material is nice, light, appreciate the pockets. The straps feel tight and stress on the shoulders, otherwise, the back of the dress is a nice and open, while the bust is comfortable and slightly padded. Even with custom sizing, I felt it was a little loose, but may be able to manage with slight alterations and necessary steaming of the garment.
sammerch
Révisé le :
29 avr. 2020
Honestly didn't love how it fit. I went for it because the straps seemed a little thicker and I liked that the neckline was higher. But for me it caused a weird bending above my chest. Maybe my body type isn't meant for it
aesimari
Révisé le :
28 avr. 2020
overall this dress is very eh:( I ordered it in hopes of it fitting all around but it was very small on the bust area. I am a 34DD and my chest looked hilarious in this dress because the chest is narrow and doesn't have adjustable straps. The bottom fit perfectly, wish it could've worked out! I will sadly be returning but if you are not as busty I would totally recommend this dress!!
mirandamoore42
Révisé le :
2 avr. 2020
Couleur:
Bleu Marine Foncé
Very satisfied with the custom sizing! I will not have to have any extra alterations done, which I was so surprised about. They did an excellent job with the making of the dress and communicating when my dress would arrive!