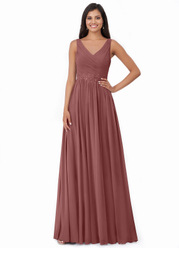 Azazie Robbie
Robes de demoiselle d'honneur
149€
information sur le produit

Le style Azazie Robbie par azazie est une robe de demoiselle d'honneur Longueur ras du sol A-ligne/princesse dans un élégante Mousseline de soie. La robe brillant présente un décolleté Col V et un style de dos . Le style Azazie Robbie de Que vous l'habilliez avec des bijoux tendance ou avec des chaussures plates et un cardigan, il incarne la beauté intemporelle. azazie est disponible dans les tailles A0 à A30. 
Critiques de photos (9)
Avis les plus récents
Notes
Obligeance
jldewitt
Révisé le :
27 mai 2022
Couleur:
Sky Blue
Type De Corps:
Pear
Taille commandée:
A12
I am writing another review, updated AFTER the wedding in which I wore the dress from 2pm to 10pm in 90+ degree weather (and to include photos...not from the wedding but after it was hemmed by my mom). I was expecting the lace under the arms to be uncomfortable but it was not (and as you can see from the pic, my arms are larger) so that was a blessing. The dress was comfortable all day, even in the heat (there is enough flow in the bottom of the dress to get some air). The straps stayed up and while I opted for a regular-front backless bra with sticky tabs to wear underneath just to fill in the bodice a little better, you really could go without that if you wanted to. As I stated in my earlier review, the fit of the dress works well for pear shaped ladies as there is enough material in ALL layers of the bottom of the dress to allow for a 14-16 hip in an A12 dress but with the try-on option which is very easy and helpful to use, you can figure that out for yourself. I had a lot of compliments that it was very flattering on me. I was happy that the bride allowed us to choose from a few different styles to get something that we were comfortable in, and I was able to go with something that wasnt spaghetti straps or strapless. Thank you Azazie for your great dresses. They are made well, high-quality, and great prices! I will def think of this site if I ever need another fancy dress or know anyone who does!
amber.lee806751
Révisé le :
25 avr. 2022
Couleur:
Sauge Poudrée
Type De Corps:
Hourglass
Taille commandée:
A20
I'm 5'7, 215 lb, and 38-40C. I have a long waist and broad-chested. It's kinda challenging to find clothing, especially dresses, to fit me comfortably. This is the first time trying out this website for my best friend's wedding (bridesmaid) and I was very surprised by the fabric quality. After measuring myself and aligning my numbers to the chart, I'm an A20. When trying on this dress, It was a little big in the chest, but roomy in the waist when sitting down; my bust didn't quite fill the front and it was very long. I'm planning to order a smaller size since this one was my favorite out of the 3 I tried on. I love the lace in the front!
Jodyroose
Révisé le :
12 avr. 2022
Couleur:
Neptune
Type De Corps:
Hourglass
Taille commandée:
7498
the neptune is very pretty. blue with a greenish tone. the back of this dress is beautiful and soft lace. however my daughter thought this dress cut her in the middle & made her look old. so we will keep looking. thank you azazie for the try on option.
rebekah.hanagan
Révisé le :
29 mars 2022
Couleur:
Agave
Taille commandée:
A6
Great dress! The wide neckline and straps just don't work for me. There is nothing really keeping them from sliding off my shoulder since the back in wide open with nothing pulling the straps together. For reference I am 5'9" and 155lbs.
myshyviolet27
Révisé le :
24 oct. 2021
Couleur:
Twilight
Loved the neckline on this dress. This is one of the most flattering dresses amaze has in my opinion. The pleats in the front area awesome, the lace in the back is beautiful! I had a bit of hard time getting a dress that fit perfectly. I tried on two other dresses of Azazies in a size 4 and while they zipped they left no breathing room so I ordered this one in a 6 . I'm 5'2, 135lbs and I wear a 34DD bra. I love that I could wear this dress without a bra and it held up my girls well with no strain LOL. The one area that I had to alter was under the armpit, it was just a bit snug and caused my underarm/sides to pudge just a bit the letout solved that! I loved how the zipper in the middle hides any back crease too! I got the dress in Twilight color which was stunning!
pizzutojamie
Révisé le :
3 août 2021
Couleur:
Bleu Poudré
I was extremely nervous to do a try on dress but ended up very pleased. The dress was beautiful and It fit absolutely perfect. The loved that the front looks elegant but then the back has some spice to it. The only thing I would have to say is I had a hard time with the zipper ( it would get stuck) other than that, no complaints.
broobakk
Révisé le :
17 juil. 2021
Couleur:
Dusty Blue
I spent hours looking at dresses, and was a little nervous about buying this one because there were barely any reviews. I am elated with the quality of the dress and the fit. I wanted something that had great coverage, yet didn't look matronly and this dress delivered! The detail on the back and waistline are gorgeous. The ruching on the chest is extremely flattering. Bonus, I don't have to wear a bra!
mf1
Révisé le :
20 oct. 2020
Couleur:
Cabernet
This dress is so beautiful! Very high quality and I loved the details at the waist and the back. I got the try on dress in A8 which was too large for me. According to the size chart the A4 should be perfect, so hopefully I do not need to return for the A6. For reference I am 5'3" and 130lb.
jackie.schroeder23
Révisé le :
12 mai 2022
Couleur:
Bordeaux
Taille commandée:
A4
Loved the back of this dress!! However the front didn't quite fit how I'd hoped with my short torso. the front lace was by my belly compared to bottom of chest. Otherwise this dress was beautiful!
jldewitt
Révisé le :
2 mars 2022
Couleur:
Bleu Ciel
Type De Corps:
Pear
Taille commandée:
A12
I got this as a try-on dress first (then ordered it for the wedding!). I absolutely love this dress. I am quite a bit larger on bottom then top and the A12 fit me PERFECTLY. There is enough in the top and under layer of the bottom of the dress to clear my hips easily so I did not have to order a custom dress (I will be getting it hemmed). The dress was comfortable and very pretty. The back is open but I didnt feel like it was too revealing. Overall it was a very good choice for me! I'm waiting on the production of my very own! ;)
Meganhightower13
Révisé le :
14 févr. 2022
Couleur:
Dusty Lavender
Taille commandée:
CUSTOM SIZE
I am pretty short and have awkward proportions, so sizing is always very hard for me to do. I went with custom sizing and was nervous about it since it is unable to be returned with custom sizing. However, the measurements were great! I usually have to get quite a bit altered if I order straight off the rack, especially in length. I added two inches to length to allow for heels, and the length is perfect. The measurements seem to be accurate. The only complaint I have is that the straps were still just a little too big, even with custom sizing, so I am getting those altered to be taken in just a bit, but overall, I am very happy with how it came out!
vfg4n4f46k
Révisé le :
2 févr. 2022
Couleur:
Watermelon
Type De Corps:
Straight
Taille commandée:
7492
It fits great around the middle of my stomach and the straps fit great!! The length is great!!
dakota.olberding4
Révisé le :
12 nov. 2021
Couleur:
Pastèque
Pros: details on back are beautiful, as is the detailing around the waist. I have a more straight body type and it did give me more definition at my waist Cons: Not for large busts. I am a 38DD and the sewn in cups are set way too high on the chest. Think it would be a very flattering choice for someone in the A or B cup range
Kat
Révisé le :
10 oct. 2021
Couleur:
Cabernet
Ordered as a try on and ordered for wedding. Very flattering for plus size. Wish it had pockets. My only advice is to make sure you are either okay going braless or find a better a that will work with the low back. I'm DD and didn't want to go braless but was able to find one that worked. The dress is really pretty and I liked the details!
Allison Smith
Révisé le :
13 juil. 2021
Couleur:
Glycine
Ordered this as a try on. It was ok. I felt like the top ruching detail was not flattering considering I already have DD chest. Returned. I had to order A16, since my size was unavailable for try on, and it was huge.
lkern0123
Révisé le :
1 févr. 2021
Couleur:
Agave
Taille commandée:
A10
The dress is beautiful but it came with a pull in it.
ginarini49
Révisé le :
27 déc. 2020
Couleur:
Cabernet
Taille commandée:
A10
I liked the way it looked, but it was not very comfortable because of the back lace.
evonada
Révisé le :
6 nov. 2020
Couleur:
Stormy
I did custom sizing and the dress fit me like a glove! I love the style, the material, and how it fits. The dress is comfortable, the material is soft, and is a flattering style.
Holly
Révisé le :
21 oct. 2020
Couleur:
Steel Blue
This dress is so beautiful and I would recommend it to anyone! The straps went a little further down near my shoulders than I was expecting, but it still looks very pretty. The design on the waist is elegant and the overall material is well made. I'll definitely need to get it hemmed though because it does come long.