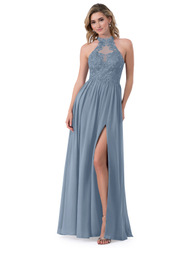 Azazie Prue
Robes de demoiselle d'honneur
169€
information sur le produit

La robe de demoiselle d'honneur sucré Longueur ras du sol de azazie an une A-ligne/princesse coupée dans un fabuleux Mousseline de soie, Dentelle. Le style Azazie Prue présente une encolure Licou et est disponible dans une gamme complète de tailles (A0-A30). {Embellissement} 
Critiques de photos (9)
Avis les plus récents
Notes
Obligeance
christinaramm8
Révisé le :
8 juil. 2022
Couleur:
Steel Blue
Taille commandée:
A12
Looked great in the dress but if you were going to wear this in the heat it will give you a burn from the dress. I would advise to put some powder or extra lotion on the neck area but overall fit me very well
blbradley1987
Révisé le :
7 juil. 2022
Couleur:
Cabernet
I was a little worried customizing a dress to fit my body type but in the end the dress fit me perfectly, I did get the dress longer on the bottom in the case that my shoes were to tall to walk in for my friends wedding. The color dress I purchased was the cabernet, I do have another wedding to attend and plan on purchasing another dress from them.
Bridget Tapia
Révisé le :
25 juin 2022
Couleur:
Dusty Sage
Very comfy! I got so many compliments!
Emily Blumenfeld
Révisé le :
6 juin 2022
Couleur:
Grape
This dress was really beautiful. I got size A8, I typically wear size 8 US in dresses, sometimes 10 in pants. This dress was a little tight in the ribs ( I do have a large rib cage), but nothing too constricting. Obviously it runs long and I had to get in hemmed (I'm 5'6" wearing 3" heels). The dress comes with built-in cups so I didn't need to wear a bra. The lace/mesh up top wasn't itchy. So glad I got this style!
Nikki Bacas
Révisé le :
8 avr. 2022
Couleur:
Ivory
I want to start by saying I love my dress! I am eloping and Azazie came to the rescue with a beautiful dress that I knew I could rely on. I think the style is so flattering and the custom sizing was a little off, but as a plus size woman, I'm so thankful I got it! Some issues were that this dress says that it comes with boning and there is no boning in the bodice whatsoever. Additional it's a little bit big around the bust area and I measured with nothing on my bust because I wanted to go braless but now I will have to find something that fills that space. Additionally there was brown spots on the lace, almost like when you burn the edges of something to stop it from fraying (see photo). It's nothing a few sew snips with small scissors cannot fix! Overall, j am extremely pleased with my purchase! Also I received the dress in 2 weeks and 3 days and paid for expedited shipping and I'm so happy it came so quickly! 10/10 would buy from here again!
kyvalentine19
Révisé le :
11 févr. 2022
Couleur:
Bleu Poudré
Very pretty in detail. but uncomfortable and itchy around the neck
efisofillas
Révisé le :
23 oct. 2021
Couleur:
Dusty Rose
Omg I loved the dress!!!!! I was worried because this dress was new to the site and there was no reviews, but it was so adorable I love the lace! I hope my pictures show it justice. All I had to do was get it shortened and the leg slit shortened to match my height. I wore a strapless backless bra and pasty's to hold it all together! After reading reviews I had a feeling it was going to run small. I'm typically a 12 or 14 but I have a larger chest, so I ordered this both a size 16 and 18 planning on returning which ever one didn't fit. I open the 16 first and it fit like a glove, so I didn't even open the size 18 and I instantly returned it! Such an easy process they supplied a shipping label and all and I got the money back fast. Oh, and it rain at our wedding and it got really muddy at my feet so I even was able to spray THIS DRESS with staying remover and WASH the dress in my washing machine and it's still 100% good as new. That's crazy!!!!!! Love it
browngirl2000
Révisé le :
18 sept. 2021
Couleur:
Desert Rose
This dress was beautiful and we ordered the custom size and it fit perfectly but we added the +4" for heels and it was then too long even with heels! So I would say keep it at 0 or 1". This dress was beautiful, my daughter was the maid of honor and this one stood out some with the lace and buttons all down the back. The color desert rose was lovely! We mixed all different styles in 3 different shades ( vintage rose, dusty rose, and desert rose) for a soft romantic early fall wedding. We recieved so many compliments, it was stunning!
Sherri1080
Révisé le :
16 juil. 2022
Couleur:
Steel Blue
Ito much material and it was ugly
Sherri1080
Révisé le :
16 juil. 2022
Couleur:
Steel Blue
shannon.noelle84
Révisé le :
11 juil. 2022
Couleur:
Desert Rose
Type De Corps:
Hourglass
Taille commandée:
A2
I tried this dress in a size 2, but it ran a little too large. The size 0 would have probably fit better. The top of this dress is very pretty, but the fabric they use to line it is very itchy and irritating (it is different than the body of the dress). Very disappointing since it was so pretty. I went with the Davis style dress.
luv2cris
Révisé le :
7 avr. 2022
Couleur:
Rust
Taille commandée:
A10
Lesliejohnson029
Révisé le :
6 avr. 2022
Couleur:
Rose Poudré
Type De Corps:
Hourglass
Taille commandée:
A18
The try on dress was just a bit too long but it allowed me to verify her measurements. The dress itself was gorgeous!
dubay
Révisé le :
5 avr. 2022
Couleur:
Mûre
Type De Corps:
Pear
Taille commandée:
A16
I was surprised by how true to size this was. Beautiful dress, well made.
cristi6219
Révisé le :
1 avr. 2022
Couleur:
Mauve Vintage
Taille commandée:
A8
Ordered the try on dress as my second option in case I didn't like the first one. The dress is pretty; unfortunately, very itchy/scratchy in the top area. The detailing is very nice in the front and back but definitely not my kind of dress.
sears.alexis
Révisé le :
24 mars 2022
Couleur:
Twilight
Type De Corps:
Hourglass
Taille commandée:
CUSTOM SIZE
Loved the custom sizing option. Length was perfect after following the directions. The detail on this dress is beautiful. Lots of compliments on the back. Enough padding for the girls too.
kaela.fischer
Révisé le :
6 mars 2022
Couleur:
Noir
Type De Corps:
Pear
Taille commandée:
A10
Over all I liked this dress however the torso was a little long on me. I had ordered an A10 to try on, it fit well otherwise but I think I would need to get it custom made to fit well. This dress is fairly low cut so if you are busty keep that in mind.
Tiffany Arnold
Révisé le :
4 mars 2022
Couleur:
Acier Bleuté
Love love love this dress. I ordered an 8 to try on, but when I go to order my bridesmaid dress for my sister in law's wedding I will have to do a custom order because I am so oddly shaped. This dress was just so flattering and comfortable!
leshab414
Révisé le :
20 févr. 2022
Couleur:
Pool
Taille commandée:
A18
Love the look and the fit