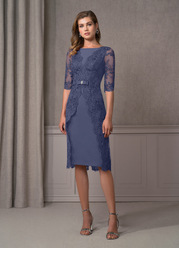 Azazie Phyllis
Mère de la mariée Robes
369€
information sur le produit

La robe Azazie Phyllis de azazie est une robe mère de la mariée en exquis Mousseline de soie, Dentelle avec un décolleté Scoop sur une jupe Longueur genou Gaine/Colonne. Le dos de la robe est fini avec le style de dos . Disponible dans les tailles A0-A30 chez azazie. {Embellissement} 
Critiques de photos (0)
Avis les plus récents
Notes
Obligeance
MIMISUSIE
Révisé le :
20 juil. 2022
Couleur:
Étain
Taille commandée:
A12
I did not purchase this dress. I only had it as a try on. I have since ordered it in a larger size and the color I wanted.
susanrose64
Révisé le :
23 mai 2022
Couleur:
Prune
I wanted to love this dress. It is so sophisticated and classy. The length was perfect. The fabric and lace accents were good quality. The cut of the sleeves was tight. I couldn't raise or move my arms comfortably.
Pam Morton
Révisé le :
17 oct. 2021
Couleur:
Acier Bleuté
I really liked the dress, it is very classy. I should have orders a custom size because it was a little big through the hips. The lace on the one side stuck out more than the other side so I would have wanted to fix that and the lace was itchy on the sleeves so I did not choose to wear it for my sons wedding.
pnewz1
Révisé le :
18 sept. 2021
Couleur:
Bleu Marine Foncé
Taille commandée:
A8
Nice quality, but not my style. Do not care for lacey sleeves. Color was nice, not too dark.
dcoon74
Révisé le :
11 août 2021
Couleur:
Coucher De Soleil
Taille commandée:
A16
I think this had several snags in the material as well as the bow was almost torn off the dress itself. The dress to me was also small for its size. But the color or nothing like what I was thinking.
April Young
Révisé le :
24 juil. 2021
Couleur:
Mauve Vintage
Beautiful dress but definitely a smaller make. Was very disappointed to have to return it so close to wedding day. Also, lace is extremely itching.
jenandtoysnyder
Révisé le :
16 juil. 2021
Couleur:
Rose Poudré
The lace on the bottom of the dress is stiff and sticks out. The dress itself is nice, but the way the lace is would not be comfortable to wear and doesn't look right.
JazzyJ
Révisé le :
13 mai 2021
Couleur:
Glycine
Didn't love it as much in person. The fit was a bit snug for my preference. The sample color sent for the "try-on" was a color I would have chosen I absolutely loved the lilac color. I enjoyed the try on experience but I will not be ordering this dress for my event.
monokalupinska
Révisé le :
29 avr. 2021
Couleur:
Bleu Poudré
All othere dresses same size fit ok. This is too tight. Specially on the upper part
Dolly
Révisé le :
26 avr. 2021
Couleur:
Orageux
This is a very elegant dress. Changed my mind from a knee length to floor length. With all the beading it seemed a bit heavy for me. Liked the sheath dress style and sleeves. Not easy to find both for a petite lady.
vennaw
Révisé le :
11 févr. 2021
Couleur:
Rose Poudré
I got three dresses to try on and thought this would be my favorite. It is not the one I chose. HOWEVER, I am 5'7" and 148 pounds right now and needed a size 8 but it was not in stock. Neither was a size 10 and I went with a 6. On the model, the lace at the bottom doesn't 'flare out' but it did on me - could be because the size 6 was a bit tight on me. I'm 55 and the waist was a bit tight. I would say it was the best quality of the three dresses I tried on, however. It's a very nice dress - just in my opinion it's better for someone with a toned waist or maybe an 8 would have changed my mind. Beautiful dress though so I'm recommending it, but note that issue or you might not love this one. Thanks Azazie - process was smooth and I loved being able to try three on and pick the best one! Review asks for body type - used to be hourglass but now I'm apple/hourglass, fyi.
Tervo.bodosi
Révisé le :
3 févr. 2021
Couleur:
Cabernet
The overall "Try on at home" process was great. I would highly recommend utilizing this service it was very easy and seamless allowing me to try on the dress and simply return it with the prepaid shipping label provided. The dress itself was great, fit according to size, the only thing I didn't like was the photo showed a swatch of fabric in the front that helped prevent cleavage from showing and this was not present in the dress upon try on. Otherwise the dress itself was very elegant, just wish it was available in other colors.
Jen.trimble
Révisé le :
9 janv. 2021
Couleur:
Bleu Poudré
I tried this on as a hopeful contender for MOB dress. It fits really tight, much tighter than the other two. The dusty blue color washes out my fair skin. I have found a lighter weight, darker blue dress in a softer fabric.
Katie White
Révisé le :
20 juin 2020
Couleur:
Orageux
I love this dress but need to return because it was a bit small in my muffin top! I usually take a 16 ! Bought 16 should hav ebought a 18 because my muffing top is snug! Although the quality of this item is perfect! Mayb eI should of custom ordered it! Kathleen
Kim
Révisé le :
27 avr. 2020
Couleur:
Pêche
It's took a while to receive it but luckily the wedding was rescheduled for a later date. Gorgeous dress, it's a little big I ordered a size instead of my exact measurements in case I wasn't in love with it I could send it back. With a little alteration it will be perfect. I look forward to wearing it!