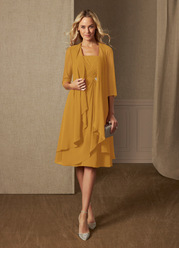 Azazie Olivia
Mère de la mariée Robes
199€
information sur le produit

Cette robe Longueur genou, A-ligne/princesse de azazie est confectionnée dans un élégante Mousseline de soie. Azazie Olivia présente un style de dos et une encolure Carré. Azazie Olivia par azazie est disponible dans les tailles A0-A30. {Embellissement} 
Critiques de photos (3)
Avis les plus récents
Notes
Obligeance
lafayette
Révisé le :
21 févr. 2022
Couleur:
Rose Poudré
I ordered several styles in size A10. This one's bodice was way too tight. Could barely zip dress! I liked the styling but the bodice just looked too big and boxy on me. Sleeves fit on jacket on my biceps. Really need petite proportioning.
Jackie
Révisé le :
10 sept. 2019
Couleur:
Tahiti
I loved the dress and the fit. I had to get a custom size but it made a difference by ordering a sample dress first to gauge the fit. The fact that it was only $10 made it worth it. The sample dress was too tight at the top so I knew I had to order custom size. I purchased this dress for my son's outside August wedding and I received so many compliments I didn't need to wear the jacket. I apparently provided the perfect measurements because the dress was perfect even the shoulder straps, not too long, not too short, not too tight, just perfect including the color. It came in a thick garment bag not plastic. This dress was all good!
mary_kayser
Révisé le :
23 avr. 2019
My dress arrived today. So happy it fits well ! Good length (I'm 5'5"). I ordered the Ink Blue which is beautiful. It looks a little more like dark turquoise online, but it's more of a nice dark blue. Not Navy, but not dark turquoise either. It will not be too hot for an outdoor wedding. The jacket is light and airy, just like a scarf. It has a built in bra which is a little bit large, but better than too small. I can work with it. So happy it worked out so well !
racanfield1978
Révisé le :
9 août 2022
Couleur:
Lavande
Taille commandée:
A22
fziesmann22
Révisé le :
20 juil. 2022
Couleur:
Black
Taille commandée:
A18
Very nice but sized very small indeed. Love the cover. I don't have time and would have considered ordering this in one size up. Bit short for 5'8" person. Would have liked it to be about 2 inches longer to look like the pictures.
Susan.stevens515
Révisé le :
9 juil. 2022
Couleur:
Steel Grey
Taille commandée:
A20
Absolutely the perfect dress for my daughter's wedding. I ordered based on my measurements and could have gone down a size. Thankfully I have a mom who can alter dresses. Bridesmaids dresses also came from here and were perfect!
bdkemmetmueller
Révisé le :
9 juil. 2022
Couleur:
Dusty Rose
Taille commandée:
A14
The dress was elegant and beautiful.
Eheber93
Révisé le :
6 juil. 2022
Couleur:
Cabernet
This dress is beautiful! I like that you can wear it without the cover up and it's still stunning on its own. The quality is great with good padding on the chest. Great dress!!
awesomedurene
Révisé le :
30 juin 2022
Couleur:
Piscine
Beautiful dress but for short women it's too much material and bulky looking.
Deb
Révisé le :
17 juin 2022
Couleur:
Orageux
Beautiful colour. Stunning design. Very classy outfit.
rxmjpsp
Révisé le :
20 avr. 2022
Couleur:
Mauve Vintage
Love this dress Fit was perfect right out of the box This is the one!!
morecandles4u
Révisé le :
20 févr. 2022
Couleur:
Blushing Pink
The fit and color of this dress is perfect for my daughter's wedding. They custom made it to fit me exactly how I wanted.
cmchoeller
Révisé le :
1 févr. 2022
Couleur:
Sauge Poudrée
I've learned to start reading the reviews of these dresses, tho I hadn't before trying this one. I really liked how it looked on me. I ordered a larger size than I normally wear, therefore the rating of a bit large, but I think my size would have been too snug in the bust. The thing I did NOT like about this dress was the stays that are in the bust that continue down into the midriff area. These were very uncomfortable, even while standing, let alone try sitting with them!! I am still searching through the dresses because I love the fact Azazie let's you try on dresses before buying. No other online business offers this, that I know of. I may come back to this dress, order it in my preferred color & simply remove the stays, as others have said they did.
hollyeighmy
Révisé le :
6 déc. 2021
Couleur:
Prune
The cover up is poorly made and ill-fitting.
Betung
Révisé le :
6 déc. 2021
Couleur:
Bleu Marine Foncé
Loved the dress. Color and fit was perfect. Quality was very good.
zends02
Révisé le :
22 oct. 2021
Couleur:
Steel Grey
I loved the dress at first and it was very comfortable. But towards the end of the night I noticed the boning of the chest area was start to slide down and stick out which was uncomfortable!
Soccermomkari
Révisé le :
25 août 2021
Couleur:
Dolphin Grey
Dress was perfect: fit, color, length, style. I did custom sizing, which I would recommend. No alterations needed, I didn't even need to wear a bra! Would be 5 stars if customer service was better. I asked for 2" to be added to the length and CS was very rude and unprofessional. Most of my day was spent in a wheelchair as I have MS. My dress got caught in the wheel several times. The extra 2" would have prevented this. My daughter was able to add 2" to her bridesmaid dress but I was not able to.
susancpenner
Révisé le :
31 juil. 2021
Couleur:
Orchid
Production took a long time, shipping was fast. The built in bra is of poor quality. I had to have the bodice altered to fit. Volor is very nice. Overall quite pricey for the quality, in my opinion.
kay.jolles
Révisé le :
29 juin 2021
Couleur:
Bleu Poudré
Loved the style of the dress. However, it did not fit my bust Was way too small yet the waist and hip area were fine.
mcrenson1715
Révisé le :
28 mai 2021
Couleur:
Framboise
Type De Corps:
Pear
Taille commandée:
A22
The fit was good, but it wasn't quite the right color.