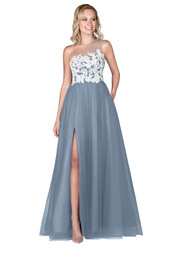 Azazie Noa
Robes de demoiselle d'honneur
129€
information sur le produit

Le style Azazie Noa par azazie est une robe de demoiselle d'honneur Longueur ras du sol A-ligne/princesse dans un à la mode Tulle, Dentelle. La robe à la mode présente un décolleté Une épaule et un style de dos . Le style Azazie Noa de Que vous l'habilliez avec des bijoux tendance ou avec des chaussures plates et un cardigan, il incarne la beauté intemporelle. azazie est disponible dans les tailles A0 à A30. 
Critiques de photos (8)
Avis les plus récents
Notes
Obligeance
katiemichelle20
Révisé le :
16 juil. 2022
Couleur:
Steel Blue
Taille commandée:
A8
LOVED this dress! So classy, comfortable, and light! Best part about it was the pockets! Would buy again in a heartbeat. We received so many compliments!
Ingrid_gomes
Révisé le :
7 avr. 2022
Couleur:
Lilac
Perfect, this dress is stunning ? Worth every penny. I got this for my friend's wedding, lilac was the color for the bridesmaids. It's super beautiful, I'm in love! ?
lizz.manning5499
Révisé le :
4 févr. 2022
Couleur:
Black
This dress is perfect. I'm getting married in April and was hoping to find a black dress to change into. I couldn't find any regular brides dresses that I liked and my aunt finally had the idea to look at bridesmaids dresses. It's gorgeous. I took my measurements to be sure of the size I was and it fits perfectly! I couldn't ask for anything better!
brittanyalvarado1989
Révisé le :
21 mai 2021
Couleur:
Black
As long as you know your size to the tea which is not hard with the measuring tape, it'll fit wonderful!! The fit was great the fabric was great everything was really simple it was just by far the easiest experience ever and I am definitely going to use the site again I was able to get the dress with expedited shipping and it came super fast so well worth that extra cost. I felt the most beautiful! The best part ... There's so many colors and I had wanted a black dress but couldn't find the right vibe I was going for until I saw this ?????????????????????????
lbass6099
Révisé le :
7 sept. 2020
Couleur:
Rouille
This is a beautiful dress , had too much tulle on the bottom of it, so just keep that in mind when purchasing.
aline.zam
Révisé le :
26 août 2020
Couleur:
Marigold
Taille commandée:
Custom Size
The dress color does not look like the website pictures. I've picked the Marigold and the Gold. The gold looks perfect. The Marigold is more towards orange than yellow. I like the dress a lot. Very pretty and the quality is great, but I am very disappointed on the color.
hines.glenda
Révisé le :
26 août 2020
Couleur:
Rose Rougissant
I ABSOLUTELY LOVE THIS DRESS!!! Not this color because it is not my wedding colors. But this dress is GORGEOUS!!! I didn't too much like on my friend and it could be just that the color was not working for me, and I wasn't there in person because I live in Washington and my friend lives in Florida but we made it work. I truly love this website and I can't wait till I finally pick a dress!! Planning a wedding is stressful(as you may know:)) but also fun.
kt_c158
Révisé le :
5 août 2020
Couleur:
Vintage Mauve
I purchased 6 of these stunning gowns for my bridesmaids. The price point is unbeatable and the quality is fantastic! My bridesmaids loved everything about these dresses! They are flattering to any body type and they have pockets! 10/10 recommend!
Jazzlynmartinez15
Révisé le :
3 juil. 2022
Couleur:
Burgundy
Taille commandée:
A14
It fit very good around the breast area. It was just very long length wise and I am not the tallest person or the shortest but I was very sad with the quality of the dress. It didn't look anything like the picture when I got it. But I was very satisfied it shipped to me faster then what was expected.
Em
Révisé le :
14 juin 2022
Couleur:
Rose Bonbon
I seriously love this dress! The lace on the bodice is so gorgeous. The tulle gives a beautiful ball gown look, but it's really light! The straps are fun, but hard to maneuver on your own with the 3 hook-and-eye closures on top of the shoulder. The front tulle strap is a bit itchy and could cut into your neck a bit, but once you get used to it it's not that bad. The slit is a nice feature. The boning gives a slight conical shape to the bust, but could be fixable (it didn't bother me at all). I figured out a couple of hacks with this try-on dress. (1.) If you are getting ready on your own, hook the straps up first *before* you put it on! You have to do a slight dive to get your arms and head through, but it makes it 1000x easier than hooking the straps when you have it on. (2.) If you twist the front tulle before hooking it up, the twist pulls the tulle away from your neck and gives the front some fun detail. I recommend keeping the back tulle flat against your back though.
Lgrub71
Révisé le :
2 juin 2022
Couleur:
Bleu Poudré
Taille commandée:
A10
Pretty dress but I felt it looked more like a prom than mother of the groom. The fir was slightly larger than expected but not by much
Kambrose0128
Révisé le :
27 mai 2022
Couleur:
Grape
This dress was absolutely amazing! Custom size ordered and it fit perfectly. Best part was the pockets. So comfortable that it was easy to wear most of the day and evening! Would definitely recommend
jheyn_18
Révisé le :
28 mars 2022
Couleur:
Rose Petal
We ordered a size 0 for my daughter and still a little loose but not too obvious it needs a little trim and hem. But quality and color is exactly the same as the try one home dress. Very satisfied
akay1220
Révisé le :
16 oct. 2021
Couleur:
Black
Taille commandée:
A14
Great dress for price! Looked great on all body types.
nettegrant
Révisé le :
10 oct. 2021
Couleur:
Regency
Type De Corps:
Pear
Taille commandée:
A14
This dress was perfect in EVERY WAY!!! I ordered it a size bigger because I thought it was going to be too small. I am glad that I got this size so it can be contoured to her body style. Thank you AZAZIE you guys rocc!!!
Obxgirl8788
Révisé le :
26 sept. 2021
Couleur:
Wisteria
Type De Corps:
Hourglass
Taille commandée:
CUSTOM SIZE
The overall fit was ok, I had custom made dress and rounded up on my measurements which I'm glad I did. The bust was a little bit big didn't lay flat I had pointed boobs that I didn't like. Was hard to figure out how to put it on because of the cross straps attached. The length was perfect I wore flats because I sprained my ankle 2 weeks prior. But all in all everyone loved it and color matched perfect to the picture. Can't upload photo
sespy1492
Révisé le :
24 août 2021
Couleur:
Rose Poudré
Type De Corps:
Pear
Taille commandée:
A16
Very well! This was the size I got in burgundy for a weddibb I'm in
Tami Jameson
Révisé le :
16 juil. 2021
Couleur:
Bleu Roi
Type De Corps:
Hourglass
Taille commandée:
7498
Msquetha
Révisé le :
27 avr. 2021
Couleur:
Spa
Such a beautiful dress my daughter looks amazing in it. It runs true to size.
xbox02
Révisé le :
16 avr. 2021
Couleur:
Mandarine
I like how light weight the dress is, very comfortable. I ordered this dress a size smaller and in the correct color, I hope it will look and fit exactly like this try-on dress did