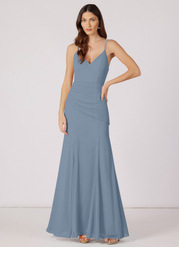 Azazie Nile
Robes de demoiselle d'honneur
129€
information sur le produit

Le style Azazie Nile par azazie est une robe de demoiselle d'honneur Longueur ras du sol Trompette/Sirène dans un élégante Mousseline de soie. La robe élégant présente un décolleté Col V et un style de dos . Le style Azazie Nile de Que vous l'habilliez avec des bijoux tendance ou avec des chaussures plates et un cardigan, il incarne la beauté intemporelle. azazie est disponible dans les tailles A0 à A30. 
Critiques de photos (10)
Avis les plus récents
Notes
Obligeance
audreysmy
Révisé le :
24 juin 2022
Couleur:
Vert Foncé
Type De Corps:
Droite
Taille commandée:
A14
I used the try at home program, which was perfect from me, since my body has changed postpartum. I am looking for a bridesmaid dress to wear at 6 months postpartum. Currently, 3 months post, I'm 5'6 and 150lbs. According to the measurements I should be a A14 (at the waist). I used to be about a size 4-8 before baby. The try at home program was so awesome. I ordered dresses in the colour the bride requested and could sort through the sizes of what Azazie had available. I really liked the look of this dress, while so beautiful, This dress was way too big. I LOVED the bling on the straps, which are sent not attached at the bottom of the back (smart) so that you can adjust or hook them on in the right spot. The bust has cups and are a very nice shape. I loved the mermaid shape and liked the extra fabric at the belly (where I need some coverage at the moment). Sadly, the dress at A14 was too big, so I ordered other dresses that were smaller to try. Eventually, I did buy a dress from Azazie (Sharon size A8). Also their customer service is fantastic! I was married in 2020 and our 7 bridesmaids got their dresses from Azazie and everyone was pleased with their dresses! Groomsmen also with matching ties and hankies. I highly recommend using Azazie, my ladies were from all over Canada and the US, so ordering from one site was so convenient! Now one of my ladies is the bride and we are using Azazie for her bridesmaid dresses! This company is great to work with!
nikoo33
Révisé le :
8 juin 2022
Couleur:
Souci
Type De Corps:
Sablier
Taille commandée:
A6
If youre person that has thicker hips and bottom then it will probably be too tight. From the waist up the dress was about 2 sizes too big. I'm a 32b and I had a lot of room in the chest area. I have a small waist but fuller in the hip area. But other than that it looked nice on the material was good quality. Shipping was fast as well. I would purchase from here again.
aogden5150
Révisé le :
8 avr. 2022
Couleur:
Champagne Rose
I absolutely LOVE this dress! I've had so many compliments and I haven't even been to the main event yet! I bought a size A2, I am 5'6" and I weigh 135 lbs. This dress does need a really strong hour-glass figure, so it still needs altered, but that was expected. It is loose around the chest and hips, but it fits perfectly on my thighs, waist and length with 4 inch heels on. Also the color Champagne Rose is a little more pink than on the website, so I highly recommend getting a color swatch first!
brittanyketsa
Révisé le :
16 févr. 2022
Couleur:
Pétale De Rose
I ordered the wrong size so keep that in mind when looking at the photos! I would have returned anyway. But ended up choosing a different dress. I wanted to like this dress. The straps are pretty (gives it a little something extra, and they are adjustable by the way), it's flowy, the material is nice. But the front that has the draping over it just didn't seem right to me. Maybe if you were looking to conceal your tummy or add more to that area (maybe would make you look curvier) but it wasn't for me. There are 3 layers to the skirt (so it's bulkier than I was going for). Check out the photos!
Genie's Pool Services, LLC
Révisé le :
7 févr. 2022
Couleur:
Prune
Type De Corps:
Droite
Taille commandée:
A18
I ordered larger so I could take it in. I was 166, 5'4" and a shorter torso. Overall just a bit unflattering for my figure. After alterations the rooshing/fabric around middle just cannot be "fixed". Generally just feel frumpy.
Hayhavs.5
Révisé le :
1 févr. 2022
Couleur:
Pin
Dress was perfect. I was wearing 4in heels and I added a mermaid crinoline for extra.!
L
Révisé le :
1 nov. 2021
Couleur:
Brouillard
Nice. Don't love the sash over the hips in the front. Do like the way mermaid-ish aspect on the bottom. I'm wearing the 12 but should be in a 10
jackie
Révisé le :
16 mai 2021
Couleur:
Lilas
Really big and awkward fit with the middle body of the dress. Would need a lot of tailoring to make it look good. Was the sample so I'm nit sure if this quality is normal, but beading was falling off back strap. I had high hopes for this dress but it did not even come close to meeting the mark.
Shelby
Révisé le :
26 avr. 2021
Couleur:
Pin
The Pine color (New) is gorgeous!! This dress was very flattering on my waistline and the slightly touched part across the lower tummy was delicate and pretty. I was between an A6 and A8 and selected the 6 to try on at home. It was too small in the cups and quite tight around the thighs and waist. There was some weird gapping on the side of the chest. I will definitely have to size up if I choose this to wear to a wedding all night long. The rhinestoned straps are pretty and add some pizazz but I had to have help putting it on. The length was surprisingly shorter than the other try-on dresses -- I'm 5'2 and wearing 4-inch heels and the dress was only slightly touching the ground.
KTC
Révisé le :
16 févr. 2021
Couleur:
Crépuscule
This dress was such a disappointment as it looked so amazing in the photo but awful in person. The only reason I gave it 2 stars was because I really liked the back and the rhinestone straps. The front was so odd with the drape across the stomach area--almost looked like you sat down and your dress bunched up but you never fixed it. Was just not flattering. Dress also was a little big, so definitely would have needed alterations. I fluctuate from 111-116 and this 0 was still big.
Alenabeans11
Révisé le :
10 juin 2022
Couleur:
Crépuscule
Taille commandée:
A0
I ordered the smallest size and it was still tremendous… there are wayyyy too many layers in the skirt making it feel so heavy. I thought it was be a sexy light comfortable dress and it was anything but that. The quality was awful
re.pinnola
Révisé le :
6 mai 2022
Couleur:
Acier Bleuté
Taille commandée:
A6
The material and straps are not quite as elegant looking as the model. Has a little bit of a prom vibe rather than bridesmaid.
Wisniewskilauren72
Révisé le :
31 mars 2022
Couleur:
Mauve Vintage
Taille commandée:
7496
I thought I was a bigger size I also thought it was my style dress the dress itself is beautiful just not me
myaerickson12
Révisé le :
11 mars 2022
Couleur:
Pin
Taille commandée:
A4
This dress fit perfectly. I am 5'4, 130 lbs., and wear a 34C, so size A4 fit perfectly for this particular dress! I really wanted to love this dress, however the picture shows the ruffle near the waist as subtle and natural, whereas, when I tried the dress on, it almost looked like I was wearing an additional "skirt" over the dress. It did not sit correctly or look as nice as the picture shows. I was pretty disappointed, but it's still a pretty dress, just not what I had hoped for and, therefore, did not decide to purchase this dress.
tootsie311
Révisé le :
11 févr. 2022
Couleur:
Lavande
Beautiful dress but not great for my body type. I'm pear shaped so sizing up means the top won't fit.
Haley Bedell
Révisé le :
10 janv. 2022
Couleur:
Pin
The bottom half fit like a glove but the top half was too wide and the straps were too long even on their tightest setting. Beautiful dress though!
shirey317
Révisé le :
14 mai 2021
Couleur:
Cabernet
I was impressed with the quality of this dress as I was with all the dresses I tried on from Azazie. However, I decided to go with a different dress due to style and length. This dress was beautiful just not for me.
listn24
Révisé le :
11 mai 2021
Couleur:
Rose Du Désert
Pretty dress but too mature for my taste
caitlynm
Révisé le :
16 avr. 2021
Couleur:
Agave
Type De Corps:
Droite
Taille commandée:
A2
Beautiful dress!! Minimal alterations needed, received TONS of compliments.
L
Révisé le :
26 mars 2021
Couleur:
Cabernet
Type De Corps:
Droite
Taille commandée:
A2
The fit was actually great! I'm a tall 5"10 and definitely think this style works better on tall for some reason. I didn't end up completely loving it because it kinda reminded me of an 80s prom style dress lol