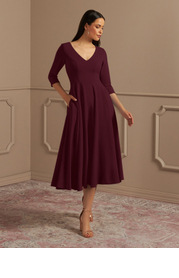 Azazie Nassif
Mère de la mariée Robes
229€
information sur le produit

La robe Azazie Nassif de azazie est une robe mère de la mariée en facile Crêpe Élastique avec un décolleté Col V sur une jupe Longueur thé A-ligne/princesse. Le dos de la robe est fini avec le style de dos . Disponible dans les tailles A0-A30 chez azazie. {Embellissement} 
Critiques de photos (1)
Avis les plus récents
Notes
Obligeance
Keri Hird
Révisé le :
13 déc. 2020
Couleur:
Mauve Vintage
Runs about 1 size big. Heavy dress. Lots of material. Would be hot in warm weather. Luckily we had a cool day for my sons wedding. Happy w my purchase. Got a 12. Too big. Sent back for the 10. Easy return. Wouldn't hesitate to use this company again.
zieglera1992
Révisé le :
5 mai 2022
Couleur:
Bleu Marine Foncé
The try on dress fit perfectly! Even though the dress can be described as "heavy" I feel that equates to a higher quality material. I will post a picture after the wedding in October. Thanks Azazie!
hansennancy1958
Révisé le :
24 avr. 2022
Couleur:
Mauve Vintage
Type De Corps:
Sablier
Taille commandée:
A14
This is a beautiful dress. Unfortunately, it is very heavy and I am looking for a summer wedding dress. It would have been perfect.
vpreece64
Révisé le :
29 mars 2022
Couleur:
Rose Du Désert
Taille commandée:
A26
imthemama47
Révisé le :
25 mars 2022
Couleur:
Paon
I loved it so much I ordered it. It fit well and everyone agreed it was the dress for me. I am short and it works with heels. I am dressing it up with a pearl belt and I'm sure it will be a smash.
janussbaum
Révisé le :
2 mars 2022
Couleur:
Prune
Excellent quality. Fully lined, with all seams turned. Better quality than I find in high end department stores. So comfortable, I wore it all day - even once the wedding was over. A perfect fit.
lcapicotto
Révisé le :
18 janv. 2022
Couleur:
Noir
I was very disappointed with the lack of quality of the material of this dress-it was like wearing a burlap potato sack. It was extremely heavy as well. The only "pleasant" thing about this dress was that it had pockets, and that it arrived in a timely fashion. It was returned and I've ordered other styles to try on. I appreciate the opportunity to try on these dresses at home for the reasonable price of $10. Thank you!
racingmom20
Révisé le :
1 déc. 2021
Couleur:
Mauve Vintage
Taille commandée:
A14
Although it was a very nice dress, it was not the style for me. The material was very heavy for the event I needed it for so I will pass on this dress, but order 3 more to try on.
mkbrainfrank
Révisé le :
22 nov. 2021
Couleur:
Bleu Roi
There are things to like about this dress. The stretchy material is very comfortable and flattering. The skirt is full but not bulky. However, the waist rides high on me, and the color that came in is not royal blue. It is more of a medium, dull blue. I will have to return this dress.
Jjsmith3507
Révisé le :
23 oct. 2021
Couleur:
Cabernet
This dress is simple yet so classy! The material is a little stretchy and very comfortable. And it has pockets! It is a heavy dress, maybe because there is a lot of material in the skirt. But my daughter's wedding was a pretty cool day in October so I didn't mind. I sewed a rhinestone belt onto the dress to dress it up a little. I received many compliments on the dress, even from the dry cleaners!
Cbulgini
Révisé le :
1 oct. 2021
Couleur:
Cabernet
I did the try on service, that was helpful in choosing the style . The try on size I ordered was a standard size and fit well. When I ordered my dress in that same standard size it was too small around waist. Ughhh I couldn't wear it for my daughters wedding. Sooo disappointed!!! I had to return it. Your dresses are beautiful and customer service was attentive. Maybe next time I will try the custom sizing.
lvka
Révisé le :
26 août 2021
Couleur:
Cabernet
The Nassif sample dress that I ordered was just what I expected. The quality of construction was excellent. I would suggest ordering fabric swatches because colors online are not accurate.
dloom5
Révisé le :
19 août 2021
Couleur:
Bordeaux
Taille commandée:
A12
Love it .... do not need until Feb. and it is a bit small (not your fault but mine) but let the weight loss begin! Great Color, simple and classy. I will be holding on to this one!
countrycolon6
Révisé le :
27 juil. 2021
Couleur:
Bleu Roi
It is a beautiful dress, but very heavy due to the fabric. The pockets are a plus. The neck line was too low for me. This is the reason I did not purchase the dress
jonesdsjk
Révisé le :
20 juil. 2021
Couleur:
Bordeaux
I loved this dress it was comfortable and falttering and it has pockets! What more could a girl want than pockets. I did order a small belt with beading just to jazz it up a little. Overall big thumbs up
Ma M
Révisé le :
28 mars 2021
Couleur:
Noir
gorgeous dress...it is a lot of fabric as others have noted, which I personally love... very flattering and just enough stretch...try-on dress arrived quickly and return couldn't be easier!
sheena.devota
Révisé le :
10 oct. 2020
Couleur:
Bleu Roi
This dress was custom-sized and the perfect fit. The colour turned out to not be as blue as I thought because of the material, and a small part of the inner front lining of the. Neckline slightly rolls out if I wear a certain undergarment, but it is very comfortable, fits perfectly, is a lovely quality, is exactly as pictured, came in a timely manner.
Pamela.haddix
Révisé le :
8 oct. 2020
Couleur:
Rose Poudré
The material was way to heavy, and the color was dull
Mariahbeth1695
Révisé le :
26 sept. 2020
Couleur:
Bordeaux
I got this dress for my mom and she loves the dress it fits her perfectly and she likes it cause it hides her arms.
Bee
Révisé le :
31 mai 2020
Couleur:
Rose Poudré
I ordered a sample dress. The size I would normally order A10 was not available so I ordered A12. I can't give a fair estimate to the fit but I think a 10 might still have been too big. If I were to get this I would likely do custom fit. So I tried it on to see the style and color me. The dress was very well made, comfortable fabric , well lined. HOWEVER it is heavy. There is so much fabric to the skirt I thought it too much and not flattering. It would be too hot to wear in summer or in any humidity.