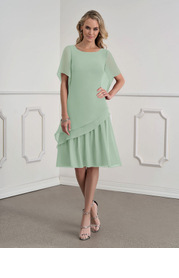 Azazie Louisa
Mère de la mariée Robes
149€
information sur le produit

La robe Azazie Louisa de azazie est une robe mère de la mariée en facile Mousseline de soie avec un décolleté Scoop sur une jupe Longueur genou A-ligne/princesse. Le dos de la robe est fini avec le style de dos . Disponible dans les tailles A0-A30 chez azazie. {Embellissement} 
Critiques de photos (1)
Avis les plus récents
Notes
Obligeance
lafayette
Révisé le :
21 févr. 2022
Couleur:
Sauge Poudrée
Of the four dresses I ordered to try-on this is my #1. I ordered this in a 10, but it is too tight in the bust and doesn't lay smooth across the top of my back. Everyone liked this dress on me. It is flattering to my shape and hides my tummy. If I decide to order it I will order a 12 or custom. I like both the front and the back styling. The sleeves are attractive and hide wrinkled upper arms. I think it would be good if AZAZIE had actual older women mothers model these dresses.
lisa
Révisé le :
17 juin 2022
Couleur:
Champagne
Taille commandée:
A22
The Champagne color was gorgeous, but I decided to go with the Champagne Rose color in the Louisa. Both colors were beautiful! Lisa
lisa
Révisé le :
17 juin 2022
Couleur:
Champagne Rose
Taille commandée:
A22
The dress was more lovely than I had expected! And it arrived in a very timely manner. The color was just beautiful and the quality was great! My brides maid was thrilled when she put it on. I was extremely satisfied. I would not hesitate for a minute to recommend Azazie to anyone for dresses. Lisa
Suet8589
Révisé le :
25 avr. 2022
Couleur:
Terre Cuite
Taille commandée:
A14
The size was way too large, which surprised me because i tried 2 other dresses, where the size was correct. I ordered the Louisa dress in a size smaller, and I am hoping that it will fit.
jhiggy1
Révisé le :
5 avr. 2022
Couleur:
Paprika
Taille commandée:
A16
Just thought it was a dress that could be worn by anyone not just the mother of bride
melissajeffers
Révisé le :
29 mars 2022
Couleur:
Bleu Poudré
Taille commandée:
A14
Dress fit was good but the material felt cheap. Loved the other two I tried but this dress felt like an Easter dress, NOT a mother of the bride dress. Even though the quality wasn't as expected it was made right by offering a refund, and excellent customer service.
rphmomma
Révisé le :
22 mars 2022
Couleur:
Rose Poudré
This is a very pretty dress. I felt that it was not as flattering on me as I had hoped. But a pretty dress and the size 16 fit pretty well. I think it's hard to judge the overall look when the color available is not a flattering color for your skin tone. Just my thoughts.
lafayette
Révisé le :
21 mars 2022
Couleur:
Corail
This try-on dress gave me the info that a 12 is too big and the 10 is too small. Unfortunately I really need petite sizing. I would need to pull it up 2 inches at the shoulders to have it fit the way it is designed to fit.
Kmj121
Révisé le :
14 mars 2022
Couleur:
Bleu Poudré
Loved the dress and will be ordering it. I was going to get a pantsuit but this dress felt so comfortable and I felt so good in it that I changed my mind. Only thing I didn't like is the sewn in cups
Joanne Mulvey
Révisé le :
28 janv. 2022
Couleur:
Neptune
This dress is very nice except for the uneven hem all around. One side was much longer than the other so I could never wear this out somewhere.
Sahtupw51
Révisé le :
13 sept. 2021
Couleur:
Marigold
I was very please the dress came in before expected. Upon trying it on it fit perfectly, was the perfect length and color. As I looked in the mirror I was aghast at what I saw. The instruction said to measure myself with the bra I intended to wear with the dress. That would indicate no padding or bra was included which was fine with me. But when looking in the mirror I saw bra padding that was laughable and very visible! Thankfully I am handy with a seam ripper and was able to open the side seam between the two layers and remove the sewn in offending pads. Problem solved and except for a good laugh with my girls no one would be the wiser. Thank you for a dress well made and comfortable.
saycheesejilly
Révisé le :
2 sept. 2021
Couleur:
Bleu Ciel
I didn't like the way it fit me. It's a pretty dress and I did have a few people say they liked it.
pabloboy1
Révisé le :
1 sept. 2021
Couleur:
Wisteria
Really like the colour and style of the dress. It felt light and airy despite needing to wear it on a hot and slightly humid day. Happy to have bought it on sale, too. It is a dress I hope to wear again in the future! The only correction I would make is related to the care instructions... Hanging it immediately is needed, but the instructions to hang it in a shower area to help smooth out any remaining wrinkles is not accurate! You need to get it steamed by a bridal salon (approximate cost of $25) or carefully use a reliable portable hand steamer ensuring you use distilled water to prevent staining of the fabric .
wilmahigbee
Révisé le :
2 août 2021
Couleur:
Vintage Mauve
yes. it fit perfectly and looked good on me
mindy.ewing
Révisé le :
23 juin 2021
Couleur:
Bleu Poudré
I received 3 dresses through the try-on process, which is an easy and excellent service. This dress fit me like a glove and was very comfortable and flattering. The sizing (size 6) seemed spot on. I have ordered it in the new olive green color for an upcoming wedding.