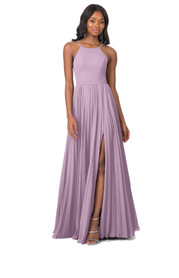 Azazie Lennon
Robes de demoiselle d'honneur
129€
information sur le produit

Amusante et séduisante, cette robe de demoiselle d'honneur en fabuleux Mousseline de soie convient à tout mariage, de la plage à l'église. Votre fête de mariage va adorer cette robe brillant Longueur ras du sol A-ligne/princesse avec un décolleté Licou. {Embellissement} 
Critiques de photos (8)
Avis les plus récents
Notes
Obligeance
deleneyjmagoffin
Révisé le :
16 juil. 2022
Couleur:
Eucalyptus
Taille commandée:
A8
Love that the top was form fitting and I didn't need to wear a bra. Everything stayed snug and the dress didn't feel heavy at all - really nice material! I'm 5'2" and about 135 lbs and a size 8 fit just right.
Audi23m
Révisé le :
23 mai 2022
Couleur:
Watermelon
This dress is beautiful! We absolutely loved the color! I measured myself and followed the guide to select the closest fit for me - it was perfect no alterations needed. I'm 5'9 and around 165lbs. I ordered size A10! Every bridesmaid looked gorgeous in this style and color!
Lauren
Révisé le :
19 mars 2022
Couleur:
Dark Navy
Tall girls beware!! It's short. The material is pretty cheap, but expected for the price. The skirt isn't as flowy as the picture, and the waist hits pretty low. If it was longer and the top was altered, it'd be fine
cooperallisonm
Révisé le :
25 févr. 2022
Couleur:
Spa
Taille commandée:
A4
I ordered and wore this dress as a bridesmaid in a destination wedding. While the bride selected the color, I selected the fit based on the fact that I wanted a halter top, specifically. Overall, the dress was very flattering and comfortable. I would definitely recommend if it is also your style.
fruit.puddl
Révisé le :
9 janv. 2022
Couleur:
Taupe
Great dress but will definitely need to get it tailored to correct the puckering around the bust area due to Azazie's generic bra inserts (feels like the inserts accommodate a C cup and higher; for reference I wear a 30B). Some things to consider, the waist band detail is not sewn all across the waist so it feels like it could easily come apart, and the straps don't feel super sturdy. Otherwise, it's a flattering dress with a fun swishy skirt.
glor.berry
Révisé le :
25 déc. 2021
Couleur:
Pine
I did the custom fitting and I wouldn't go any other way. I had a c section q month before I was measured so I knew it wouldn't be perfect but so much better than if I'd just bought a size. Beautiful dress and amazing quality
jchromiak
Révisé le :
7 sept. 2021
Couleur:
Desert Rose
Taille commandée:
7494
I'm 5'7 145lbs. I ordered an A6, It fit fairly well but the boobs point out a bit / fit a little strange for me. Loved the Slit and the skirt. would have been super fun to dance in!
haley.stinar
Révisé le :
19 avr. 2021
Couleur:
Bleu Poudré
Type De Corps:
Hourglass
Taille commandée:
A20
From reading and hearing about everybody else's experience and reviews the sizes appeared to be pretty "true to size" so with that I lined up my measurements with the closes size. I am about a 36dd. However, when I ordered the size a20it was wayyyyyy too big. Recommend like 1-2 sizes down. Besides the sizing being off the dress material and look was great! Also keep in mind I was holding the dress to look like a tighter fit.
joyoblyden
Révisé le :
5 avr. 2022
Couleur:
Steel Blue
Taille commandée:
A4
This dress fit me really well. I was very happy with the feel of the dress, very comfortable. The Bride decided she liked me in a different Azazie dress, but I will absolutely order from this site again.
heg218
Révisé le :
8 févr. 2022
Couleur:
Paprika
Taille commandée:
A10
I absolutely loved the fit of this dress! It's super supportive in the chest, and was well fitting all around. Doesn't need any alterations besides the length!
casey_farrington23
Révisé le :
4 déc. 2021
Couleur:
Rose Du Désert
Type De Corps:
Straight
Taille commandée:
A4
If you are bigger in the chest area get a size up
kyleybeatty
Révisé le :
4 oct. 2021
Couleur:
Ink Blue
the chest area was too big for me, i do have a smaller chest but it was hard to find something to fill the area. super long which was great because i'm 5'8" beautiful dress all around i got so many compliments
sjk2017
Révisé le :
16 août 2021
Couleur:
Steel Grey
This dress was absolutely beautiful, I loved the fit and the steel gray color. I did a custom fit and it was perfect. It is a very hot dress, and if you sweat it is an unforgiving color. However the big issue we had was over half of the bridal party had one or both of the straps snap, a few of which occurred before the ceremony and had to be rushed to find a solution. (Myself included, my first strap snapped within 2 minutes of getting dressed). By the end of the night, both of my straps had snapped. The straps are adjustable, but the ring where you can adjust them is a small, thin, plastic ring that is extremely fragile. This could have been very bad, thank goodness for safety pins. The dress is very pretty, but I can not say it is worth the risk.
jenntruong38
Révisé le :
22 juil. 2021
Couleur:
Rose Poudré
Taille commandée:
A16
I really liked this dress! I'm between sizes so the one I got was a little big on me. But overall, I thought the dress was very flattering!
Eli
Révisé le :
19 juin 2021
Couleur:
Prune
I love this dress! We're doing 2 different styles for MOHs vs bridesmaids and this is the one the bridesmaids chose for theirs. Would say it (and the other dresses they tried on at home) runs small so we're sizing up, but it fits really well on each body type. They tried on plum and we're still still deciding between the purple shades, but the plum was a gorgeous color especially on this style
Mlengwin
Révisé le :
2 mai 2021
Couleur:
Bordeaux
Taille commandée:
A8
I used this to try out the sizes. I am a muscular/athletic body type so my measurements don't usually fit the "normal". I am happy that Azazie has the custom order option. Based on trying this dress on now I know what to custom order. Awesome dress, a little heavy so we'll see how hot of a day this summer wedding ends up being
paige
Révisé le :
26 avr. 2021
Couleur:
Agave
This dress is not the what the photos make it look like. It is not loose and flowy, but it's sewed together at the bottom. The bust is longer than pictured and the slit hits lower. Would not recommend getting this dress. I am going to have to pay a lot of money to get it altered. Really disappointed.
hortonemily11
Révisé le :
28 janv. 2021
Couleur:
Dusty Blue
the bottom of the dress is much more pleated than the picture. still a beautiful dress, but the pleat was not doing it for me.