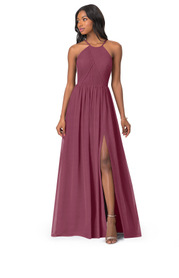 Azazie Leighton
Robes de demoiselle d'honneur
139€
information sur le produit

La robe de demoiselle d'honneur à la mode Longueur ras du sol de azazie an une A-ligne/princesse coupée dans un magnifique Mousseline de soie. Le style Azazie Leighton présente une encolure Licou et est disponible dans une gamme complète de tailles (A0-A30). {Embellissement} 
Critiques de photos (2)
Avis les plus récents
Notes
Obligeance
bmradin
Révisé le :
29 janv. 2022
Couleur:
Agave
The ruching was really loose and came unfolded as time went on. I loved the adjustable straps and that it was forgiving in the belly area!
Ash Annis
Révisé le :
11 mai 2021
Couleur:
Sauge Poudrée
The dresses are BEAUTIFUL!! the color was exactly what I wanted and my bridesmaids looked stunning! if you needed bridesmaid dresses, Azazie is the place to go!
katy.rose.muller
Révisé le :
26 juin 2022
Couleur:
Bleu Poudré
Type De Corps:
Sablier
Taille commandée:
A14
This has so much fabric that it gives you the appearance of being much bigger than you normally are. A14 barely fit, but I fit in A12 for other styles. I'm a size 10 in jeans, size 10 in dresses that are fitted at the hips and size 8/10 for dresses that are loose at the hips. I wear a size M/L in tops and M/L on cotton dresses.
hannaherickson3
Révisé le :
7 mai 2022
Couleur:
Mai Tai
Taille commandée:
A6
I ordered this dress for a friend's wedding. The color was perfect and complimented my skin tone nicely. I also liked the high neck and straps on the back. The only issue I had with this dress was the bodice and how it folded under, creating a crease. I attempted to use tape to hold it down, but it was unsuccessful. Overall, this was a great dress except for that one issue.
hopekapelke
Révisé le :
2 mai 2022
Couleur:
Lavande
Type De Corps:
Droite
Taille commandée:
A12
This dress runs very small! I was in a wedding and we all ordered this dress and 4 out of the 6 of us had to return the dress and get a larger size even though we all ordered a custom dress. My bridesmaids ordered dresses through azazie for my wedding and all did custom and it all worked out great with no issues, I really just thing the ruffles at the top of the dress make it run smaller so size up or add an inch or two on each of your custom measurements!
Mandy Turner
Révisé le :
30 avr. 2022
Couleur:
Rose Du Désert
Type De Corps:
Pomme
Taille commandée:
A6
Absolutely gorgeous on. I received lots of compliments. I'm normally a size 14/XL and I wore an 18 in the dress.
2rcmpeters
Révisé le :
4 avr. 2022
Couleur:
Lilas
Taille commandée:
A4
Dress is gorgeous, well-made, and fits accurately and well based on the measurement size chart. We figured daughter would just fit and likely be outgrow the largest junior bridesmaid size, but we weren't sure due to delay required between ordering and wedding date. To be safe, I ordered three sizes of the same style in women's sizes, and the one nearest the junior sizes gave her room to grow and some confidence she wouldn't outgrow it. Order arrived 3-4wks earlier than first promised, giving us lots of time to find shoes and arrange for hemming (it's too long by about four inches for her height). The women's is the exact same style, just a higher leg slit which will be easily tailored to preference. Will shop Azazie again!
kaleighr.clemen
Révisé le :
31 mars 2022
Couleur:
Bordeaux
Type De Corps:
Droite
Taille commandée:
A6
Great dress! I had a great experience with the 'try on' option as well, the process was very easy and straight forward its a nice feature to offer since its an online store only it was worth the extra money to do that and be able to narrow down my decision better. I did order my try on dress a size bigger than i normally am, i wanted it to be bigger rather than smaller so i knew i could get it on for sure. I appreciate how long they are as well, because i am a taller and thinner woman so its hard to find things that look right on me sometimes when it comes to length.
Oliviaflondon
Révisé le :
2 mars 2022
Couleur:
Grain De Raisin
Type De Corps:
Poire
Taille commandée:
A10
Love this style for girls with broader shoulders and a smaller chest. It is SO flattering. Built in cups and slit is not too high up on the leg. I normally wear a size 8-10 in jeans and Large in top. I tried on the 10, fit perfect in waist but too large in breast area (I am 36A, so will need to get mine tailored.) I'm 5'8 and it was a bit long, but will be fine with heels or hemming. Ended up ordering the Leighton in terracotta for a wedding i am in this October :)
brucalr
Révisé le :
15 août 2021
Couleur:
Taupe
Bella
Révisé le :
10 mai 2021
Couleur:
Noir
Type De Corps:
Droite
Taille commandée:
A0
The dress is really long and the top measures given for the dress are off. My twin sister and I wear the same size (0) and we ordered the same dress (A0) and it was big on her and small on me. If you go up a size, the rest of the dress will be too big!!! They will not exchange the dress so just skip it and find something better.
mzegel325
Révisé le :
17 avr. 2021
Couleur:
Crépuscule
Chest area was too small but around the rib cage. Ordered smaller than I sized at but the other dresses all fit, length was too long, straps dug at neck but waist was too wide and Bunched. Makes you look wider than you are
larnallen
Révisé le :
8 mars 2021
Couleur:
Glycine
This dress was overall just okay, but not flattering. Size-wise it fit pretty well (aside from needing the height hemmed of course) and I didn't have to wear a bra with it since it had enough structure in that area. However, the waist didn't really hit me in the right place (too low I think) and the worst part was the section of the bodice that crosses just above the stomach. You can't tell in the model photo but the fabric in that area does not hang right/stay flattened so it bunches up above the waistline. I kept having to pull it down/taut for photos and nothing could be done about it when I was sitting. I looked like I had a second set of smaller, sagging boobs on my waist lol. The other bridesmaids wore different dresses but they were similar styles and they didn't have this issue so I would recommend looking at other options.
cjengels3
Révisé le :
10 janv. 2021
Couleur:
Bleu Poudré
This dress is not flattering. It's very thick on the top and causes you to look top heavy. Very different than the model
Savannah
Révisé le :
28 déc. 2020
Couleur:
Rose Du Désert
This dress fit me so well and was such a great price. I measured exactly how the video described and the dress fit me spot on. I don't even have the get the length taken up any! I bought this dress for a friend's wedding, but will definitely use Azazie for my wedding too! I wear a 4 in other dresses and jeans, and A4 was my Azazie size. Couldn't have been better!