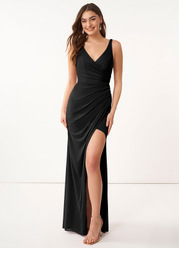 Azazie Leandra
Robes de demoiselle d'honneur
129€
information sur le produit

Le style Azazie Leandra par azazie est une robe de demoiselle d'honneur Longueur ras du sol Trompette/Sirène dans un exquis Engrener. La robe attractif présente un décolleté Col V et un style de dos . Le style Azazie Leandra de Que vous l'habilliez avec des bijoux tendance ou avec des chaussures plates et un cardigan, il incarne la beauté intemporelle. azazie est disponible dans les tailles A0 à A30. 
Critiques de photos (8)
Avis les plus récents
Notes
Obligeance
madison.blunt1
Révisé le :
7 août 2022
Couleur:
Noir
Type De Corps:
Hourglass
Taille commandée:
A8
Didn't really love this. Didn't do much for the figure. Probably would be good for someone with a larger chest looking for good support.
katlynne
Révisé le :
19 juil. 2022
Couleur:
Pine
I am actually pretty impressed with this dress. The material is decent and it's a flattering fit. The material is breathable and stretchy. I ordered a size 8, according to the size guide, and it is defintiley snug so I would consider sizing up next time. Overall, I'm happy with the purchase.
Laura Wagner
Révisé le :
10 juil. 2022
Couleur:
Pin
Tried on 3 dresses and this was my favorite. The dress is comfortable and feels well-made. The fabric is stretchy and hugs my curves in the right places. As you can see, it is quite low cut, so I am not wearing a bra with it, but it does have built in support. I normally wear a size 18/20 and a 38DD bra and this was the 20. This was the most form fitting of the dresses I tried. I was concerned it would be too tight, but I actually ended up feeling my best in something that didn't have a lot of bulky layers of fabric. Looking forward to wearing this at my friend's wedding! I plan to order custom sizing after having tried this one on so I'm not stepping on the hem all day, lol.
pauletteklynn
Révisé le :
29 juin 2022
Couleur:
Pétale De Rose
This was a try on dress for MOB. The dress was complimentary. I felt it was too form fitting and revealing for MOB at least for me, but I would wear it for a different event. This was a size 4 and was very tight. I feel a size 6 would of been perfect. I am 5'6" 140 pounds.
karalynnd
Révisé le :
30 mai 2022
Couleur:
Mulberry
This was my favorite! My measurements line up better with a size 18 but I chose the 16 because I had a David's Bridal size 16 dress that fit and their size chart is the same. I'm glad I did because an 18 I ordered in another style was too big. I'm typically a size 16 jean, and XL top, size 38 DD bra. The stretch is really nice in this and I think it will be a comfortable dress to wear all day and night. The neckline is nice and supportive and the only alterations I need are to move the cup inserts or remove them.
kasiermcummings
Révisé le :
5 mai 2022
Couleur:
Dusty Blue
Absolutely gorgeous and so comfortable! I love that the material is a bit stretchy. Color is perfect!
Nicolepirlot92
Révisé le :
14 avr. 2022
Couleur:
Black
Type De Corps:
Hourglass
Taille commandée:
A4
Love the fit. The straps are a little too long for me. The sown in boob pads look cheap. Good thing no one can see them. Absolutely love the side cut into the leg.
wallaceanna02
Révisé le :
12 mars 2022
Couleur:
Twilight
Perfect fit and just as pictured!! Love this dress!!
laurenkfanta
Révisé le :
9 août 2022
Couleur:
Dusty Blue
Taille commandée:
A16
I'm typically a 16 or xl tall in clothes. I'm 5 10' 230lbs 40D. I bought the 16. I would say it fits. A little small. I was able to squeeze in but my boobs are definitely at max capacity. My husband thought I looked like Jessica rabbit but I'm not sure how the bride will respond. I have a long torso and usually by tall length tops. This one is not ideal but works better than anything else I've found for a long torso. Length was perfect. Just enough for a small heel. The layering in the front was helpful to hide imperfections. The back bunches a little by my butt because I'm tall and it doesn't hit in the perfect spot. Overall a really great quality dress and if the torso was just a little longer I'd even consider buying a black one for special occasions. Oh the slit is super high and very sexy. Luckily this is a Las Vegas wedding but I wouldn't suggest this dress if you are going for a conservative look.
sneidich
Révisé le :
8 août 2022
Couleur:
Bordeaux
Taille commandée:
A16
Of the three try on dresses I got, I disliked this one the most. First, the padding in the chest makes no sense. It provides an overly obvious cone shape rather than a smoother, round shape or even a subtle shape. The length is super long, but I'm only 5'1, so that is to be expected; however, the weirdest part of the fit for me was the stomach area. It almost looked like it was meant to he a maternity dress there was so much extra room. I'm not a slim girl so that was unexpected. If this is a dress for you I would recommend the custom size option.
jgomercich
Révisé le :
25 juil. 2022
Couleur:
Dusty Rose
Type De Corps:
Hourglass
Taille commandée:
A6
Perfect fit! I am 5'8 and with my heels no alterations were needed on the length. Very comfortable to wear, had it on for 14 hours with no issues.
hphipps54
Révisé le :
12 juil. 2022
Couleur:
Jade
I ordered a custom sized dress for a wedding I was in and I was very happy with my purchase. I put in my measurements including my inseam and didn't need any alterations at all! It fit me so well! The color and style were beautiful as well!
K.f
Révisé le :
5 juil. 2022
Couleur:
Pine
Type De Corps:
Straight
Taille commandée:
A6
Would recommend getting this dress custom fit as the straps are not adjustable and are not fit for ladies with longer chests and broad shoulders.
haleighreyes95
Révisé le :
27 mai 2022
Couleur:
Rust
I absolutely loved this dress it was beautiful and one of the most comfortable dresses I've ever owned. I have a thicker body type and don't usually wear tighter dresses but the fit was extremely flattering. The length was almost perfect and I'm only 5'2, it could have been hemmed a little but I had no trouble walking in it.
Sarisma Hernandez
Révisé le :
26 mai 2022
Couleur:
Watermelon
While i loved the fit, I realized it was a bit tighter than expected. It also arrived with a tear on the strap, right on the seam. I ordered a back up dress, if it fits well... then i intend to return this one. If not - i'll just have it tailored.
k.zamko
Révisé le :
20 mai 2022
Couleur:
Rust
I was hesitant on getting custom fitting but I am glad I went with it. I sent in my measurements and the dress came and fit fantastic! It came in a reasonable time frame and I don't think I need to make any other alterations.
martinagunaratnam
Révisé le :
15 mai 2022
Couleur:
Sauge Poudrée
Taille commandée:
A10
Great style and material is nice with lining. Will be ordering for my bridesmaid!
pamelaespinosa27
Révisé le :
14 mai 2022
Couleur:
Dusty Rose
Very large all the dresses we ordered we have had pay extra to get them altered .
tongue4980
Révisé le :
12 mai 2022
Couleur:
Dusty Sage
I'm a size 8 but I ordered a 10, I should have gotten a 12. The front looks amazing but hugs my flat ass and I don't have any room to wear spanx or anything underneath.