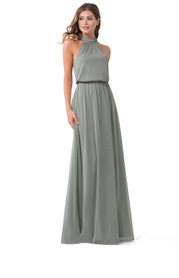 Azazie Landry
Robes de demoiselle d'honneur
109€
information sur le produit

Le style Azazie Landry par azazie est une robe de demoiselle d'honneur Longueur ras du sol A-ligne/princesse dans un élégante Engrener. La robe à la mode présente un décolleté Licou, Col haut et un style de dos . Le style Azazie Landry de Que vous l'habilliez avec des bijoux tendance ou avec des chaussures plates et un cardigan, il incarne la beauté intemporelle. azazie est disponible dans les tailles A0 à A30. 
Critiques de photos (4)
Avis les plus récents
Notes
Obligeance
Ashley Bohm
Révisé le :
22 mai 2022
Couleur:
Geai Bleu
Type De Corps:
Droite
Taille commandée:
A8
Overall, I loved this dress! The neckline was great and exactly what I was looking for. Definitely a good option for someone a little more flat-chested! The one thing I will say is that the dress ran a bit larger/baggier than I expected and it was very long, though high enough heels helped a lot!
Kalin
Révisé le :
20 juil. 2020
Couleur:
Quartz Rose
I ordered the sample dress in a size a0 - it fits pretty well for the most part, just maybe not the most flattering for my body type. The top part was a little baggier than I anticipated and the ties for around the neck are pretty thick and a little on the heavy side. Overall still a comfortable dress.
laura.m
Révisé le :
7 nov. 2019
Couleur:
Vert Foncé
I loved loved loved the halter top, and the green color. It really complimented my skin. It was very comfortable, although, there was no support in the bust, I probably wouldn't suggest this style for busty folks. I wear a 40D and it was pushing it. The dress was made of the mesh fabric, it looked really nice, but not as nice as Chiffon. Definitely runs pretty big. I have been sampling A20 Sizes, but I decided to size down and go with an A18, I probably could have gotten away with getting an A16. I think this would be a great fit for someone looking to be comfy and still have a classy look. Would look amazing with some faux fur shawl and some gold jewelry! simple yet classy, definitely needs accesories to complete the look.
ericadanz
Révisé le :
11 mars 2019
Couleur:
Cabernet
This dress fit just as described. There is plenty of fabric at the bottom if I wanted to wear heels or have it hemmed. The material is also very stretchy, I was not expecting it to be so comfortable!
meganpollock2015
Révisé le :
11 juin 2022
Couleur:
Bleu Ciel
Taille commandée:
A12
Love this dress! So comfy and flattering on any body type!
arianenicoleheim
Révisé le :
9 mai 2022
Couleur:
Rose Poudré
Type De Corps:
Droite
Taille commandée:
A16
Love this dress so much! I ordered 3 to try on and this is the one I'm going with! So comfy and looks beautiful! This dress is very forgiving and if you're in between sizes I definitely think you can size down!
tashabreen
Révisé le :
6 mai 2022
Couleur:
Sauge Poudrée
Taille commandée:
A2
Arrived on time, looks good, will need to take up to fit height but all in all good value and quality for price, would recommend, thanks :)
shmli448
Révisé le :
19 janv. 2022
Couleur:
Bleu Poudré
Taille commandée:
A8
Pretty dress, however, I think this just doesn't fit my body type and is better suited for taller, lankier types.
Rylie McCrackin
Révisé le :
7 déc. 2021
Couleur:
Bleu Ciel
Taille commandée:
A6
Beautiful dress! The fabric is amazing. Comfortable and light!
wynlitadixon
Révisé le :
20 oct. 2021
Couleur:
Pétale De Rose
Taille commandée:
A8
The top of the dress, (chest area) is see through, I got it in color rose petal so you could see everything through it. Maybe if it was a darker color it wouldn't matter but refused to take the risk of having one of my bridesmaid showing the world her goodies in all my wedding photos. Would also recommend having a professional do your measurements before ordering your dress, my bridesmaid took her own and the dress ended up being overall to big for her.
shaelyn.youngblood
Révisé le :
29 juin 2021
Couleur:
Rose Poudré
Taille commandée:
A14
Way too big. Ordered the same saline as two other dresses to try on and this one was really large. Fabric was nice though, and it was comfy. Recommend sizing down 2 sizes
tidrake
Révisé le :
26 mai 2021
Couleur:
Taupe
Taille commandée:
A8
This is so convenient for trying on dresses. I loved the dress, and I was able to try and take the information down , so when it is time to order in the color I need I can.
kimmarmorowski
Révisé le :
26 mai 2021
Couleur:
Tahiti
Taille commandée:
A4
Really liked this dress, but did request a return. It was slightly too large on me, but technically fit how it looks in the photo. Dress was beautiful and would definitely recommend. Exactly as it looks in photo.
Hyperlitecree
Révisé le :
15 mai 2021
Couleur:
Sauge Poudrée
Torso isn't as long in person.
Spicole Rod
Révisé le :
29 avr. 2021
Couleur:
Rose Poudré
Type De Corps:
Pomme
Taille commandée:
A14
Big and loose and also very pretty
Sara
Révisé le :
8 juin 2020
UNDERRATED DRESS! I'll be honest, this dress was my second choice, after my first choice dress fit super weird and boxy. While this would usually be the furthest thing from my stole, I chose it because I was in a bit of a time crunch and I knew it would be forgiving if it was a bit big or small given the build of the dress. I actually loved the way it turned out. I'm a size 4 and it was super flattering - showed off my shoulders and back (which I usually avoid) and was comfortable to spend the entire day and night in. It didn't swallow me up but wasn't clingy, either. I'm writing this review because I'm currently on the page buying the same dress again in another color for another wedding - ha!
Aliciabey2015
Révisé le :
11 mars 2020
Couleur:
Paon
Beautiful color of the dress. Size was almost a perfect match for bridesmaid, slightly longer then needed.
whitney.braunlin
Révisé le :
4 sept. 2019
I am 5'11" 155 lbs and ordered an A8. This dress is comfortable and flattering, but I was surprised that I should have sized down. The waist is very stretchy, and I don't even use the elastic. The skirt is so heavy that it drags down the elastic waist on me a bit. But, I think it looks good and it's too close to the event now to get a different size. Also, maybe because I should have sized down, the dress is too long on me. I have to figure out what shoes I am wearing to see whether I need to get it hemmed. I have never had to get a dress hemmed because I am so tall. As far as a bra, I am going with pasties. You could perhaps fit a strapless bra on under this, but the back on me is drapey, and with the flowy nature of the dress I would rather not try to hide it.
Kayla Nicole Cavanagh
Révisé le :
21 juin 2019
Couleur:
Bleu Poudré
This dress felt large in size, and would definitely work better with someone with a smaller bust. I am a 36DD, and the way the fabric falls, it's just not flattering (literally the only thing you can pay attention to is my chest. It's very top heavy). The material was nice, and flows well.
eewarner32
Révisé le :
13 mai 2019
Couleur:
Bleu Marine Foncé
I wanted to get the best fit possible so I sent in my exact measurements and the dress is huge. I think this could be because the dress is a stretchy fabric. I would recommend going smaller in size with this dress.