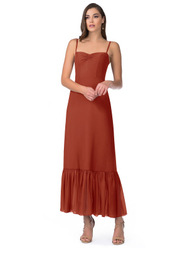 Azazie Justina
Robes de demoiselle d'honneur
99€
information sur le produit

Le style Azazie Justina par azazie est une robe de demoiselle d'honneur Longueur cheville A-ligne/princesse dans un facile Mousseline de soie. La robe sucré présente un décolleté Encolure en coeur et un style de dos . Le style Azazie Justina de Que vous l'habilliez avec des bijoux tendance ou avec des chaussures plates et un cardigan, il incarne la beauté intemporelle. azazie est disponible dans les tailles A0 à A30. 
Critiques de photos (8)
Avis les plus récents
Notes
Obligeance
Annie Basile
Révisé le :
5 juil. 2022
Couleur:
Terracotta
Type De Corps:
Hourglass
Taille commandée:
CUSTOM SIZE
I can not recommend custom measurements more! If you measure yourself according to the instructions you'll have a great fit. Before purchasing Justina I saw reviews saying it does not fit a larger chest, but I didn't have an issue. There is no support built in, but I wore a tight bandeau underneath and as soon as I had everything in place there were no issues! I loved the length, and even though it's a shorter style it fit in with the other floor length dresses. It was extremely comfortable, survived 2 ceremonies and a lot of dancing, and I plan to wear it later this summer as a wedding guest!
christinahutchinson9
Révisé le :
17 juin 2022
Couleur:
Stormy
Type De Corps:
Hourglass
Taille commandée:
A2
The BEST bridesmaid dress for shorter folks! I'm 5'3 and it was the perfect floor length dress (wearing flats) and required zero alterations. It was comfortable, true to size and looked great! Amazing value and I would highly recommend this style!
ericalynn1999
Révisé le :
4 juin 2022
Couleur:
Champagne Rose
Type De Corps:
Pear
Taille commandée:
CUSTOM SIZE
Absolutely LOVED my dress. I did custom sizing and it fit perfectly for the most part. It was a little big in the chest area, but I'm nearly flat chested. Still, I didn't need to have it altered at all. Color was beautiful. Design was beautiful. Arrived with plenty of time before the wedding.
makenzie.deklein
Révisé le :
19 févr. 2022
Couleur:
Paprika
This dress is so different and cute, I love how it looks! The bottom is so fun and even with being full length (I'm 5'0 and with 3" heels it just hovered over the ground) it was darling! Straps and boning felt secure as well.
fruit.puddl
Révisé le :
9 janv. 2022
Couleur:
Rose Poudré
This dress unfortunately didn't work out for me, but it was the most comfortable dress I tried on. It's light weight and wouldn't have required any hem alterations (I'm 5'2 for reference). I found that the ruching in the bust was very unflattering for my body type, especially when I was not wearing a pushup bra. The dusty rose color also gave the dress a dated nightgown feel. FYI the dusty rose color is a lot darker in person than it appears online.
julainevitch
Révisé le :
24 déc. 2021
Couleur:
Desert Rose
I LOVED this dress! I can't say for sure whether it's true to size because I knew the dimensions were too big on a 0 for me but I got it tailored & it looked perfect omg I am obsessed!! If you have small boobs defs get it I analyzed every dress and purely got this one based on the top of the dress looked like it was made for my double A cups & a lot of the other ones almost looked like they had inserts sometimes for bigger boobs which I found out was so true once my gfs got them! The price is so cheap for a bridesmaid dress with tailoring and all (tailoring was $120 in Toronto which is expensive & it was still the cheapest bridesmaid dress ever bc you always have to get them tailored anyways)! Can't recommend this enough and I got it tailored everywhere up top but didn't have to get the length tailored even tho I'm 5'3 it hit perfectly! @_julesmary on ig for more pics of it! I'm on the far right in both pics
alice.mckinney1994
Révisé le :
27 sept. 2021
Couleur:
Dark Navy
Type De Corps:
Straight
Taille commandée:
A6
This dress was great. Super cute and didn't drag on the ground… very flattering. I think I ordered one size up and it fit perfect! I'm 5'4" 125#
ericabanister
Révisé le :
4 sept. 2021
Couleur:
Peach
Taille commandée:
A6
I took a chance on this dress since there were no review photos and I'm so glad I went for it! The fit was spot on and the length was exactly what I was looking for. I knew the venue was primarily dirt/gravel and I hated to think of a light colored dress dragging through the dirt all day, so this ankle length was great. I would say the measurements are spot on and there is very little wiggle room/no stretch. The style with the ruffle bottom is so much more unique/interesting to me than most of the other styles. I was comfortable all day - I wore a sticky bra for a little extra support but could've easily done without a bra.
kskelcy
Révisé le :
6 août 2022
Couleur:
Orchid
Type De Corps:
Straight
Taille commandée:
CUSTOM SIZE
great dress, very comfortable and perfect size. Thank you
chloeberdan5
Révisé le :
21 mai 2022
Couleur:
Agave
Taille commandée:
A4
Cute dress. Fits well if you are smaller on top.
Grace Callen
Révisé le :
14 avr. 2022
Couleur:
Pin
Type De Corps:
Pear
Taille commandée:
A20
Absolutely beautiful! I was going to get this one but saw a similar version with sleeves that I ended up going with. Very flowy and exactly like the picture.
Abrianahernandez35
Révisé le :
1 mars 2022
Couleur:
Paprika
The dress itself fit everywhere but my chest. I have a larger chest so I was a little disappointed when I couldn't zip it up. If you're a DD I'd suggest sizing up. Otherwise the color and dress are beautiful
Kenzie F
Révisé le :
14 févr. 2022
Couleur:
Paprika
I have tried SO many Azazie dresses and this is THE ONE. I have a small chest (34B on a good day LOL) and I read reviews about this working great for smaller cup sizes. I am 5'7, athletic build and I LOVE this dress on me. It is elegant but not that "traditional" which is what the bride is going for! The dress hits at my ankles and it shows off my cute shoes. The A4 fits like a glove and the A6 has a little wiggle room but still looks great! Cant wait to wear this for my besties wedding day!
1315bmiller
Révisé le :
25 sept. 2021
Couleur:
Paprika
If you or your bridesmaids have any breasts at all this is not a good pick! Pretty if the person wearing it is flat chested. But runs small!
Dancetda
Révisé le :
30 juil. 2021
Couleur:
Sauge Poudrée
I was hoping to use this for my bridesmaids so i ordered it to try on. It unfortunately shows that unflattering armpit fat/crease and didn't allow for my legs to be more than hip width apart (my girls like to get down ok?!) i knew it wouldn't look good on my busty/bigger friends
allieshops93
Révisé le :
16 mai 2021
Couleur:
Neptune
I did the custom measurements and it fit like a dream. Loved the style and it was so comfortable! Not too long either made dancing and walking very easy.