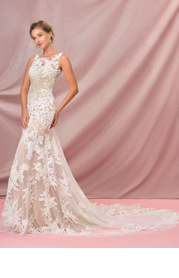 Azazie Judith
Robes de mariée
689€
information sur le produit

Robe Azazie Judith par azazie est une robe de mariée en magnifique en Featuring a side slit detail at front of shirred skirt, this piece is both elegant and unique.Featuring a side slit detail at front of shirred skirt, this piece is both elegant and unique.Featuring a side slit detail at front of shirred skirt, this piece is both elegant and unique.Tulle, Dentelle, Jersey avec un décolleté en Scoop sur une jupe en Traîne cathédrale Trompette/Sirène. Le dos de la robe est fini avec le style de dos . Disponible dans les tailles WD0-WD30 chez azazie. {Embellissement} 
Critiques de photos (4)
Avis les plus récents
Notes
Obligeance
Keri
Révisé le :
15 juin 2021
Couleur:
Diamant Blanc
I loved this dress online and loved it even more in person. I am 5'11", 160lb with an athletic build. I tried on a size WD8. It was a little short for me (I'm tall!) so I will be ordering a custom size with 1-2 extra inches at the bottom. The dress is two pieces (a slip-type thing underneath that is very stretchy and movement-friendly and the beautifully crafted lace piece on top). The train is big and stunning. Keep in mind: 1. The bottom layer "slip" is still pretty see through, so you'll need another "slip" or some nude underwear. 2. We weren't able to find a button or clasp for a bustle, so we'll need to get that tailored or added. 3. The buttons on the back are just decorative, which I think is AWESOME! They don't need to be buttoned one-by-one. There is just a zipper.
Bailey
Révisé le :
27 avr. 2021
Couleur:
Diamant Blanc/champagne
It took a couple months to get the dress, so make sure to plan ahead! The website tracking was spot on, though, and it arrived when they said it would. I ordered the champagne color, and it actually looks close to nude. The top lace part is separate from the champagne slip, so the train on each piece doesn't stay together when you're walking...I think ill see if a tailor can help me with that when I add a bustle. The bottom part is super comfortable...like a jersey/polyester material. I saw reviews that the white version of the slip was see through, but this champagne one is not see through at all. It does have padding built in and boning. The boning helps mine stay up and gives it some shape. I'll probably add some extra padding, though, so I don't have to wear a bra. It fits like the guides on the website say, but I'm normally a size smaller so make sure to use their measuring guide. I'll need to take about an inch off the bottom so I don't step on it. Very long train, too...really pretty! Overall I'm happy with it and can't wait to wear it.
Amber G
Révisé le :
24 févr. 2021
Couleur:
Diamant Blanc
The embroidery on this dress is lovely and the train is very dramatic. However, the dress itself is two separate pieces and as a result, had very little shape. I also felt like the white slip was too see-through and I would need another slip for the slip. It's a pass for me.
Jabay26
Révisé le :
21 juil. 2020
For reference, I'm 5,7", 190lbs, 38ddd.... I tried on a size 14 The inner dress has a lot of stretch with a slight boned structure, it fits me a little big(that is an easy fix). The outer lace has no stretch what soever but fits my bust area perfectly. I didnt not have on any shape wear and my tummy area was bloated. It still fit loosely below the waist, which is ok because it allowed easy movement. The long train on the end is absolutely beautiful. The lace on the dress has clear sequence in on the it that gives it a little bit of sparkle. I loved the dress and the price. My wedding is in less than 90 days... I will be ordering this dress in all white.
Perfettok1
Révisé le :
4 févr. 2022
Couleur:
Diamant Blanc
Type De Corps:
Droite
Taille commandée:
WD6
First I'd like to say this dress is beautiful. I love the detail and the train was amazing. I unfortunately had to try on a size bigger than I am, due to stocking availability. It comes as 2 separate dresses the corset is sewed into a satin white( somewhat see through ) slip/dress. Then the laced dress goes over it. I wasn't fond of the fact you could see where the corset stopped which made a bump at the hips which shows through the lace over dress. Some one may love that look. I personally did not. Other than this little opinion the dress is beautiful.
chandra.j.johnson
Révisé le :
6 janv. 2022
Couleur:
Diamant/Nude
Type De Corps:
Pomme
Taille commandée:
WD22
Beautiful dress, but the inner piece has stretch and the outer piece does not. Need a larger size in the outer shell only.
nmhanson121
Révisé le :
25 août 2021
Couleur:
Diamant Blanc
Taille commandée:
WD14
Didn't care for the 2 pieces
melena
Révisé le :
29 févr. 2020
I got SO many compliments for this dress at my beach wedding. I ordered my custom measurements and it fit perfectly! I went with the champagne undergarment, which was slightly paler than my skin. I opted not to put a loop or bustle, and I really enjoyed how all the photos turned out!
NJJR27
Révisé le :
13 août 2019
Ordered the sample of this dress in Champagne, and I didn't like anything about this dress. First off it runs huge, I have my measurements which were taken professionally and I ordered according to the Azazie sizing chart and the dress was falling off of me. There is boning in the jersey part of the dress which doesn't actually provide any structure (maybe it would be better if it actually fit, but I doubt it) and only serve to make the dress more uncomfortable. The tulle is stiff, scratchy and looks cheap, it crinkles as the dress moves. There are sequins sewn on to the tulle/lace bodice (not easily seen in the pictures and not mentioned anywhere in the description) that were not a welcome surprise, they look cheap but even worse is the tulle and floral lace parts catch on the sequins, I had to take extra care not to rip the dress when putting on and taking off.
mao2006
Révisé le :
25 juil. 2019
Couleur:
Diamant Blanc/champagne
I love the quality of this dress as I do all Azazie dresses. I have the same skin tone as the model and got the champagne, which I think looks nicer than the nude. I am 5'8" 150 lbs ... usually an 8 or 10, ordered the 10, and the lace piece fit me well while the jersey undergarment was way too big (seemed like a 12 or 14). Just the circumference around the bust was a bit small on the lace piece, but I have an athletic build with wide shoulders. Considering I'm only a B-cup, was still expecting it to fit a little better. But I love this dress and reordered in a custom size. Something to note: the see-thru part of the lace is a skin-tone color from top until the seam at the upper thigh, then the rest of the dress downward has a white see-thru part. I really like this touch, and have only found that dresses in the 1000's do this. Very satisfied!