Azazie Joyce Combinaison Reviews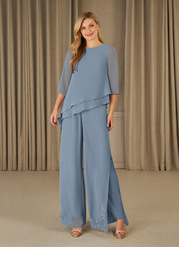 Azazie Joyce Combinaison
Mère de la mariée Robes
219€
information sur le produit

La robe Azazie Joyce Combinaison de azazie est une robe mère de la mariée en fabuleux Mousseline de soie, Dentelle avec un décolleté Scoop sur une jupe Longueur ras du sol Pantalon Costume. Le dos de la robe est fini avec le style de dos . Disponible dans les tailles A0-A30 chez azazie. {Embellissement} 
Critiques de photos (0)
Avis les plus récents
Notes
Obligeance
Artigacami
Révisé le :
7 août 2022
Couleur:
Dusty Blue
Type De Corps:
Hourglass
Taille commandée:
A24
My problem is my arms are fat so I size up 1size because of that but then I have to have it taken in because the pants were probably 2 sizes too big. That's my body issues so that may not be a factor for anyone else. The quality of this set was outstanding!!!!! Very pleased with the look and feel of it
smlynch49
Révisé le :
1 août 2022
Couleur:
Bleu Poudré
Taille commandée:
A16
I love the color of this jumpsuit! The top fit perfectly. The pants, however, are dragging on the floor, even though I'm 5'9" and wearing high heels! I took them to a tailor who couldn't hem them enough for me to keep from tripping as I walked. Very disappointed that I have to return the jumpsuit.
stacey5
Révisé le :
20 juin 2022
Couleur:
Dusty Blue
Purchase this for my sons wedding, I am the mother of the groom. Loved the color and the material. I did have to have it altered. It was too long and I am 5'9". We had to remove the appliqués on the bottom to be able to do it. And we couldn't put them back on. But that was OK. The only negative is that I found the same outfit on other websites anywhere from $40-$70 cheaper. Azazie was the most expensive.
hartleycheryl38
Révisé le :
3 juin 2022
Couleur:
Bleu Poudré
The top didn't flare the way it shows in the picture. The top is short.
Orianna González
Révisé le :
15 nov. 2021
Couleur:
Bleu Poudré
Perfecto for my grandma on my wedding day
Angélica M. Alicea
Révisé le :
18 juil. 2021
Couleur:
Dusty Blue
Lo hicimos con medidas exactas. Nos encantó, llegó a la fecha indicada. Excelente
Barbara L Von Lienen
Révisé le :
16 juin 2021
Couleur:
Dusty Blue
Initially I would have given zero stars or no review but I'm really impressed with the customer service. My order was lost and the customer service team worked diligently to reorder, my order was custom. When I receive my order I was really impressed that it fit perfectly and it was correct specifications and design for a short person. I would highly recommend this company. I wish they had some dresses in a dark forest green that I could have my officers purchased in 2023 for our organization's team outfits.
Kathy
Révisé le :
18 févr. 2021
Couleur:
Bleu Poudré
I got the right size and loved the color, but the diagonal shape of the top wasn't flattering for me. I'm 5'4" tall and all of these pantsuits are meant for ladies to wear tall heels, which I don't plan to wear. Beautiful color.
lisa.dove59
Révisé le :
27 sept. 2020
Couleur:
Bleu Poudré
I loved the outfit. Pants fit perfectly. The top was too small and too tight in the arms. This is unusual for me as my bottoms are usually the issue. Fabric was nice and it flowed perfectly.
marlamalatek69
Révisé le :
9 juin 2020
Couleur:
Bleu Poudré
Thank you for the opportunity to try this pant suit. The material was great and color was great too. Tool fit well but the matching pants were About two sizes too big. I hope to try something else before I make up my mind. May have to have custom made. Thanks again.
pallen74
Révisé le :
12 mai 2020
Couleur:
Bleu Poudré
I love the pant set. It runs a little large, so keep that in mind. Pants are very long and I am 5'6" and will need to get about 4" cut off. Has beautiful applique on pants that will have to be removed and then replaced after shortening. The pants are very flowy. The top fits true to size. I ordered one to wear at my daughter's wedding in August. It is comfortable and very stylish.
pallen74
Révisé le :
6 mai 2020
Couleur:
Bleu Poudré
Pants and top mother of the bride set. Nicely made, color is same as shown. Have ordered a smaller size. The top was slightly larger and longer than I expected. The pants run a size larger at least. They also run 3-4" long and I am taller than average. If you are short, the top may have to be shortened also. Will have to remove beautiful appliques and shorten pants then resew on, Very flowy and soft folds.
mds1964
Révisé le :
20 mars 2020
Couleur:
Steel Grey
I absolutely love this outfit. I have to return, however, because the pants are way too long. I only wear flat heels, so I can't even make it work with high heels. The embroidery work on the pants and shoulder is gorgeous. I am hoping to reorder, because this is the outfit I want to wear for my daughter's wedding in October.
dothall1953
Révisé le :
16 mars 2020
Couleur:
Mauve Vintage
I custom ordered it in my size for length in the pants. Hope it works!
cordeaujoanne
Révisé le :
15 févr. 2020
I ordered a sample but it was too small. Now there is not any samples in my size. I'm thinking of custom sizing this outfit.
fordjulia51
Révisé le :
28 janv. 2020
Couleur:
Burgundy
Had to return this Item because it was to Big.
BJShortz
Révisé le :
31 déc. 2019
Couleur:
Vintage Mauve
The item is beautiful but unfortunately the pants were about 2 times too big on me and top too small. Product detail in itself is absolutely gorgeous though. The detail in the wrapping of my item was so nice, delivery was quick. Emails updating me on my order was nice to receive too! Will definitely recommend company to others...just wish my item fit me.