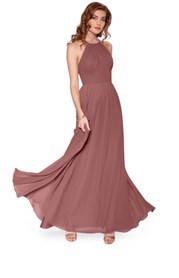 Azazie Joy
Robes de demoiselle d'honneur
129€
information sur le produit

Amusante et séduisante, cette robe de demoiselle d'honneur en magnifique Mousseline de soie convient à tout mariage, de la plage à l'église. Votre fête de mariage va adorer cette robe beau Longueur ras du sol A-ligne/princesse avec un décolleté Licou. {Embellissement} 
Critiques de photos (5)
Avis les plus récents
Notes
Obligeance
livn2worship1
Révisé le :
3 mai 2022
Couleur:
Pin
I ordered 3 dresses to try on at home, Adriana, Amani and Joy. This dress, Joy, was my least favorite of the three, but still a wonderful dress. It was comfortable and cute, I just didn't love it as much as the others. Unfortunately, my bride's color was Juniper from David's Bridal and one of the other bridesmaids had already purchased from DB. Pine from Azazie was close to DB's Juniper, but just different enough that it would look odd if all the dresses were not purchased from the same company so I was not able to purchase from Azazie (this time!). But let me tell you, the difference between DB and Azazie was like a 1990s Ford Taurus compared to a Mercedes! All three Azazie dresses were extremely comfortable and well build, with boning and extra layers on the bodice so you would not have to wear a bra, many of their dresses have pocket (who doesn't want pockets?!) and there are so many really, really nice styles and colors from Azazie! DB's styles were very basic, they all seemed extremely similar to each other actually. The choices of short dresses was terrible. There was no way you could wear any DB bridesmaid dresses to another function. They looked very much "bridesmaid"! The quality was disappointing as well. I tried on 6 or 7 dresses and none had boning or pockets, several were very uncomfortable, the bodices did not have enough material to be able to go bra-less. I, personally, did not really care for their color choices either. The price difference was the biggest thing, DB's dresses were a good $50 more BEFORE alterations. Azazie does custom sizing FOR FREE! In my opinion, there is no better way to go than Azazie!
jenniferbowers98
Révisé le :
25 avr. 2022
Couleur:
Bleu Poudré
Type De Corps:
Sablier
Taille commandée:
CUSTOM SIZE
I got the custom fit of this dress and it fit like a glove! It was probably one of the best fitting dresses I've ever had. As long as you purchase a cheap, soft tape measure and take your measurements correctly, I don't see why the custom fit wouldn't work perfectly. I definitely recommend doing the custom sizing. I learned my hip size is equivalent of a dress size 0, bust is equivalent of a size 2, and waist is equivalent of a size 6-8 dress. You may think you are one dress size, but after doing the custom fit, I learned that I am not the typical dress size. I am 5'0 and 115 lbs. I never considered myself to have an abnormal body type-- this purchase just showed me that the average person may not fit a typical dress size perfectly. I felt much more confident for my best friend's wedding in the custom fit than I think I would've felt in any other size (I would have probably gone with a size 2 had I not done the custom fit). As far as the material, it was high quality. It looks pretty much exactly like the website photo shows. My only problem was that the top had padding in it, so it got a bit wrinkled/bunched up. That was an error on my part for not noticing that it came with padding. It didn't bother me too much, but you can kind of see what I mean about a wrinkly top in the picture. Thank you Azazie for giving me a beautiful dress for a very reasonable price! This is great if you are on a budget. My dress arrived about a month after I made the purchase. Keep this in mind for your big day! It helps to enter the event date into this website. I think they try their best to have it shipped to you at least a week or so before the date, but it all depends on how late you make the purchase. Mine came about a month before the wedding, if I remember correctly. I would recommend purchasing about two months before the date.
purpleDhanagan
Révisé le :
23 avr. 2022
Couleur:
Bleu Poudré
Taille commandée:
A10
This is the one I ended up picking to wear. It's very comfortable and flattering!
Ashlynne
Révisé le :
19 sept. 2020
Couleur:
Framboise
I had this dress custom-sized for my sister, after I measured her. I added just an inch, or two, to each measurement, just in case the dress ran small. And her dress fits her so well! The only thing is the material on the upper torso is kind of puffy, and it can look odd if you don't adjust yourself just right. But, other than that, I am so pleased with the way her dress turned out! And I love that there's padding in the dress, so she won't have to worry about bra straps showing.
Ele
Révisé le :
18 juil. 2020
Couleur:
Menthe Verte
The dress was expected to arrive no later than July 14th and actually showed up July 7th! I am 5'3" about 115 lbs and ordered a size 2. I have a very small bust so I am always concerned about "filling out" dresses in that area but the fit is absolutely perfect. It is long as expected based on the length listed online and since this is for a beach wedding I won't be wearing shoes and was able to easily have the dress altered to be floor length. I ordered in Mint and am really pleased with the color in person. The only thing I dislike about this dress is the lining under the top piece has a seam on each side of the chest that at a certain angle look like nipples when worn. Nothing really to be done about it since it is the inner piece of fabric!
tess.malo24
Révisé le :
11 avr. 2022
Couleur:
Paon
Type De Corps:
Sablier
Taille commandée:
A10
Nice dress. Comfortable and fits in the right places.
radichris
Révisé le :
4 janv. 2022
Couleur:
Cabernet
Taille commandée:
A0
This dress is lovely and fun. The color and fabric is well balanced! The fit is quite flattering.
karasynwilson
Révisé le :
11 oct. 2021
Couleur:
Prune
Type De Corps:
Sablier
I loved this dress! I ordered it with custom sizing and it arrived super fast and fit perfectly. The dress is really flattering and comfortable!
Heather
Révisé le :
21 mars 2021
Couleur:
Bleu Ciel
Dress quality was excellent and measurements were true to size chart. This style was not flattering as it puffed out right at the top of my hips enlarging them. The fit doesn't accentuate your waist, instead your hips. The top also wasn't flattering for arms/chest.
M
Révisé le :
15 févr. 2021
Couleur:
Champagne Rose
I ordered a try on in two different sizes in order to determine which to order in the final product. The size 6 fit perfectly without any issues so I ordered this dress in a size 6. When the dress arrived, it wouldn't even zip and was too small, even though my weight has not changed at all. Ended up having to rush order another dress in the same color since this dress was not available in rush production, and spent $50 more dollars in order to get a dress for the wedding I am a bridesmaid in.
joycee.hernandez11
Révisé le :
24 janv. 2021
Couleur:
Vert Foncé
Caitlin V
Révisé le :
21 déc. 2020
Couleur:
Pétale De Rose
Do not order this dress!!! Really glad I did home try on for this dress because it was awful. The material was okay, but the pleated material on the bodice is sewn or glued to the boob pads underneath causing really weird bunching in the fabric making everything look super lumpy. The sizing was spot on, but the construction of the dress is very poorly done. It was so bad, the bride and I were ruling this company out completely for bridesmaid dresses. Unless you want to feel fat and discouraged, don't try this dress on. I decided to give this company another shot and ordered 3 more try ons. They were gorgeous and so glad I did. Recommended dresses: Davis, Haden, Mariel, Mandy. I have tried these on and they would be lovely for any body type. I ordered a size 6 in all of them and I'm 5'4, 137lbs for reference.
Emma
Révisé le :
20 déc. 2020
Couleur:
Crépuscule
I tried this bridesmaid dress through the dress try-on program. It did not fit me well (especially the top) and I would not recommend it. The torso was too long for me and the material is not forgiving or flexible, so it was not flattering at all. Also note that the material was pretty heavy with all the layers and folds on the top. This cut and dress might fit you, but you definitely need to try it first!
KP
Révisé le :
31 oct. 2020
Couleur:
Bleu Poudré
Pretty dress. However, I had to return this dress. I am 5'11 and the chest/top of the dress did not fit correctly and the breast area fell in the wrong location. As pointed out in another review, there is a bit of fabric that bunches in this area which made it look even more off. Dress was perfect in length and otherwise beautiful. I was thankful that I could easily return the dress and go with another option (which I love). Custom sizing may have prevented this issue. Great experience with quick shipment and easy return.