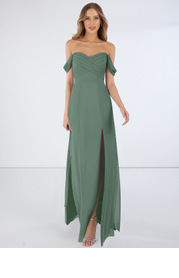 Azazie Joretta
Robes de demoiselle d'honneur
129€
information sur le produit

Le style Azazie Joretta par azazie est une robe de demoiselle d'honneur Longueur ras du sol A-ligne/princesse dans un élégante Mousseline de soie. La robe brillant présente un décolleté Encolure en coeur et un style de dos . Le style Azazie Joretta de Que vous l'habilliez avec des bijoux tendance ou avec des chaussures plates et un cardigan, il incarne la beauté intemporelle. azazie est disponible dans les tailles A0 à A30. 
Critiques de photos (12)
Avis les plus récents
Notes
Obligeance
erin.schwartz
Révisé le :
27 mai 2022
Couleur:
Bordeaux
Type De Corps:
Hourglass
Taille commandée:
A16
Loved this dress- ended up choosing this one because it fit perfect and was super flattering with no alterations. It has boning in the top to hold the shape plus comes with removable straps in case I needed extra support. Material was good quality and very comfortable- I'm 5"6 DD bra size
kelseyr86
Révisé le :
13 avr. 2022
Couleur:
Bleu Marine Foncé
I love this dress! It is beautiful and the off the shoulders straps and slit give it a sexy look. I think it ran a little I loved the try-on option as it made it easy to try on dresses at home to see what I liked and what I didn't like. Their shipping was quick and the shipping it back on my end was super easy since they include a return label. I would definitely recommend this dress!
Wisniewskilauren72
Révisé le :
4 avr. 2022
Couleur:
Rouge
Type De Corps:
Hourglass
Taille commandée:
7493
The dress was gorgeous definitely one of my favorites
Kb406
Révisé le :
11 mars 2022
Couleur:
Dusty Rose
Overall the dress fit as expected. The dress has 3 slits in total. The main one as well as two smaller side slits. Its very comfortable and movable. Know that this dress isn't super forgiving in the tummy area. However, I'm comfortable with my body and that doesn't bother me. I didn't have super high hopes due to others reviews. But I was surprised that it arrived early! The dress itself is overall good quality, just wish the detachable straps were made better..keep in mind that the top of this dress has some weight to it. So if you don't like the shoulder strap, alteration may be appropriate. I got an A12 in size. Seems true to size chart as a 12 was the size I tried on at my local davids bridal. I don't love this dress on me, but it will do. I look forward to being apart of my friends wedding! These photos are straight out of the package. Item was not steamed before these were taken.
Lindsay Antes
Révisé le :
30 janv. 2022
Couleur:
Paprika
Quality was decent, though the ruching was a bit messy looking and I'm concerned about whether or not a steamer would be able to straighten it out. Wasn't very flattering on my body type. Didn't end up choosing this dress, despite it being one of my faves that I saw online…! Wasn't as flattering in person.
macybalexander
Révisé le :
19 oct. 2021
Couleur:
Terracotta
I am 5'7" and 130lbs. This dress fit perfectly without any alterations - I just had to wear pretty high heels, but it was super pretty!
kaitrasz
Révisé le :
17 oct. 2021
Couleur:
Paprika
This dress fit me perfectly. Just like a glove. It didn't slip, it didn't fall and I felt confident in it all night dancing. Made my waist look slim and I felt like a princess. I wore it with the sleeves down so I looked more elegant. Sleeves up looked good too. I am 5'5 and 140lbs. The color was gorgeous.
Chelserenea
Révisé le :
9 oct. 2021
Couleur:
Cabernet
Taille commandée:
A12
I received a lot of compliments at my brothers wedding. One lady even actually asked me where I purchased the dress for an upcoming wedding. The dress showed up early and was very comfortable. Only issue I had with the dress was the material dries water droplets slowly.. it sprinkled and we had fresh flowers and so I kept thinking I was getting it dirty.. until it would dry.
katiebryoni
Révisé le :
23 juin 2021
Couleur:
Dark Navy
This dress is very nice. It flowed nicely and the detailing on the chest/waist helped to give my body more of an hourglass appearance. The slit at the front (and sides) made it very easy to walk in and it wasn't too hot. The draped sleeves were very nice, but they were pretty heavy and that pulled the back of the dress down. I wasn't able to get it altered because of covid so that it something to keep in mind if you plan on buying. Also, when I took the straps out of the bag the hooks fell off because they only had a small bit of thread holding them on so I had to sew them myself. Also, the thread inside the dress that holds the straps became loose over the course of the day and by the end they had fallen off so I wasn't able to wear the straps. Thankfully it was an outside wedding so I was able to put a jacket on to cover myself up.
tifshi29
Révisé le :
22 mai 2021
Couleur:
Dusty Rose
Type De Corps:
Straight
Taille commandée:
CUSTOM SIZE
I ordered a custom dress which fit well but I had recently had a baby and was still losing weight. But the dress needed barely any alterations. I also had the sleeves shortened because it cause the back of the dress to flap over
mrspugh
Révisé le :
3 mai 2021
Couleur:
Dusty Blue
Unfortunately I waited too long to order and needed to buy one of the "rush" dresses. I decided to try the custom for, and thought I measured correctly. Sadly, I must not have. I think I made a mistake by measuring myself in the bra that I was planning to wear; I also gave myself a little room. I would suggest not leaving any room, and not wearing a bra when you take your measurements. Luckily the style I chose was able to be sewn pretty easily! My mom hemmed it and took in the straps. I started the night with the extra skinny straps o the dress, but took them off for the reception, and I think the dress looked much better without the extra straps. Overall, the quality and price were great! The dresses were flattering on all body type and didn't wrinkle easily! I would highly recommend. I'm attaching three pics. The one in the middle is before the alterations. The other two are after alterations. I wanted to include a pic of two other styles, so that you could see how they looked together. Hope this helps :) Good luck!
megansims07
Révisé le :
25 janv. 2021
Couleur:
Dark Navy
This dress exceeded my expectations. The double slit made it easy to walk in, and the swag sleeve gave extra room for dancing and general movement throughout the day. I did a custom size and it fit LIKE. A. GLOVE! True perfection.
Patricia_d_laferte
Révisé le :
29 avr. 2022
Couleur:
Terracotta
Type De Corps:
Hourglass
Taille commandée:
7491
I bought this dress for my bridesmaid. The fit is perfect and product is a great quality. Very satisfied.
jennifercontreras0907
Révisé le :
8 avr. 2022
Couleur:
Vintage Mauve
Type De Corps:
Pear
Taille commandée:
A12
Fabric is too tight there is no wiggle room. I suggest sizing up if you have bigger hips.
kayleejodee
Révisé le :
6 avr. 2022
Couleur:
Bleu Poudré
Type De Corps:
Hourglass
Taille commandée:
A8
Couldn't figure out where to put the sleeves and the straps were missing on mine. ??‍♀️ Not very flattery on the back or my waist but very flattery on my front torso/chest.
Heidi Errasti
Révisé le :
4 avr. 2022
Couleur:
Pine
Type De Corps:
Hourglass
Taille commandée:
7492
Too big on the bust and waist and too loose on the sleeves. I'm a 36B in bra size and 109lb
stacie.johnson827
Révisé le :
17 févr. 2022
Couleur:
Rose Du Désert
Taille commandée:
A10
Did this as a try on . Did not think the off the shoulder look was flattering.
msjenryan
Révisé le :
16 févr. 2022
Couleur:
Mauve Vintage
Type De Corps:
Straight
Taille commandée:
A0
Pretty if you like strapless.
Therese O'Sario-Kohler
Révisé le :
10 nov. 2021
Couleur:
Cabernet
Type De Corps:
Apple
Taille commandée:
A14
First bridesmaids dress that I truly love! I felt very sexy and most of all comfortable. I am 5 feet and 175lbs; 36C and normally wear a size 12. I was a hesitant to do a custom order, so I ordered a standard 14. This fit me perfectly and I only needed to hem the skirt length.
jillianllamb10
Révisé le :
26 oct. 2021
Couleur:
Terracotta
Type De Corps:
Pear
Taille commandée:
A6
Very nice fitting dress. Had to only alter the length and that's all. I'm 5'5 and 140 and fit perfectly